All Posts Tagged With: "perfumes"
Victoria's Secret's most sensual body care collection yet: VS ATTRACTIONS. Fragrances are made with EverTempt cocktail that is proven to increase your appeal to the opposite sex and make you feel irresistible. The blend of notes enhances an individual's natural scent and is perceivable only by the opposite gender.
The NEW Jimmy Choo Eau De Parfum was a love from first 'whiff' for me at the Saks counter at the Biltmore Fashion Square in Phoenix AZ. Lots of people comparing the Jimmy Choo Perfume to Viktor & Rolf Flowerbomb. Here's is Marta Walsh's verdict on this subject: The scent initially is similar to Flowerbomb but the difference for me is that Flowerbomb ends in floral notes which is not my favorite. I'm not a floral kinda perfume girl at all. I love warm and woody all over smell like with Jimmy Choo Eau De Parfum. Not just warm, heavy, and old fashion, but modern, girly, and sexy the way I like it. All in all, great perfume, fabulous bottle and packaging. Quite brilliant Miss Tamara Mellon. Marta's loves & is wearing it all day today & I predict will also do tomorrow.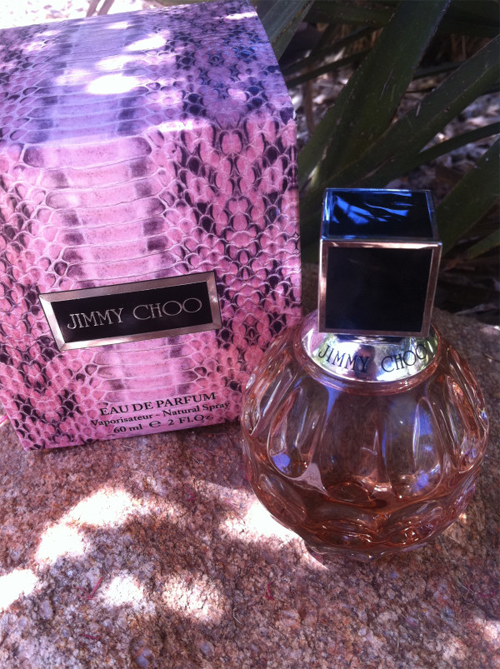 Jimmy Choo Eau De Parfum
Music sensation and 2011 Grammy nominee, Katy Perry, made a personal appearance at the Douglas Cosmetics flagship store in Cologne, Germany to celebrate the new retail partnership of her fragrance Purr by Katy Perry. The Pop Princess greeted hundreds of fans as she signed autographs and presented her new scent. Friday, March 11, 2011.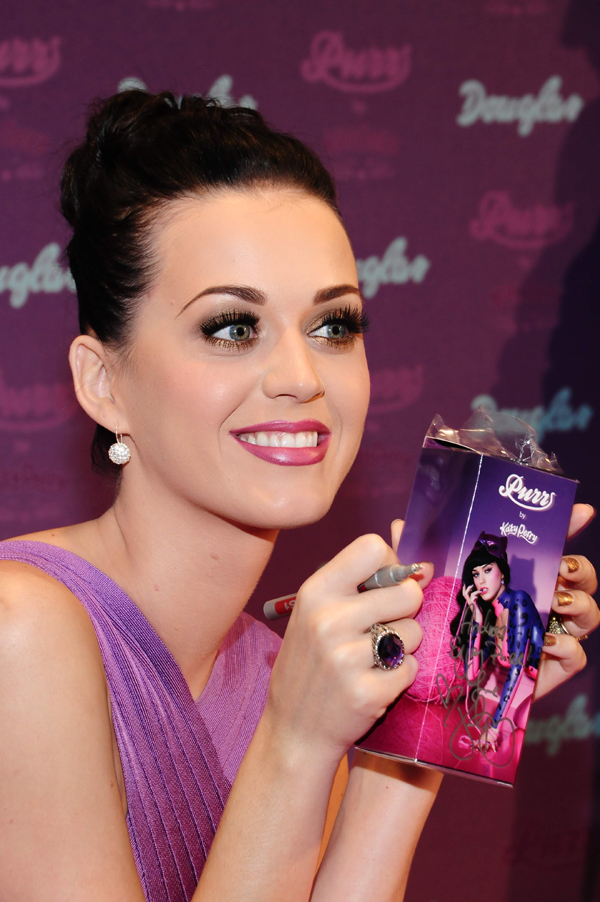 Katy Perry personal appearance at the Douglas Cosmetics flagship store in Cologne Germany
"I'm absolutely thrilled to finally introduce me in a bottle. There is a wonderful world of fragrances out there, but like with my music, I believe there is room for me and my own unique twist on it. Purr is a natural extension of who I am as a woman – it's a gorgeous blend of all my favorite scents that embodies my style, my tastes and my love for all things incredibly cute. It is an absolutely purrfect perfume that I hope leaves you meowing with delight!" – Katy Perry
First-ever Jimmy Choo fragrance. Jimmy Choo fragrance hitting Saks Fifth Avenue counters in the coming days! The highly-anticipated Jimmy Choo fragrance launches just as the company celebrates its 15th anniversary and provides a sensorial way for women to express their passion for all things Jimmy Choo.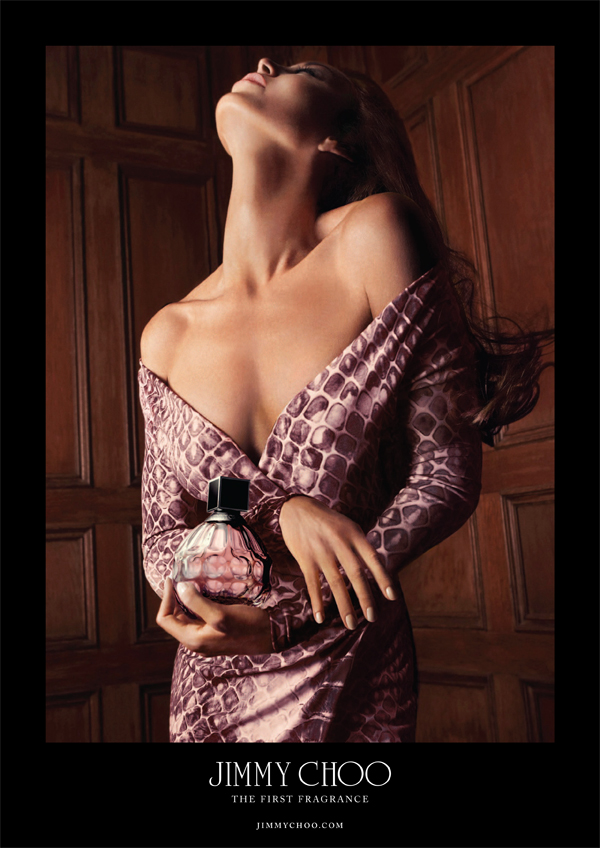 "Fragrance has always been part of my vision for Jimmy Choo. To fully extend the Jimmy Choo lifestyle, enveloping a woman with the sensuality and essence of the brand. I have always loved wearing perfume; it is part of my identity. Now to create a signature fragrance for Jimmy Choo expressing an aura of strength and beauty is my ultimate dream." Tamara Mellon, OBE, Founder & Chief Creative Officer, Jimmy Choo.
Sexy Perfumes: Loving the NEW Victoria's Secret Sexy Little Things Noir Tease Eau de Parfum ($45). VS does make their perfumes particularly modern ans sexy, just look at the bottle. Top notes are amazing however not very long lasting. If you don't mind reapplying then all is fabulous!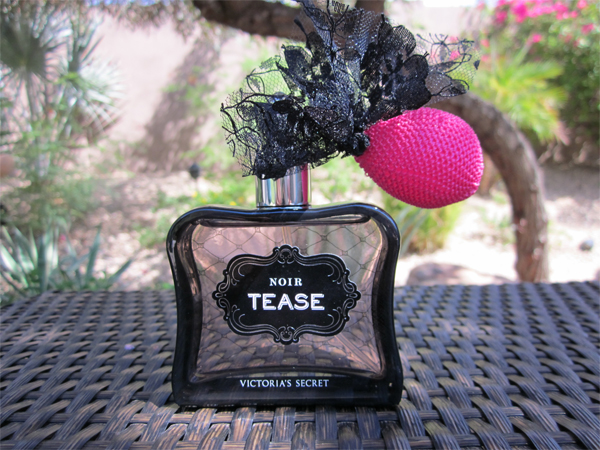 Fragrance Notes: Twist of juicy fruits and seductive florals. A blend of black vanilla, frozen pear and blooming gardenia.
Also, check out the Victoria's Secret Sexy Little Things Noir Tease scented body lotion…
Nina Ricci Le Paradis de Nina ($55 for 1.7 fl oz) is just as sensual and desirable as its predecessor, Nina by Nina Ricci, this limited edition scent is a delightful fragrance which draws inspiration from the delicious aroma of French Madeleine cake, reminiscent of childhood happiness. Delicious and intoxicating, Le Paradis de Nina distils its magical essences. The fragrance is enriched with new ingredients, reminiscent of the flavor of little pleasures we believed were forgotten.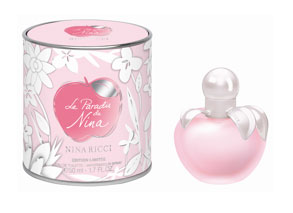 Lancôme Trésor Eau de Parfum Rollerball is the modern way to wear this classic fragrance and the perfect stocking stuffer. It comes in a sparkly red packaging and looks very Christmas.
Lancôme Trésor is a perfume I remember from my older cousin's wife, Mira. This was her signature perfume. When visiting her back in Vienna Austria we actually went to buy one in a local mall. I also wore this perfume few times some years ago and I remember getting compliments. This perfume is a true Lancôme classic!

Bond No. 9 turns to London, or more specifically, Harrods, the iconic retail landmark.
Harrods, the celebrated London emporium, and Bond No. 9, Lower Manhattan purveyor of New York-centric perfumes, jointly announce what well may be the first British-American fragrance venture in history: Harrods for Her eau de parfum, along with its partner scent, Harrods for Him.
Harrods for Her will be sold exclusively at Harrods and at Bond No. 9's four New York stores and at www.bondno9.com