Nina Ricci Le Paradis de Nina ($55 for 1.7 fl oz) is just as sensual and desirable as its predecessor, Nina by Nina Ricci, this limited edition scent is a delightful fragrance which draws inspiration from the delicious aroma of French Madeleine cake, reminiscent of childhood happiness. Delicious and intoxicating, Le Paradis de Nina distils its magical essences. The fragrance is enriched with new ingredients, reminiscent of the flavor of little pleasures we believed were forgotten.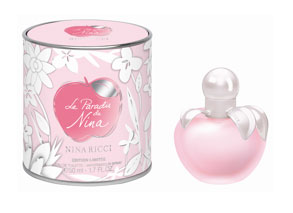 Le Paradis de Nina is inspired by Origami, visual poetry. Each paper composition is created thanks to the soul of the individual who conceived it, the personality of the holder, observer's perception and sensitivity of the receiver. Each work is unique; each leaf of paper is different from the others. At each fold, it is stamped with the uniqueness and magic of that special moment. Origami goes well beyond simple geometry: it is a manifestation of purity, delicateness and elegance, a powerful link of expression, a channeling of emotions
Fragrance: Le Paradis de Nina is an intoxicating reinterpretation of the original scent by Marie Salamagne and Olivier Cresp. It begins with a whiff that spurs an explosion of acidulated aroma of orange and mandarin peels. A second inspiration helps detect an irresistible touch of orange blossom, almond blossom, and heliotrope by the original blend of deliciously apple candy and gardenia. Lastly, from the deep of the fragrance mysterious scents of sandalwood emanate, also of white woods and patchouli that the sensuality of vanilla envelops.
Packaging: The bottle of Le Paradis de Nina is a glass apple, of pastel pink color, enhanced with white, reminding us of the softness of the clouds and the tenderness of a memory. Like the delicate origami paper, that conceals magnificent poetry, the packaging, like a treasure box decorated with delicate white flowers, contains a fragrance that is soaked in poetry.
Available at: Macy's, Macys.com