All Posts Tagged With: "Matrix"
In partnership with Matrix, Fergie celebrated the Matrix Destination Event on Sunday, January 28th in Orlando, Florida as the new MATRIX SOCOLOR CULT ICON.
· Fergie: "I love Matrix because they're not afraid to push the boundaries and have a little fun with it all….They like to let you have your style and feel free to make new choices and be individual and show your individual style and personality," said Fergie as she joined fellow artists and Celebrity stylists like Tabatha Coffey, George Papanikolas and Nick Stenson, to celebrate self-expression, creative innovation, and all things Matrix.
Becca Tobin, Cara Santana, Devon Windsor, Ashley Greene, Ashley Madekwe all received a "boho" look from Matrix Celebrity Stylist George Papanikolas and team before hitting the festival this weekend. George used the new Matrix Style Link Air Dry BOHO Creams (launching in May) along with products from the Matrix Style Link and Matrix Biolage R.A.W. lines on each of the girls to create a perfect festival look.
Matrix, the leading professional hair care and hair color company, is thrilled to welcome world renowned hairstylist and colorist George Papanikolasas the brand's new Celebrity Hairstylist.
As one of Hollywood's most in-demand hair professionals, George has been behind many high profile color transformations, fromthe new, lighter 'do for Pretty Little Liars star Shay Mitchell, to setting off unprecedented "buzz" for honey kissed caramel tones after his work with Khloe and Kim Kardashian. George has also worked with many of Hollywood's trendy young "it" girls, including Megan Fox, Jessica Stroup, Minka Kelly, Sarah Michelle Gellar, Maria Menounos, Hannah Simone, Miley Cyrus, AnnaLynne McCord and Hayden Panettiere.
Hollywood's top makeup and hair talent have share with TM & Marta Walsh their inspiration, "how-to" steps and the L'Oréal Paris and Matrix products necessary to replicate the stunning styles seen on the following celebs at the 2012 Golden Globe Awards.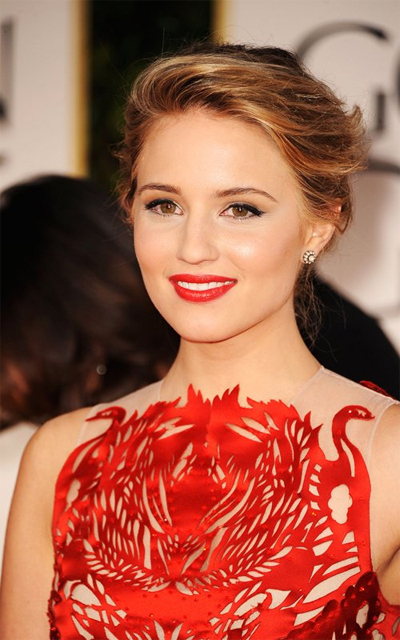 DIANNA AGRON (MAKEUP)
Makeup Artist: Monika Blunder
Inspiration: For Dianna's makeup, Monika was inspired by the spring 2012 fashion shows where the makeup was fresh but still very glamorous. Since Dianna's red Giles dress was so "va va voom," Monika focused on the lips to be the stand out feature.
Step by Step How-To:
Matrix celeb stylist Mark Townsend styled Natalie Portman for the Gotham Awards on Monday night and she looked amazing!!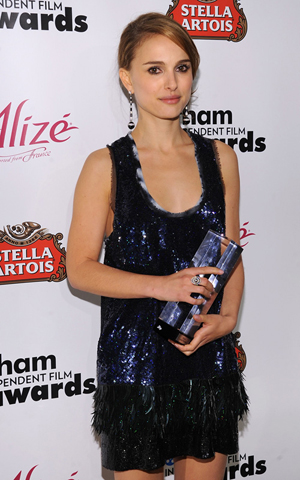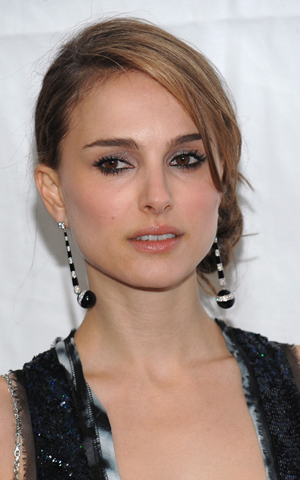 To get Natalie Portman's asymmetrical side bun for the 19th annual Gotham Independent Film Awards, Matrix celebrity stylist Mark Townsend sprayed Biolage Bodifying Spray Gel in Natalie's damp hair and blow dried it with a medium round brush. Next, he took 2 to 3 inch sections of hair and sprayed each with Vavoom Gold Heat Iron-In Control, wrapping the hair around a 1 inch curling iron.
Matrix celebrity stylist Mark Townsend created Amy Adams' beautiful red carpet hairstyles for both the Los Angeles screening and New York premiere of "Julie & Julia."
For the New York premiere of "Julie & Julia," Matrix celebrity hairdresser, Mark Townsend, wanted Amy's hair to be modern and glamorous to match her Carolina Herrera gown. "I've been very inspired lately by hairstyles from the 80s with lots of volume," said Townsend.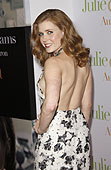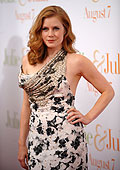 Mark started by spraying Biolage volumatherapie Bodifying Spray Gel into Amy's damp hair…

…and blow dried it with a medium size Spornette Mixed Bristle round brush to get a good deal of volume in her hair. Next, he set her hair with hot rollers, making sure to wrap the hair around the roller from roots to ends to give it a nice wave. Once the hair was cool, he removed the rollers and brushed out her hair with a flat brush, parting it to the side. To add some texture and shine, he sprayed Biolage Shine Endure Spritz into her hair and gave it a scrunch.
Mother's Day is approaching so we wanted to give you few beauty gift ideas for that very special Mom.
CARGO PlantLove Lipstick designed by celebrity moms, such as: Denise Richards, Kim Raver, and Angie Harmon and named after their children. Once mom opens her biodegradable PLA (corn based plastic) packaged tube of lipstick she can plant the outer packaging to create her very own garden of flowers. Additionally, $2.00 from each tube sold also goes to St. Jude's Children's Research Hospital. Price: $20, at Sephora and Sephora.com. Price: $20.
June Jacobs Better Love Naturel: This Mother's Day, love is in the air and you can actually smell it. June Jacobs is proud to to unveil her new captivating new fragrance, a musky floral that is pure and untouched by preservatives. This fragrance is especially close to June's heart as she and her daughter, Rochelle, worked on this formula together. Available at: www.junejacobs.com . Price: $90.
theBalm Sexy Mama is a virtually invisible powder, with revolutionary, tiny oil absorbing spheres to remove shine, leaving her with a soft, silky matte finish. Available at Sephora and Sephora.com. Price: $18.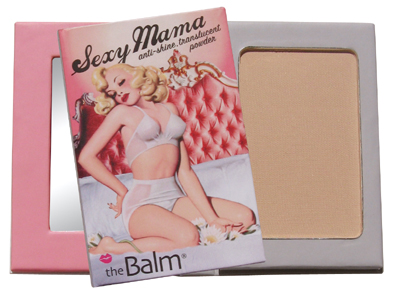 Annick Goutal Les Soliflores Limited Edition Collection a collection of floral fragrances that represents the five favorite florals of both Camille Goutal and her mother Annick. The collection includes fragrances in the following florals: La Violette, Le Jasmine, Neroli (Orange Blossom), Le Chèvrefeuille (Honeysuckle), Le Muguet (Lily of the Valley). Available at Saks Fifth Avenue. Price: $400.
Philosophy Breakfast In Bed a sweet scented shampoo, shower gel, and bubble bath in: Cafe au Lait, Fresh Cream, and Belgian Waffles. Available at: www.sephora.com . Price: $30.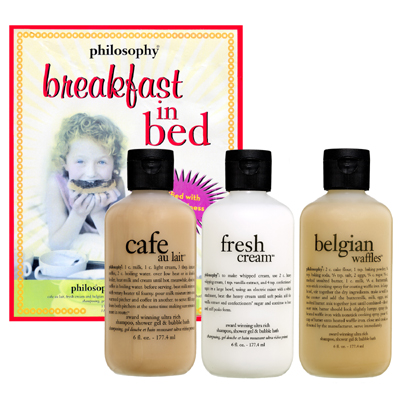 Go Zero Biolage Mother's Day Gift Sets-Biolage has joined the Conservation Fund's Go Zero campaign in its effort to combat global warming with 100% recyclable gift sets, and BIOLAGE is also making a donation to the charity for each gift set sold. Each set contains a shampoo and conditioner and a limited edition body balm. Available at hair salons nationwide. To locate a Biolage salon, please log onto www.biolage.com or call 1.800.MATRIX. Price: $26.00 for each set.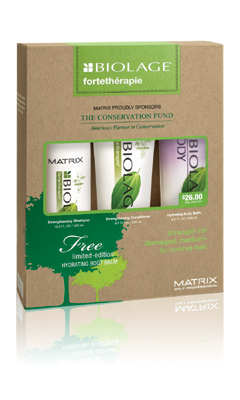 Molton Brown relaxing yuan zhi bath & shower and relaxing yuan zhi sleep mist: Yuan zhi, a wild South China plant, is used traditionally to balance energy (Chi) and soothe the spirit. This richly moisturizing bath formula and sleep mist combats stress and promotes peaceful sleep. Available at: www.moltonbrown.com . Price: $28 for Bath Gel. $44 for Sleep Mist.
Darphin Facial Kits: No need for mom to hop a flight to Paris to indulge in a Darphin signature spa experience. Introducing the first ever Darphin Spa Facial Kits, perfect for giving your mom a little bit of luxury with no appointment needed. The Calming Cocoon and instant Firming Kits are perfect for the mom who wants to relax. Available at: www.darphin.com . Price: $120-$135.
Mark Townsend is one of the most talented celebrity hairstylists today. Mark worked with the beautiful locks of Reese Witherspoon, Penelope Cruz, Rachel Weiz, and Natalie Portman. In this interview Mark talks about some of the biggest breaks in his career, his experience as Matrix's Celebrity Hairstylist, and to what he attribute his success.


Mark Townsend.
What was your biggest break as a professional hair stylist?
I've really had many big breaks so far in my career. I graduated cosmetology school and got my license in Lakeland, Florida. I knew I wanted to work in fashion so I moved to NY and got a job as a hair assistant at the Oribe Salon, where I really learned how to treat hair. I ventured out of the salon and spent 4 years assisting some of the biggest hairstylists in the field, including 2 years with Sally Hershberger, who then referred me to work on the film Vanilla Sky with Tom Cruise, Penelope Cruz, and Cameron Diaz. Filming took me to Los Angeles and I met my agent Lisa Walker who convinced me to stay in LA after the film wrapped. That's when Tom Cruise and Penelope Cruz started booking me for photo shoots and jobs all around the world.
What have been some of your most memorable celebrity collaborations?
Everyday is a new collaboration, that's what I love about my job. I love talking to the client as well as makeup artists and stylists to create a look. Of course working with Reese Witherspoon for the 2007 Golden Globes and Oscars was an amazing collaboration with fantastic results which shows sometimes simpler is better. Another collaboration I really loved was Natalie Portman for the 2006 Golden Globes when she had very short hair. Natalie has curly hair, so I had to spend hours straightening her hair with a specially made flat iron for short hair, but it was worth the effort because she looked magical on the red carpet.

Actress Reese Witherspoon.
One of my favorite people to collaborate with is Rachel Weisz. She is so inspiring to work with. Every time we work together on photo shoots or red carpet events we spend time really talking about our inspirations and what tone we want to set. Sometimes on shoots we even create characters together and decide what kind of hair that character should have. We share an appreciation for texture and we can talk about hair forever, which I love. When I look at my portfolio, my favorite photos are always ones with Rachel because it's the time I get to experiment and just "play".
As Matrix's Celebrity Stylist, what hair care products from this line
do you swear by?
Matrix makes the best hair care and styling products available, so I'm very happy I get to work with them. I've seen such great changes in my clients hair after I set them up with the right Matrix shampoos and conditioners to take home with them. I love the Biolage volumatherapie Bodifying Spray Gel and Amplify Full Body Texturizer. I cannot live without Vavoom Gold Heat Iron-In Control Protective Dry Mist! This is the product I used to create Reese's straight, sleek, shiny hair for the Globes. You spray the hair with this, then run a flat iron over the hair and it seals the hair and fights against humidity. I also love the Vavoom Freezing Spray. On photo shoots, we have to do several different hairstyles, and this spray gives great hold and never flakes and gets cake-y. Every style I create is finished with the Biolage Shielding Shine Mist. It gives the hair amazing shine without weighing down the hair and its great for touch ups through out the day. And, my latest obsession is the new Biolage Cooling Mint Oil Control Treatment – it totally revives a blowout and I think it works better than dry shampoos to absorb oil and refresh the hair.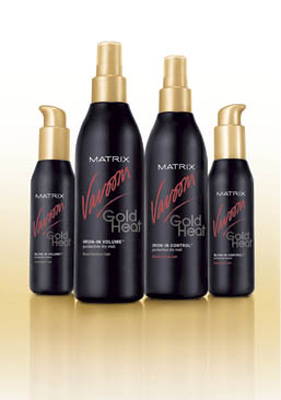 Hair care products by Matrix.
What advice can you give for choosing the right brush for our hair?
I always use the same brushes: Mason Pearson for detangling and blowing out bangs and Spornett mixed bristle round brushes for blowouts. The mixed bristles grip the hair and create enough tension to get the hair really smooth without pulling on the hair.
To what do you attribute your success as a celebrity hair stylist?
I have a really good agent!
Mark Townsend was interviewed for Beauty Interviews by Marta Walsh.
Click here to read Mark Townsend's complete interview!
Vavoom Gold Heat by Matrix is the first ever thermal styling range infused with real micronized gold created specifically to protect hair from heat styling tools. The line contains four must-have products for blow-drying and heat styling broken down into volumizing and control.
The best part part about Vavoom Gold Heat products is that they cut down styling time because they help disperse heat more evenly when using heat tools on your hair. Price: $14-$16.
Here are some of Matrix's newest products: Biolage Scalptherapie Cooling Mint Line, a new good for you haircare cocktail for normal to oily hair to awaken the senses with a fresh minty sensation. Main ingredients: a unique Bio-Cushion Complex-a fusion of green tea for toning, soothing Mallow Root, protective Aqua Oils that form a protective cushion for the hair, glycerin, blend of mint and kola nut to stimulate and energize the scalp. Biolage Scalptherapie Cooling Mint Line includes: 
Biolage Cooling Mint Shampoo, $14.
Biolage Cooling Mint Conditioner, $16. 
And,  Biolage Cooling Mint Oil Control Treatment, $16.
Available at fine salons and www.matrix.com