Mark Townsend is one of the most talented celebrity hairstylists today. Mark worked with the beautiful locks of Reese Witherspoon, Penelope Cruz, Rachel Weiz, and Natalie Portman. In this interview Mark talks about some of the biggest breaks in his career, his experience as Matrix's Celebrity Hairstylist, and to what he attribute his success.


Mark Townsend.
What was your biggest break as a professional hair stylist?
I've really had many big breaks so far in my career. I graduated cosmetology school and got my license in Lakeland, Florida. I knew I wanted to work in fashion so I moved to NY and got a job as a hair assistant at the Oribe Salon, where I really learned how to treat hair. I ventured out of the salon and spent 4 years assisting some of the biggest hairstylists in the field, including 2 years with Sally Hershberger, who then referred me to work on the film Vanilla Sky with Tom Cruise, Penelope Cruz, and Cameron Diaz. Filming took me to Los Angeles and I met my agent Lisa Walker who convinced me to stay in LA after the film wrapped. That's when Tom Cruise and Penelope Cruz started booking me for photo shoots and jobs all around the world.
What have been some of your most memorable celebrity collaborations?
Everyday is a new collaboration, that's what I love about my job. I love talking to the client as well as makeup artists and stylists to create a look. Of course working with Reese Witherspoon for the 2007 Golden Globes and Oscars was an amazing collaboration with fantastic results which shows sometimes simpler is better. Another collaboration I really loved was Natalie Portman for the 2006 Golden Globes when she had very short hair. Natalie has curly hair, so I had to spend hours straightening her hair with a specially made flat iron for short hair, but it was worth the effort because she looked magical on the red carpet.

Actress Reese Witherspoon.
One of my favorite people to collaborate with is Rachel Weisz. She is so inspiring to work with. Every time we work together on photo shoots or red carpet events we spend time really talking about our inspirations and what tone we want to set. Sometimes on shoots we even create characters together and decide what kind of hair that character should have. We share an appreciation for texture and we can talk about hair forever, which I love. When I look at my portfolio, my favorite photos are always ones with Rachel because it's the time I get to experiment and just "play".
As Matrix's Celebrity Stylist, what hair care products from this line
do you swear by?
Matrix makes the best hair care and styling products available, so I'm very happy I get to work with them. I've seen such great changes in my clients hair after I set them up with the right Matrix shampoos and conditioners to take home with them. I love the Biolage volumatherapie Bodifying Spray Gel and Amplify Full Body Texturizer. I cannot live without Vavoom Gold Heat Iron-In Control Protective Dry Mist! This is the product I used to create Reese's straight, sleek, shiny hair for the Globes. You spray the hair with this, then run a flat iron over the hair and it seals the hair and fights against humidity. I also love the Vavoom Freezing Spray. On photo shoots, we have to do several different hairstyles, and this spray gives great hold and never flakes and gets cake-y. Every style I create is finished with the Biolage Shielding Shine Mist. It gives the hair amazing shine without weighing down the hair and its great for touch ups through out the day. And, my latest obsession is the new Biolage Cooling Mint Oil Control Treatment – it totally revives a blowout and I think it works better than dry shampoos to absorb oil and refresh the hair.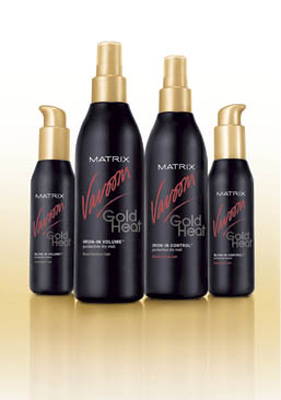 Hair care products by Matrix.
What advice can you give for choosing the right brush for our hair?
I always use the same brushes: Mason Pearson for detangling and blowing out bangs and Spornett mixed bristle round brushes for blowouts. The mixed bristles grip the hair and create enough tension to get the hair really smooth without pulling on the hair.
To what do you attribute your success as a celebrity hair stylist?
I have a really good agent!
Mark Townsend was interviewed for Beauty Interviews by Marta Walsh.
Click here to read Mark Townsend's complete interview!