All Posts Tagged With: "curling iron"
***GIVEAWAY***Read the following post and let us know why should we pick YOU to WIN your own Infiniti by Conair You Curl!!! 1 winner. Good luck! Go:) (USA Only).
Is your curling iron "clamping" your style? Soft, sexy curls are now easy to create with the new Infiniti by Conair You Curl. The You Curl has a unique, clamp-free design and a cone-shaped barrel that creates a softer, less structured curl.  Simply wrap hair around the barrel, hold for a few seconds and then release.  The conical design allows the curls to start closer to the root, allowing more volume through the middle (large portion of the barrel) and the bottom will have a tighter curl (small section of the barrel).  The effect is trendy, free-flowing spirals with no "clamp kinks."
With the second season premiere June 6th, 2010, Lifetime's Drop Dead Diva is a fan favorite on one of the most popular networks for women today. Celebrated comedian and actress Margaret Cho plays the outspoken and funny legal assistant Teri Lee, who is the right hand of lead character, Jane Bingum.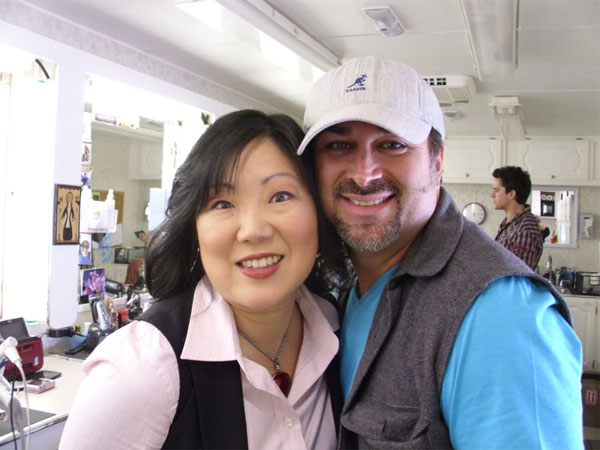 Looking to put some "diva" into your hairstyle? Series Hairstylist Richard Boggs reveals his insider trips and tricks on how to make your hair "drop dead" gorgeous with White Sands Haircare.
Margaret Cho has thick, course hair with a lot of natural body to support her easily styled tresses. "This makes her hair a dream for a long days shooting on Drop Dead Diva", explains on set celebrity hairstylist Richard Boggs.
Here's how to to get Actress Margaret Cho as "Teri"' hairdo:
Hair Tutorial: Frederic Fekkai Celebrity Stylist, Adir Abergel tousled Jennifer Garner's tresses for her Valentine's Day Premiere. The look: Enhancing out Jennifer's natural curls by creating full waves and wonderful movement.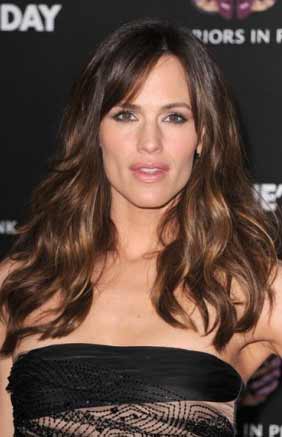 How to get Jennifer Garner's hairstyle at the Valentine's Day Premiere:
First, prep the hair by applying Fekkai Full Blown Volume Lifting Hairspray ($23) at the roots. Next blow dry the whole head with your hands to create texture and bring out the natural wave. Follow by taking a round brush and blow dry the bangs forward and to one side.
Hair Tutorial: Miley Cyrus' sexy textured style at the 52nd Annual Grammys was a perfect rocker chic look that played off her Herve Leger mini bandage dress and emphasized her long, natural waves. "Miley has effortless style and taste," said her stylist Scott Cunha, "and I always try to complement this by working with her natural hair texture, accentuating the waves and texture with a curling iron and a flat iron."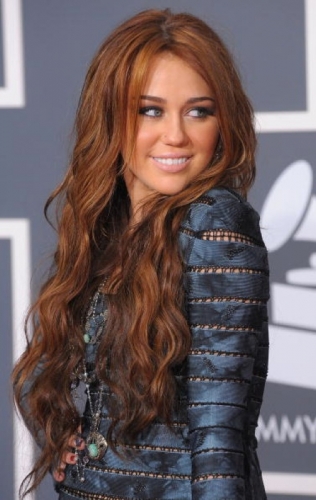 To create the look, Cunha first applied Moroccanoil Treatment on damp hair for silky shine, smoothness and to eliminate frizz. He diffuser-dried her hair and then created a dual-textured look, first using a flat iron from the roots down, then a 11Ž4″ curling iron to wave the rest of the hair.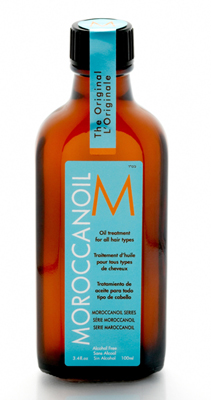 GET THE LOOK:  Jennifer Lopez dazzled at the 52nd Annual Grammy Awards, wearing a dramatic silver Versace gown, and 70's-inspired hair designed by stylist Robert Vetica. Volume and texture were the hallmarks of the all-one-length, below the shoulder look.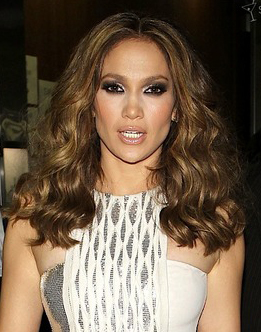 Vetica started by applying Moroccanoil Treatment on wet hair and blow-dried it smooth, creating a middle part using a large round brush for volume. He then used a 1″ curling iron, curling each section, and dragging the curled spirals down. He started in the back, working towards the front of the head and lifting her hair away from the face.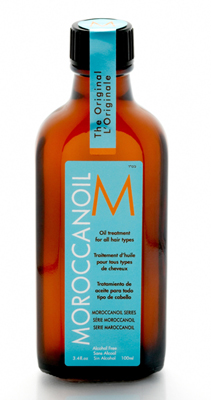 GET THE LOOK: Nominee Diane Kruger's glamorous asymmetrical Jason Wu gown (which BTW Marta loves Diane's dress! Best Dressed for sure!) was the inspiration for the soft, romantic side-chignon that celebrity stylist Mark Townsend created for the 2010 SAG awards.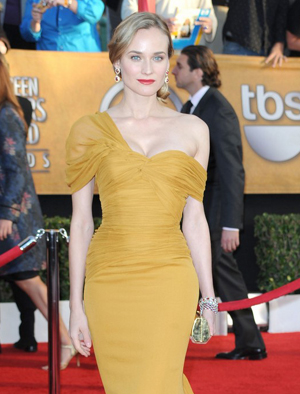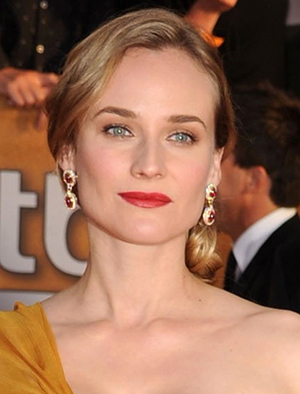 "I started by taking a small amount of Moroccanoil Treatment and finger combed it through Diane's dry hair" explained Townsend. "The original Moroccanoil is super light-weight and absorbs right in, to give the hair amazing shine without weighing it down.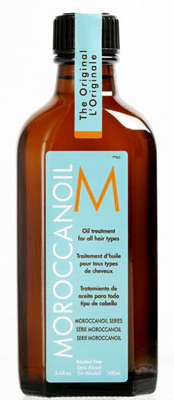 GET THE LOOK: As newcomer and star on one of the hottest shows, True Blood's Anna Camp looked beautiful and effortlessly chic at Saturday's SAG Awards 2010. TRESemme Celebrity Stylist Mara Roszak, who styled Anna for the awards show, provided us with tips on how to recreate the look:

1. Apply mousse, such as TRESemme 24 Hour Body Foaming Mousse to damp hair and rough dry.
It's almost that time of the year: Valentine's Day. Have you decided how are you going to wear your hair on that very romantic day? Here are some hairdo tips by celebrity stylist and Nexxus Creative Director Kevin Mancuso:
Voluminous Curls: "Whether structured or loose, voluminous curls are always in style, and work with many hair types and lengths, for an irresistible look and unforgettable night."– Kevin Mancuso, Nexxus Creative Director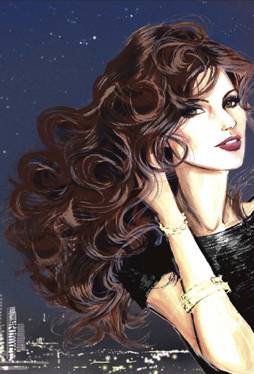 Valentine's Day Hair Tutorial by celebrity stylist and Nexxus Creative Director Kevin Mancuso:
Prep
· Start your hairstyle in the shower by using a volumizing shampoo and conditioner, like Nexxus Diametress Luscious Volumizing Shampoo and Sublime Volume Luscious Volumizing Conditioner. 
GET THE LOOK: Celebrity hair stylist Laini Reeves used Living Proof No Frizz to perfect hairstyles for Leona Lewis and Emily Blunt last night at the 67th Golden Globe Awards.
Leona Lewis and Emily Blunt didn't let the rain spoil their perfectly tamed tresses on the red carpet thanks to Laini Reeves and her secret weapon, LIVING PROOF NO FRIZZ. Both Hollywood starlets stayed frizz free and perfectly glamorous in the pouring rain thanks to the new anti-frizz molecule created by MIT scientists doesn't leave hair looking wet or greasy.
For best actress nominee, Emily Blunt – Laini Reeves cut her hair to shoulder length just for the Golden Globes and then created a curl that was blunt and chic, but still a little fun.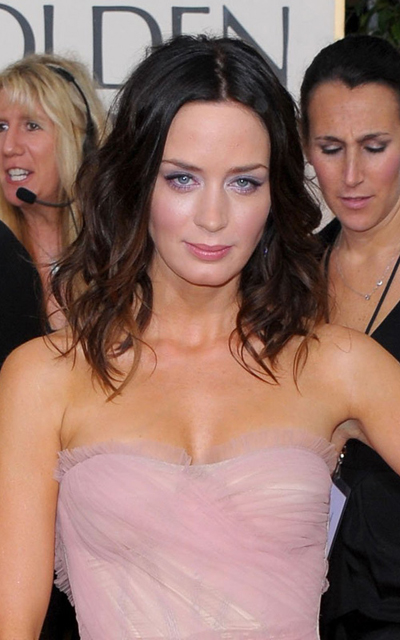 How To Get Emily Blunt's Hairdo:
First, Laini applied the NO FRIZZ, WAVE SHAPING CREAM FOR MEDIUM TO THICK HAIR ($24) to Emily's wet hair to prevent the hair from frizzing. She then added a bit of the new LIVING PROOF FULL ($24) to add a bit of body to the wave. She started creating the pin curls by taking half inch pieces of hair and wrapping each piece around her fingers and then pinning them to the top of the head.
GET THE LOOK: Frederic Fekkai Celebrity Stylist Renato Campora created a sexy undone chignon for Kate Winslet for the 67th Golden Globe Awards. The Look & Inspiration: Renato's inspiration was a glamorous woman leaving her hotel room in a rush. He created a sexy, low chignon with an undone feel and lots of texture.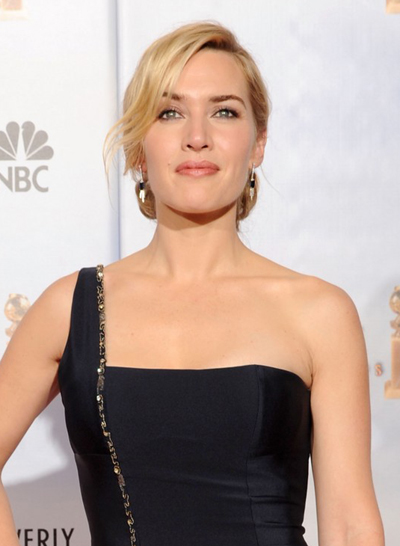 Here's Renato's hair tutorial on how to get Kate Winslet hairdo:
On wet hair Renato applied FEKKAI COIFF STRONG HOLD VOLUME MOUSSE mixed with FEKKAI ADVANCED BRILLIANT GLOSSING CREAM. These two products together provide the right balance to create a texture that leaves the hair hydrated. With the hair still wet, he created a side part and placed pins curls throughout the entire head and dried the hair with a diffuser. Once the hair was 80 percent dry, he removed the pin curls. Renato used his fingers to produce texture and finished drying the hair with the diffuser. He then applied FEKKAI Salon Technician Color Care Anti-Fade Top Coat throughout the hair for shine. Next, he softened the ends by using a curling iron. He then applied the FEKKAI Au Naturel Dry Shampoo all over the head to give the final look some modernity and volume.