With the second season premiere June 6th, 2010, Lifetime's Drop Dead Diva is a fan favorite on one of the most popular networks for women today. Celebrated comedian and actress Margaret Cho plays the outspoken and funny legal assistant Teri Lee, who is the right hand of lead character, Jane Bingum.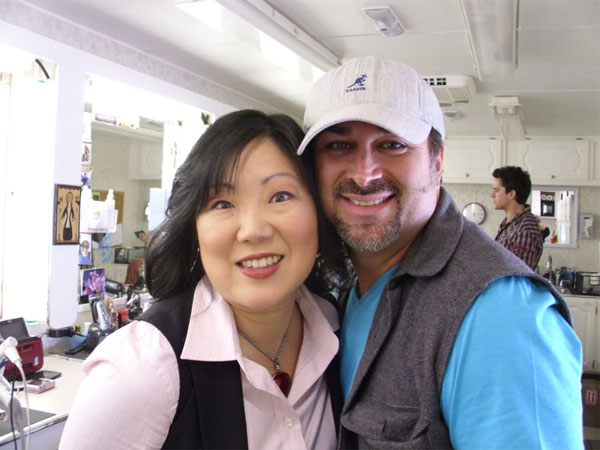 Looking to put some "diva" into your hairstyle? Series Hairstylist Richard Boggs reveals his insider trips and tricks on how to make your hair "drop dead" gorgeous with White Sands Haircare.
Margaret Cho has thick, course hair with a lot of natural body to support her easily styled tresses. "This makes her hair a dream for a long days shooting on Drop Dead Diva", explains on set celebrity hairstylist Richard Boggs.
Here's how to to get Actress Margaret Cho as "Teri"' hairdo:
1. Shampoo and condition hair with White Sands Vegan Moisturizing Shampoo and Conditioner to thoroughly cleanse, while infusing a vital moisture balance back into each strand.
2. Apply a generous amount of White Sands Curl Up in Silk Mousse from the scalp to the ends of the hair shaft. "I always blow dry Margaret with her head bent forward to gain maximum fullness and to obtain complete dryness," reveals Boggs.
3. Section off 1-inch partings starting at the nape area and spray entire head with White Sands Liquid Texture Firm Hold. "This thermal protectant is our secret to keep styles in place on set even after a long day of shooting. Plus, the hair has an amazing glass like sheen!"
4. With these 1-inch sections prepped for hold and shine, use a large barrel curling iron, utilizing the Marcel styling technique from roots to end. Tip: Want to master Marcel in a flash? Try the new White Sands Curling Iron which fuses Marcel and Spring into one tool. This innovative Curling Iron makes it easy to show off your hairstyling talents with its rotating "barrel". Since the barrel rotates rather than the handle, the power of beautiful Marcel waves is at your finger tips!
5. "After curling and then sending her to makeup, I finger brush out for a soft, sexy, wavy style," says Boggs. Mist style with White Sands Infinity Finishing Spray for a flexible finish that repels humidity and the heat from the set lights, while providing a long lasting style: a must on set!
White Sands hair care products are available at: www.whitesandsproducts.com