All Posts Tagged With: "Emily Blunt"
With her new film Sicario hitting theaters this month, it's no surprise that Emily Blunt looked fiercely beautiful at last night's premiere to match her strong, powerful, FBI agent persona on the big screen. Inspired by Emily's dusty-blue mermaid-esque dress, makeup artist Jenn Streicher turned to the AMOREPACIFIC Color Control Cushion Compact SPF 50+ to achieve a minimal, yet fashion-forward glow to complement her dress:
"For makeup, I wanted the focus to be skin. I used the AMOREPACIFIC Color Control Cushion Compact SPF 50+ in Shade 104, which Emily loves because it has SPF 50. She has such pretty skin to begin with and doesn't need too much coverage. She actually looks better with less makeup so the compact was the perfect base."
Jessica Alba and Emily Blunt in Hourglass Cosmetics Makeup at the 2013 Golden Globes.
EMILY BLUNT
In a gilded dress by Michael Kors, Emily Blunt more than lived up to her reputation as a Hollywood golden girl. The actress, nominated in the Best actress, Musical or Comedy category for Salmon Fishing In The Yemen, "definitely had something in mind as far as the look," says makeup artist Jenn Streicher. "Emily wanted smoky eyes paired with soft pink lips that echoed her Lorraine Schwartz ruby earrings."
Makeup artist Jenn Streicher wanted to keep the eyes simple with just a pop of color and lots of lashes. Bronzy, dewy skin and a vibrant red lip. "Once I saw the Miu Miu dress Emily Blunt was wearing to the 2013 Critics' Choice Awards my inspiration became a modern Veronica Lake," said Streicher.
Makeup Products Used:
Emily Blunt has been named the new face and ambassadress of Yves Saint Laurent's Opium fragrance! TM has just found out that…After ten years of absence, Yves Saint Laurent's legendary fragrance OPIUM is now making a grand comeback on our screens. Yves Saint Laurent introduced OPIUM in 1977. More than anything, the scandal of the fragrance lays in its name and…the talented British actress, Emily Blunt is the new face and ambassadress for OPIUM. Emily's ad campaign was shot for TV by Romain Gavras and print by famed fashion photographer Patrick Demarchelier. Stay tune for the Behind the Scenes pics, videos, interviews and making of…
Toronto, Canada – September 10th, 2011- Actress Emily Blunt is casual cool arriving in Toronto in her Stella & jamie tee. Blunt landed in Toronto with co-star Ewan McGregor for the much-anticipated Toronto Film Festival pairing her white Stella & jamie beaded shoulder top with denim, shades and a metallic hobo bag.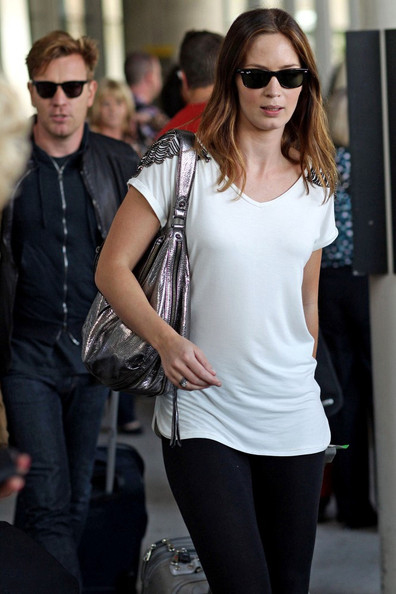 Emily Blunt In A Stella & jamie tee
Emily Blunt's Hairstyle. Newlywed Emily Blunt, walking the red carpet at the 62nd Annual Primetime Emmy Awards with John Krasinski, glowed in a beautiful lavender-colored design by Dior and hair designed by her long-time stylist, London-born Laini Reeves, co-owner of the hot new Essensuals London Salon on Melrose Avenue in L.A.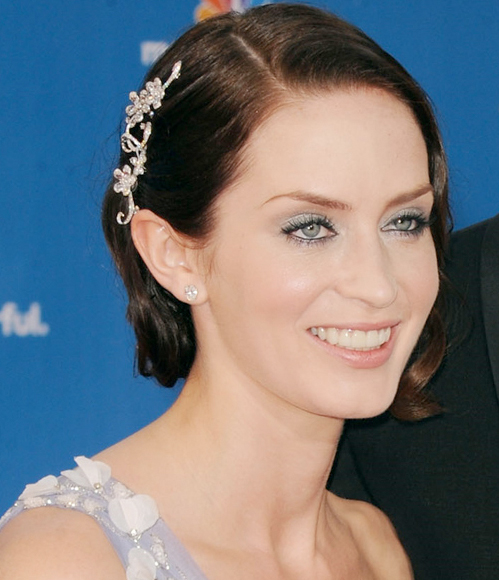 Moroccanoil products used to create Emily Blunt's hairstyle at the 2010 Emmy Awards
The Hairstyle & Inspiration: Laini Reeves, who also styled the hair for Emily Blunt's recent wedding, created a fresh yet sophisticated look inspired by the iconic finger waves of the 20s. She used lightweight, instantly-absorbed argan oil-infused Moroccanoil products to style Emily's shoulder length layered hair into a beautiful waved design that fell slightly below the jawline on the sides, and with shorter, pincurled accents at the nape of the neck.
Emily Blunt looked dazzling at the amFAR benefit at Cannes, wearing a fiery red George Chakra gown, bright red lips, and hair in soft, natural, shiny waves Laini Reeves (her famed UK born hair stylist will be opening the much-anticipated EssensualsLondon Salon in Los Angeles next month) created the beautiful look.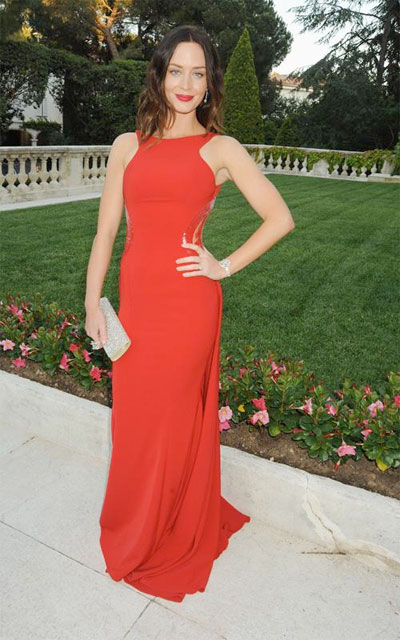 The Hairstyle & Inspiration: "I wanted Emily to be beautiful and sophisticated but to look her age, with hair down and flowing in soft waves that framed her face," she explained. "Since Emily was not only an event chair at the amFAR Cinema Against AIDS 2010 benefit, but was going to the party directly afterward, it was important to create a look that lasted long into the night. Emily has a lot of hair but it's very fine and doesn't always hold a wave, so I layered several Moroccanoil argan-oil infused products to give the hair a really nice healthy shine but to hold the style as well."
Sony Pictures Home Entertainment presents the official trailer and street date for The Young Victoria DVD/BD Release! Here it is: Street Date: April 20, 2010. Pre-Order Date: Available Now!
WATCH The Young Victoria Official DVD Trailer:
Emily Blunt and Rupert Friend star in the lavish historical drama, The Young Victoria. Resolved to establish her authority over those who rule in her stead, a young and inexperienced Queen Victoria (Blunt) draws strength from the love of Albert (Friend), the handsome prince who's stolen her heart. Based on the courtship and early reign of England's longest-serving monarch, The Young Victoria is a majestic tale of romance, intrigue and power.
Emily Blunt looked gorgeous with her 1920's inspired look at the Wolfman Premiere in LA. Create her look from home with these DIY tips from her stylist, Laini Reeves!
Laini Reeves, Owner and Creative Director of Essensuals London (www.essensualslondon.com), took inspiration from Emily's vintage style to create a new take on the 1920's up-do.
Hair Tutorial:
To set the mood, Laini made a custom flapper style accessory – a peacock feather fashioned to an elastic headband. Laini took the hair and twisted it up, over and into the band, keeping in tight to the head. The messy texture of the hair helped to modernize the look.
GET THE LOOK: Celebrity hair stylist Laini Reeves used Living Proof No Frizz to perfect hairstyles for Leona Lewis and Emily Blunt last night at the 67th Golden Globe Awards.
Leona Lewis and Emily Blunt didn't let the rain spoil their perfectly tamed tresses on the red carpet thanks to Laini Reeves and her secret weapon, LIVING PROOF NO FRIZZ. Both Hollywood starlets stayed frizz free and perfectly glamorous in the pouring rain thanks to the new anti-frizz molecule created by MIT scientists doesn't leave hair looking wet or greasy.
For best actress nominee, Emily Blunt – Laini Reeves cut her hair to shoulder length just for the Golden Globes and then created a curl that was blunt and chic, but still a little fun.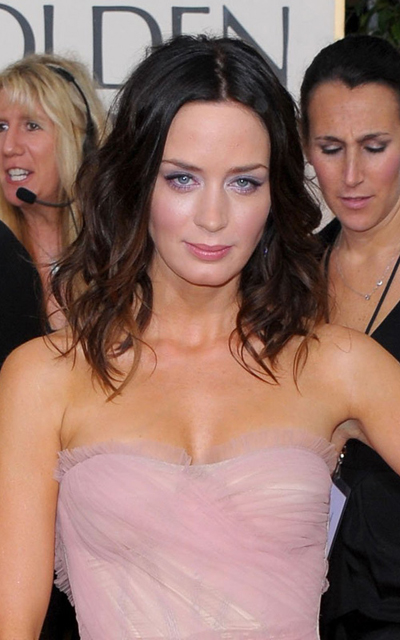 How To Get Emily Blunt's Hairdo:
First, Laini applied the NO FRIZZ, WAVE SHAPING CREAM FOR MEDIUM TO THICK HAIR ($24) to Emily's wet hair to prevent the hair from frizzing. She then added a bit of the new LIVING PROOF FULL ($24) to add a bit of body to the wave. She started creating the pin curls by taking half inch pieces of hair and wrapping each piece around her fingers and then pinning them to the top of the head.