GET THE LOOK: Celebrity hair stylist Laini Reeves used Living Proof No Frizz to perfect hairstyles for Leona Lewis and Emily Blunt last night at the 67th Golden Globe Awards.
Leona Lewis and Emily Blunt didn't let the rain spoil their perfectly tamed tresses on the red carpet thanks to Laini Reeves and her secret weapon, LIVING PROOF NO FRIZZ. Both Hollywood starlets stayed frizz free and perfectly glamorous in the pouring rain thanks to the new anti-frizz molecule created by MIT scientists doesn't leave hair looking wet or greasy.
For best actress nominee, Emily Blunt – Laini Reeves cut her hair to shoulder length just for the Golden Globes and then created a curl that was blunt and chic, but still a little fun.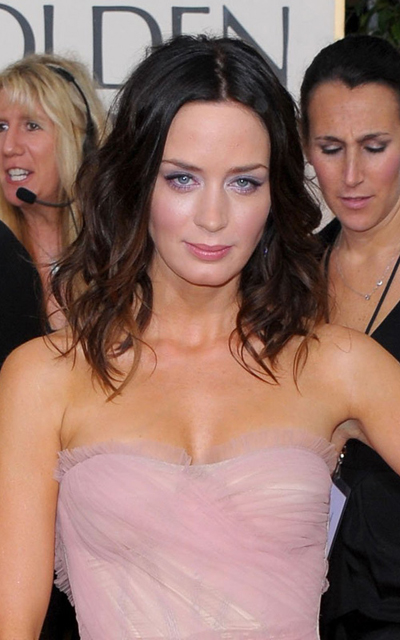 How To Get Emily Blunt's Hairdo:
First, Laini applied the NO FRIZZ, WAVE SHAPING CREAM FOR MEDIUM TO THICK HAIR ($24) to Emily's wet hair to prevent the hair from frizzing. She then added a bit of the new LIVING PROOF FULL ($24) to add a bit of body to the wave. She started creating the pin curls by taking half inch pieces of hair and wrapping each piece around her fingers and then pinning them to the top of the head.
Reeves recommends alternating the twisting monition both clockwise and counter clockwise to add dimension. She then let the hair dry naturally. After the hair was completely dry she used both a medium curling iron, and small barrel curling iron to accentuate the curl. To add a bit of sophistication to the look, she used a flat iron on each curl, straightening the bottom inch of the hair.
*Update: Emily Blunt's make-up artist for the Golden Globes, Jenn Streicher, says, "Emily has been thoroughly enjoying her St. Tropez products!! She has been using them almost everyday! She was very bronzed at the Golden Globes, and we both agree that she has had the best experience with St. Tropez Everyday/Gradual Tan Lotion… We all really love the products!"
For Leona Lewis, artist behind 'I Want To Come Home' from Avatar who is nominated for best original song. Laini Reeves created a soft romantic down-do inspired by her glamorous purple dress.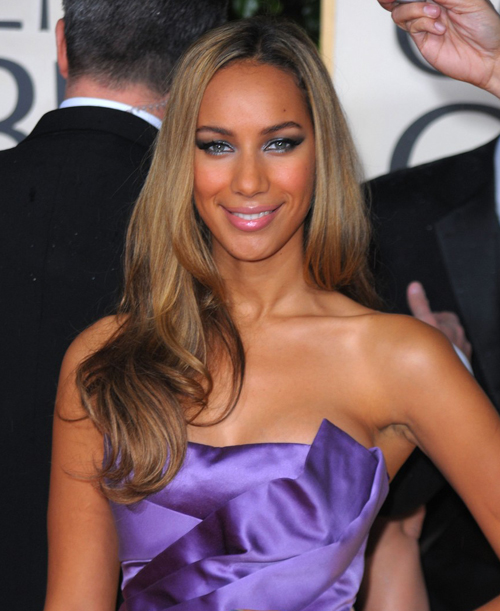 How To Get Leona Lewis Hairdo:
Leona has very thick hair, so it actually performs better if it is not freshly washed. Laini used the NO FRIZZ STRAIGHT MAKING SPRAY ($24) on her dry hair, to prevent fly-aways and keep it from frizzing in the rain. She then parted the hair in the middle and used a flat-iron to straighten the hair. To create an asymetical look, she pulled the hair to one side and then used a three inch curling iron to add a bit of bounce to the ends.
THE PRODUCTS ALL BY LIVING PROOF – LIVING PROOF NO FRIZZ WAVE SHAPING CREAM: $24 for 4.8 oz cream, LIVING PROOF FULL: $24 for 3.7oz, LIVING PROOF NO FRIZZ STRAIGHT MAKING SPRAY : $24 for 3.4 oz spray. Available at Sephora stores or Livingproof.com