Emily Blunt looked dazzling at the amFAR benefit at Cannes, wearing a fiery red George Chakra gown, bright red lips, and hair in soft, natural, shiny waves Laini Reeves (her famed UK born hair stylist will be opening the much-anticipated EssensualsLondon Salon in Los Angeles next month) created the beautiful look.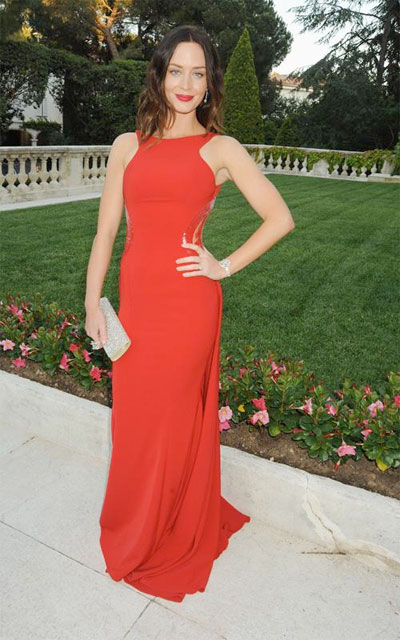 The Hairstyle & Inspiration: "I wanted Emily to be beautiful and sophisticated but to look her age, with hair down and flowing in soft waves that framed her face," she explained. "Since Emily was not only an event chair at the amFAR Cinema Against AIDS 2010 benefit, but was going to the party directly afterward, it was important to create a look that lasted long into the night. Emily has a lot of hair but it's very fine and doesn't always hold a wave, so I layered several Moroccanoil argan-oil infused products to give the hair a really nice healthy shine but to hold the style as well."
The Step-by-Step how to create the look: Hair Tutorial
1) I first shampooed her hair with Moroccanoil Moisture Repair Shampoo followed by Moroccanoil Moisture Repair Conditioner. Next, I applied a few drops of Moroccanoil Treatment on her wet hair, then mixed a cocktail of Moroccanoil Treatment with a pea-sized amount of Morocccanoil Hydrating Styling Cream and worked it through from root to ends to give the hair shine, strength, and a soft hold.
2) I dried the hair using a diffuser to encourage natural waves, lifting the hair at the roots. I also added a bit more Moroccanoil Treatment after I dried the hair. This product is fantastic because I can keep using more and more of it and it absorbs right in.
3) Next, I went lightly over some of the curls with a large curling iron to give them more definition. I wanted the hair to look natural and only curled the areas where the hair needed to be filled in. I then raked my fingers through the hair to break up and separate the curls.
4) I then sprayed Moroccanoil Luminous Hairspray all over the hair. It's my favorite hairspray. It holds the look but you can't see it on the hair. It comes out in really fine mist and you can put more and more on without it getting sticky.
5) I finished the look with a soft mist of Moroccanoil Glimmer Shine Spray so the hair looked even more luminous onstage. It's weightless like all the Moroccanoil products and gave the look a perfect finishing touch.
Marta Walsh says: "Moroccanoil hair care products are completely addicting. They leave my hair super soft and smell amazing. Can't imagine my hair without it!"
To learn about Moroccanoil hair care products and to find out where to buy visit Moroccanoil.com