All Posts Tagged With: "heat styling tools"
***GIVEAWAY***Read the following post and let us know why should we pick YOU to WIN your own Infiniti by Conair You Curl!!! 1 winner. Good luck! Go:) (USA Only).
Is your curling iron "clamping" your style? Soft, sexy curls are now easy to create with the new Infiniti by Conair You Curl. The You Curl has a unique, clamp-free design and a cone-shaped barrel that creates a softer, less structured curl.  Simply wrap hair around the barrel, hold for a few seconds and then release.  The conical design allows the curls to start closer to the root, allowing more volume through the middle (large portion of the barrel) and the bottom will have a tighter curl (small section of the barrel).  The effect is trendy, free-flowing spirals with no "clamp kinks."
I've always been a fan of FHI Heat styling tools and have used the FHI Heat Platform SE 1 inch styling iron for a while now. I'm now also very much in love with the new 1 inch Go styling iron by FHI Heat (see image below). How can you not fall in love with it: it's colorful, fashion-forward, and it gets my hair beautifully straight. Also it's easily portable in travel bags.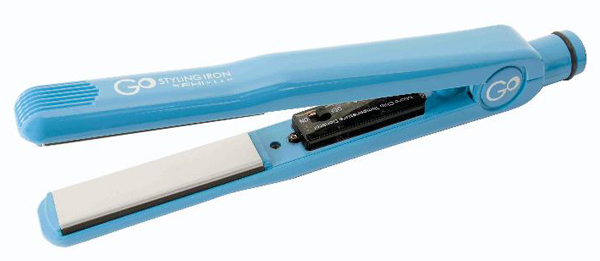 The Go styling irons feature brightly-colored, scratch-resistant, ceramic coated plates covered with a high quantity of tourmaline crystals which results in a large negative ion count. Other features include: a beveled edge for curling, flipping and twisting hair; an extra-long 9-foot swivel cord; gentle far infrared heat and low EMF; and an advanced heater with adjustable temperature control that allows the temperature to range from 140 to 410 degrees F. The Go irons also feature a special dual voltage plug that will allow you to plug the irons into various types of outlets which operate on different voltages. The iron retails for $79.99 and comes in 5 colors: Teal, Red, Pink, Black and Purple.