I've always been a fan of FHI Heat styling tools and have used the FHI Heat Platform SE 1 inch styling iron for a while now. I'm now also very much in love with the new 1 inch Go styling iron by FHI Heat (see image below). How can you not fall in love with it: it's colorful, fashion-forward, and it gets my hair beautifully straight. Also it's easily portable in travel bags.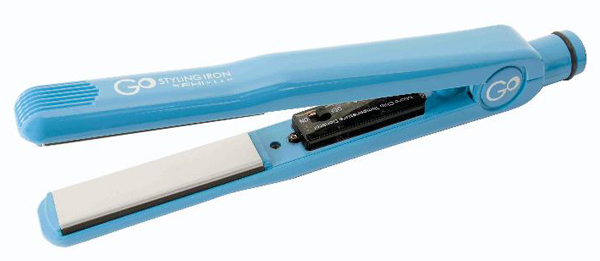 The Go styling irons feature brightly-colored, scratch-resistant, ceramic coated plates covered with a high quantity of tourmaline crystals which results in a large negative ion count. Other features include: a beveled edge for curling, flipping and twisting hair; an extra-long 9-foot swivel cord; gentle far infrared heat and low EMF; and an advanced heater with adjustable temperature control that allows the temperature to range from 140 to 410 degrees F. The Go irons also feature a special dual voltage plug that will allow you to plug the irons into various types of outlets which operate on different voltages. The iron retails for $79.99 and comes in 5 colors: Teal, Red, Pink, Black and Purple.
"What we aimed for is something fashionable, yet effective and affordable for women of all ages," states Phillip Wilson, International Creative Director for FHI Heat, Inc., a manufacturer of ceramic styling irons since 2003 and leader in professional quality hair tools. "These irons perform as well as expensive professional tools but at a fraction of the price. What makes them unique is that they come in a greater range of colors, which is important to younger fashionistas."
These new Go styling irons are available from Nov. 1, 2009 at Ulta, Trade Secret, Beauty First, Pure Beauty, and Mia and Maxx stores. Other FHI Heat products are available at fine hair salons and professional beauty retailers nationwide, via toll-free number at 877.FHI.HEAT (877.344.4328) and online at www.gohairstyling.com . Products offered by FHI Heat include blow dryers, styling irons, curling irons, shears, heat-activated conditioners, styling clips, carbon combs, brushes and a chemical straightening system. For more information, please call 877.FHI.HEAT or visit the website www. www.gohairstyling.com
About the Author
I am one of the top fashion and beauty bloggers in the world also a Luxury Paradise Valley and Scottsdale REALTOR with Russ Lyon Sotheby's International Realty.