All Posts Tagged With: "SAG Awards"
The Screen Actors Guild Awards (SAG) are this Sunday, January 30th, 2011, and Marta Walsh has just go the word that Lancôme will be doing the makeup for Amy Adams, Lea Michele and Tina Fey.
The award show season is officially upon us, which means gorgeous gowns and trendsetting beauty looks are de riguer on the red carpet. The Golden Globes set the bar pretty high, but the the Screen Actors Guild  Awards (SAG), which were held on Saturday, took the glam factor to the max. From the ladies of Nine, shown above, to the rest of Hollywood's elite, the hairstyles and makeup effects were off the gorgeous charts. Here, our favorite trends:
Old Hollywood Glamour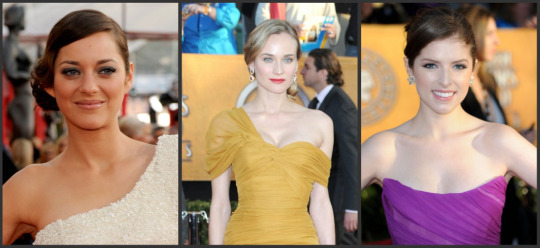 From left, Marion Cotillard Photo: © Kevork Djansezian/Getty Images, Diane Kruger and Anna Kendrick Photos: © Frazer Harrison/Getty Images
They say true glamour never goes out of style and in the case of Diane Kruger, Anna Kendrick and Marion Cotillard, this couldn't be more true. Each of these stunning stars opted for retro, old-school Hollywood vibe, which meant classic, structured updo's, seriously smoky eyes, lots of lashes and a strong lip look. We think Diane stole the show with her creamy red lip, porcelain skin and sleek hairstyle, but bright-eyed newcomer Anna and French siren Marion were also red carpet standouts with their bold, colorful eyeshadow and side-parted 'dos. Read full article in dailymakeover.com
GET THE LOOK: As newcomer and star on one of the hottest shows, True Blood's Anna Camp looked beautiful and effortlessly chic at Saturday's SAG Awards 2010. TRESemme Celebrity Stylist Mara Roszak, who styled Anna for the awards show, provided us with tips on how to recreate the look:

1. Apply mousse, such as TRESemme 24 Hour Body Foaming Mousse to damp hair and rough dry.
L'Oréal Paris and Carelle have once again collaborated to create gorgeous compacts to celebrate and honor Hollywood's leading ladies. This year, L'Oréal Paris received a prestigious star on the Friends of Hollywood Walk of Fame. To celebrate this achievement, each of the three different compacts showcases shooting stars encrusted with diamonds. The three compacts are made in sterling silver and plated in a different color 18kt gold, which enhances the beauty of the stones and embodies the spirit of the award show for which it is exclusively made.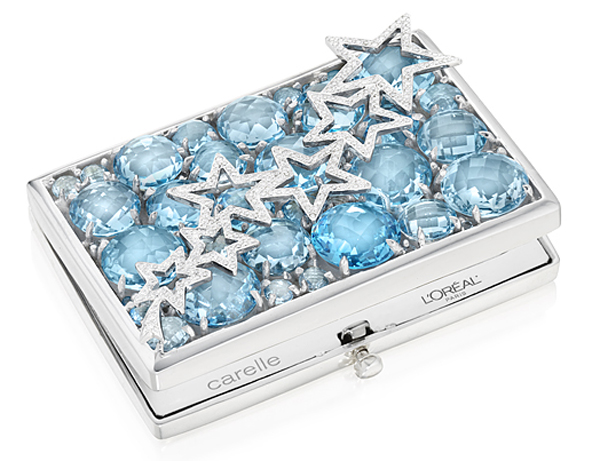 To celebrate their "Best Actress in a Feature Film" nominations, L'Oreal Paris and Carelle are thrilled to congratulate Sandra Bullock, Helen Mirren, Carey Mulligan, Gabourey Sidibe and Meryl Streep with these exclusive compact mirrors.
Since May, the John Frieda See for Yourself Salon Tour has been traveling around the country stopping in cities like Orlando, Atlanta, D.C. and Philadelphia giving hair transformations to women for free.
Flocks of local women lined up to get their hair styled and to learn tips and tricks from the top hair experts in the industry. The gorgeous salon has a glamorous photo studio for before and after pictures, five stylist stations, two hair washing stations, and lounge sofas for friends and family to sit and watch the transformations happen right before their very eyes! With music pumping and blow dryings blasting, it's definitely a fun place to be.
Celebrity stylist Harry Josh is making appearances on many stops throughout the summer.
Harry is sought after by A-listers such as Hilary Swank, Sarah Jessica Parker, and Gisele Bundchen, to name a few. He was also the master mind behind the gorgeous and popular up-do that Ellen Pompeo sported to the SAG Awards. Harry is offering his expert stylist touch to women this summer on the John Frieda See for Yourself Tour in cities such as Boston, Chicago, Seattle, Los Angeles and San Francisco. Can't make it to the tour? No worries! Check out Harry's tips on summer styling to make your hair frizz-free and fabulous, listed below!
"Summer is a time when heat and humidity can really take a toll on your style. Regardless of how you choose to style your hair – whether it's curly or straight – it's important to use the right products to keep your hair sleek and healthy," says Harry Josh, Creative Consultant for the John Frieda Collection. "Follow my below tips and you'll be able to get the same salon results at home this summer."
Start with a shampoo and conditioner that helps block out moisture and keeps your style in tact like the Weather Works by Frizz-Ease Weather-Proofing Shampoo and Conditioner from the John Frieda Collection. This shampoo and conditioner adds a protective barrier to the hair that will shield out unwanted moisture and lock in the needed moisture so that your hair stays healthy and shiny. It also protects from UV rays that can damage hair. From there, you can style your hair as you choose and feel confident that your style will last throughout your summer activities.
HOW TO STYLE TIPS FOR CURLY HAIR:
1. Once hair is toweled dry, I applied a dime size amount of the Weather Works by Frizz-Ease Weather-Proofing Style Sealent Crème from root to end to help control the frizz and make hair more manageable.
2. Next, I blow-dried her hair, wrapping pieces around my fingers to give it a natural curl.
3. Now that her hair is completely dry, I'm going to rub a small amount of John Frieda Frizz-Ease Thermal Protection Serum between my palms and apply it to the ends. This product is perfect to add instant shine and a finishing touch to your style. The result is healthy looking with an ultra shiny finish.
4. Also, if you're a blonde, try spraying a bit of the John Frieda Sheer Blonde Tousled Tresses Fine Mist Wax for the perfect undone look.
5. If you're a brunette wearing this style, add a small amount of John Frieda Brilliant Brunette Shine Shock Perfecting Glosser to add extra shine and illuminate the brown tones.
HOW  TO STYLE TIPS FOR STRAIGHT HAIR:
1. For this style, I applied a small amount of the John Frieda Frizz-Ease Thermal Protection Serum onto the hair when it was wet to protect hair from damage caused by blow dryer and using a flat iron. Then I blow-dried the hair dry with a large round brush.
2. Especially during the summer, hair can really lack luster and become dry. Applying a bit of the John Frieda Frizz-Ease Secret Weapon Crème is the key to instantly transforming puffy, parched hair into ultra shiny, soft hair. Take a dime sized amount and run it through the hair from root to end for a smooth, supple look.
3. If you're a brunette, try the John Frieda Satin Shine Finishing Crème. It leaves hair silky without making it greasy.
4. If you're a blonde, try substituting the John Frieda Frizz-Ease Thermal Serum for the John Frieda Sheer Blonde Spotlight Sleek & Shine Detangler, concentrating on the ends of hair. This will add a layer of shimmer and illuminate the highlights.
To find an upcoming salon tour stop, you can go to www.johnfrieda.com. The tour will be traveling until the beginning of August. Women can book a coveted 30-minute consultation with a top stylist online in advance.