All Posts Tagged With: "Gisele Bundchen"
GISELE BÜNDCHEN SIZZLES AS PANTENE'S NEWEST AMBASSADOR
The International Supermodel and UN Goodwill Ambassador
Named New Face of Iconic Hair Care Brand
CINCINNATI, OH (December 27, 2013) (NYSE: PG) – For more than a decade, women around the globe have been using the phrase "I want Gisele hair" to describe their ultimate hair inspiration. Beginning in January 2014, Pantene, the world's #1 hair care brand, and one of the world's most recognized supermodels, Gisele Bündchen, are coming together to create a match made in hair heaven. Bündchen will appear in all elements of the brand's holistic marketing campaign, including TV and print advertising, in-store displays, iMedia and public relations outreach. The international supermodel has been representing Pantene in Brazil since 2007.
Beauty News: P&G announced on Thursday, August 12th, 2010, that it is planning to launch sustainable packaging made from Brazilian sugarcane on several of its leading beauty brands. The announcement was made by Gisele Bundchen, Pantene endorser in Brazil, at an event that morning in her home country.

Gisele Bundchen for Pantene Pro-V in Sao Paulo
Here's Ed Shirley, Vice-Chairman of P&G Beauty and Grooming, with more details on this new sustainability effort:
My favorite girl Gisele Bundchen was spotted today promoting the Ipanema Footwear at the Grand Hotel Intercontinental in Paris, France. How beautiful Gisele looks and she just had a baby. Secret: I always try to get ('copy') Gisele's hair, color and cut. I try:) Actually last time when I was in New York City I had a chat with Harry Josh who did Gisele's color many times. Harry told me that my hair looks like Gisele's hair. You know how much I love Harry Josh now, right?:)
Gisele Bundchen is gracing VOGUE Magazine cover April 2o10.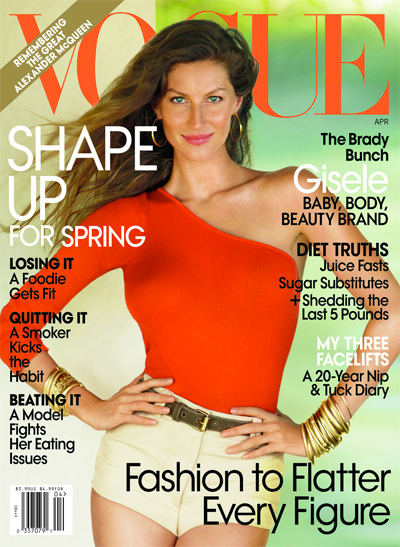 Photo Credit: Patrick Demarchelier/Vogue
Devoted to health, wellness, and the trials and triumphs of shape and size, VOGUE's annual April 2010 tribute to the female form, the Shape Issue, is replete with stories that range from the inspirational to the poignant, but all celebrate a love for life, from model Kim Noorda's moving account of her struggle with food issues and how, through treatment, she has gained the confidence to let go of the diet demons that controlled her life, to VOGUE Contributing Editor Vicki Woods's tale of how she finally stood up to smoking and its diktats to live a cigarette-free life and foodie Julie Powell, a lifelong gym-phobe who decides to get fit once and for all. VOGUE also profiles role models like Harvard-educated Kate Dilllon, one of today's most successful plus-size models, and pixie rocker Janelle Monáe, who may stand a mere five feet but who is by no means short on style or talent.
Talking Makeup is excited to present the Tom Brady SIGNED All American Stetson Perfume Bottle GIVEAWAY!!! I mean, signed by Tom Brady. How cool is that?
HOW TO ENTER the Tom Brady SIGNED All American Stetson Fragrance Bottle GIVEAWAY:
1. Go to Talking Makeup's YouTube Channel & subscribe!
2. Leave a comment.
3. Giveaway EXPIRES Sunday May 24th, 2009.
Good luck everyone:)
All American Stetson is a fresh, modern, new addition to the Stetson fragrance family. Best described as an aromatic woody fragrance, All American Stetson features notes of black suede (spokesman Tom Brady's self-professed favorite), cedar leaf, ginger, musk, and fresh water ferns.
Tom Brady is supermodel Gisele Bundchen's husband and he is super cute. Aren't you curious how All American Stetson smells?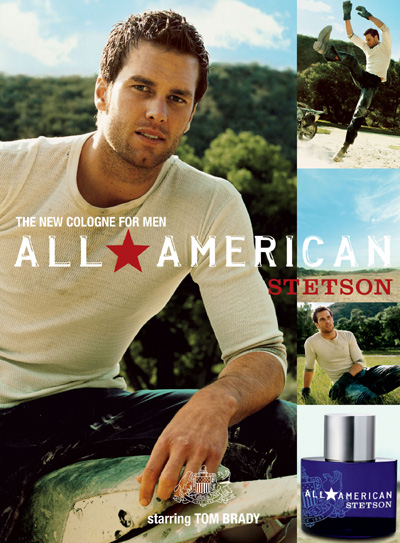 Developed by master perfumer Harry Fremont of Firmeniche, All American Stetson is for the fun-loving, athletic, adventurous and rugged "All American" guy. The fragrance is available now at mass retailers and retails for $14.50 – $26.00.
Here is Gisele Bundchen Promoting New Ipanema Sandals. Why? Because Gisele Bundchen is one of my all time favorite models. And, she has the most beautiful hair and color. I often hear women wanting to imitate Gisele Bundchen's Hair: the perfect blonde highlights, the length, the part in the middle. I'm also working on getting this look, lol. Still!
Max Factor is turning 100 in 2009 and to celebrate they've signed on brazilian supermodel (and girlfriend of NFL hottie Tom Brady) Gisele Bündchen as their newest spokesperson.
"MAX Factor is a brand that has touched some of the most glamorous faces in the world for the last 100 years," said Bündchen. "But more than that, I love that this was the original brand to make that professional artistry and glamour available to everyday women, and I'm honored to work with MAX Factor in continuing that great tradition."
via: Makeup Bag.
Since May, the John Frieda See for Yourself Salon Tour has been traveling around the country stopping in cities like Orlando, Atlanta, D.C. and Philadelphia giving hair transformations to women for free.
Flocks of local women lined up to get their hair styled and to learn tips and tricks from the top hair experts in the industry. The gorgeous salon has a glamorous photo studio for before and after pictures, five stylist stations, two hair washing stations, and lounge sofas for friends and family to sit and watch the transformations happen right before their very eyes! With music pumping and blow dryings blasting, it's definitely a fun place to be.
Celebrity stylist Harry Josh is making appearances on many stops throughout the summer.
Harry is sought after by A-listers such as Hilary Swank, Sarah Jessica Parker, and Gisele Bundchen, to name a few. He was also the master mind behind the gorgeous and popular up-do that Ellen Pompeo sported to the SAG Awards. Harry is offering his expert stylist touch to women this summer on the John Frieda See for Yourself Tour in cities such as Boston, Chicago, Seattle, Los Angeles and San Francisco. Can't make it to the tour? No worries! Check out Harry's tips on summer styling to make your hair frizz-free and fabulous, listed below!
"Summer is a time when heat and humidity can really take a toll on your style. Regardless of how you choose to style your hair – whether it's curly or straight – it's important to use the right products to keep your hair sleek and healthy," says Harry Josh, Creative Consultant for the John Frieda Collection. "Follow my below tips and you'll be able to get the same salon results at home this summer."
Start with a shampoo and conditioner that helps block out moisture and keeps your style in tact like the Weather Works by Frizz-Ease Weather-Proofing Shampoo and Conditioner from the John Frieda Collection. This shampoo and conditioner adds a protective barrier to the hair that will shield out unwanted moisture and lock in the needed moisture so that your hair stays healthy and shiny. It also protects from UV rays that can damage hair. From there, you can style your hair as you choose and feel confident that your style will last throughout your summer activities.
HOW TO STYLE TIPS FOR CURLY HAIR:
1. Once hair is toweled dry, I applied a dime size amount of the Weather Works by Frizz-Ease Weather-Proofing Style Sealent Crème from root to end to help control the frizz and make hair more manageable.
2. Next, I blow-dried her hair, wrapping pieces around my fingers to give it a natural curl.
3. Now that her hair is completely dry, I'm going to rub a small amount of John Frieda Frizz-Ease Thermal Protection Serum between my palms and apply it to the ends. This product is perfect to add instant shine and a finishing touch to your style. The result is healthy looking with an ultra shiny finish.
4. Also, if you're a blonde, try spraying a bit of the John Frieda Sheer Blonde Tousled Tresses Fine Mist Wax for the perfect undone look.
5. If you're a brunette wearing this style, add a small amount of John Frieda Brilliant Brunette Shine Shock Perfecting Glosser to add extra shine and illuminate the brown tones.
HOW  TO STYLE TIPS FOR STRAIGHT HAIR:
1. For this style, I applied a small amount of the John Frieda Frizz-Ease Thermal Protection Serum onto the hair when it was wet to protect hair from damage caused by blow dryer and using a flat iron. Then I blow-dried the hair dry with a large round brush.
2. Especially during the summer, hair can really lack luster and become dry. Applying a bit of the John Frieda Frizz-Ease Secret Weapon Crème is the key to instantly transforming puffy, parched hair into ultra shiny, soft hair. Take a dime sized amount and run it through the hair from root to end for a smooth, supple look.
3. If you're a brunette, try the John Frieda Satin Shine Finishing Crème. It leaves hair silky without making it greasy.
4. If you're a blonde, try substituting the John Frieda Frizz-Ease Thermal Serum for the John Frieda Sheer Blonde Spotlight Sleek & Shine Detangler, concentrating on the ends of hair. This will add a layer of shimmer and illuminate the highlights.
To find an upcoming salon tour stop, you can go to www.johnfrieda.com. The tour will be traveling until the beginning of August. Women can book a coveted 30-minute consultation with a top stylist online in advance.