Gisele Bundchen is gracing VOGUE Magazine cover April 2o10.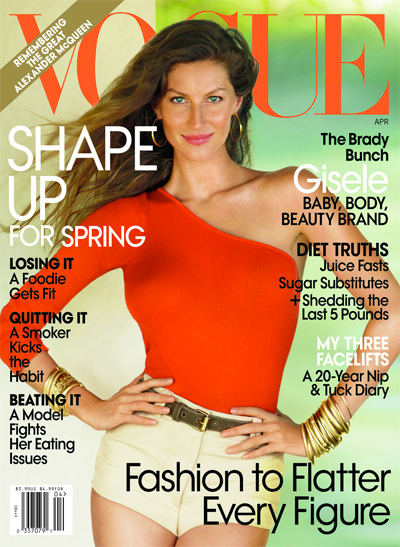 Photo Credit: Patrick Demarchelier/Vogue
Devoted to health, wellness, and the trials and triumphs of shape and size, VOGUE's annual April 2010 tribute to the female form, the Shape Issue, is replete with stories that range from the inspirational to the poignant, but all celebrate a love for life, from model Kim Noorda's moving account of her struggle with food issues and how, through treatment, she has gained the confidence to let go of the diet demons that controlled her life, to VOGUE Contributing Editor Vicki Woods's tale of how she finally stood up to smoking and its diktats to live a cigarette-free life and foodie Julie Powell, a lifelong gym-phobe who decides to get fit once and for all. VOGUE also profiles role models like Harvard-educated Kate Dilllon, one of today's most successful plus-size models, and pixie rocker Janelle Monáe, who may stand a mere five feet but who is by no means short on style or talent.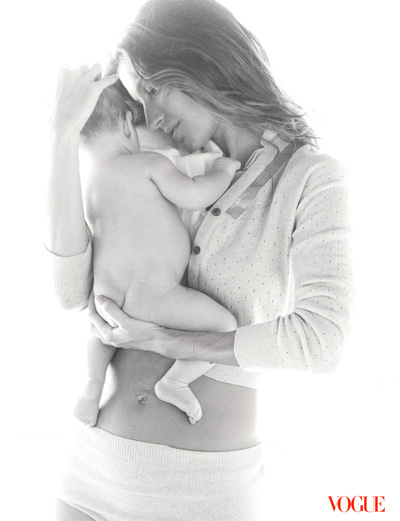 Photo Credit: Patrick Demarchelier/Vogue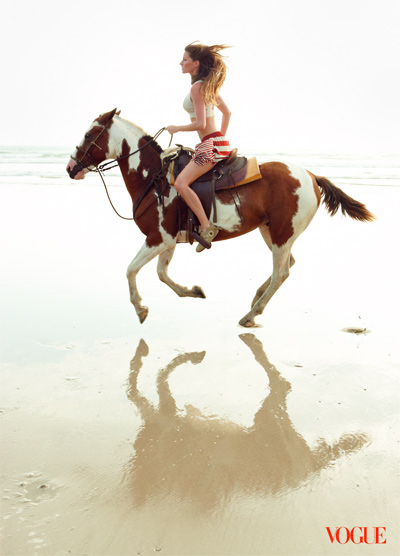 Photo Credit: Patrick Demarchelier/Vogue
The model of health itself, Gisele Bündchen is a natural choice to grace the cover of the April Shape Issue. Only six weeks after giving birth, Gisele opens the doors to her Boston home to VOGUE Contributing Editor Joan Juliet Buck and shares intimate details about the birth of her baby boy with New England Patriots quarterback Tom Brady, her new beauty line developed to empower troubled young girls around the world, and her efforts to save the environment. In a stunning editorial shot by Patrick Demarchelier, the model enjoys the beaches of Costa Rica and shows off her new baby, Benjamin Rein.
HIGHLIGHTS FROM THE COVER STORY:
Gisele on her baby's name, Benjamin Rein: "I wanted him to be called River because I wanted something always flowing, immortal. My husband said, 'There's no way we're going to call him River.' But my father's name is Reinoldo, so it's a homage to him. And it's like water."
On staying in shape while pregnant: "I did kung fu up until two weeks before Benjamin was born, and yoga three days a week. I think a lot of people get pregnant and decide they can turn into garbage disposals. I was mindful about what I ate, and I gained only 30 pounds."
On keeping out of the public eye: "I felt like my pregnancy was a sacred moment for me. I stayed in Boston and I didn't work apart from the contracts I have, and then I only let them use my face."
On her first time behind the camera since her son was born: "I got to the studio and I felt like I was E.T.—whoa, what's going on? Hair and makeup? I hadn't looked at myself in a mirror for a month and a half… Usually, as I walk through the door into that atmosphere, I already feel different. There's a button that goes On and I'm On. And when I go On, there is almost no me; there is just a character who is doing all this. This time it wasn't like that… For the first time, I think I actually saw me—the inside—instead of the persona." Read full story in vogue.com/feature/
For the behind-the-scenes video of Gisele's photo shoot please visit: vogue.com/voguediaries