All Posts Tagged With: "plus-size model"
Gisele Bundchen is gracing VOGUE Magazine cover April 2o10.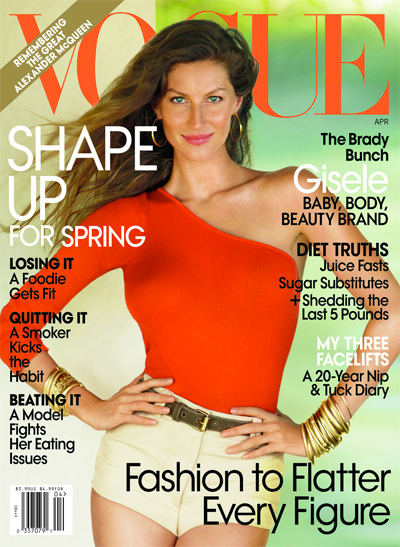 Photo Credit: Patrick Demarchelier/Vogue
Devoted to health, wellness, and the trials and triumphs of shape and size, VOGUE's annual April 2010 tribute to the female form, the Shape Issue, is replete with stories that range from the inspirational to the poignant, but all celebrate a love for life, from model Kim Noorda's moving account of her struggle with food issues and how, through treatment, she has gained the confidence to let go of the diet demons that controlled her life, to VOGUE Contributing Editor Vicki Woods's tale of how she finally stood up to smoking and its diktats to live a cigarette-free life and foodie Julie Powell, a lifelong gym-phobe who decides to get fit once and for all. VOGUE also profiles role models like Harvard-educated Kate Dilllon, one of today's most successful plus-size models, and pixie rocker Janelle Monáe, who may stand a mere five feet but who is by no means short on style or talent.