All Posts Tagged With: "cover"
Rihanna looks bigger than life on the cover of Elle Magazine July 2010. Rihanna was photographed by Tom Munro. On turning her dream of popstardom into reality: "If I were in Barbados still, I would be dreaming about this. I asked for it, and I love it, so why am I complaining? My first day on tour, I remember saying 'I'm so tired—this is so much.' Then I thought, What the fuck? You asked for this—you prayed to God to tour like Madonna." Read full article in Elle.com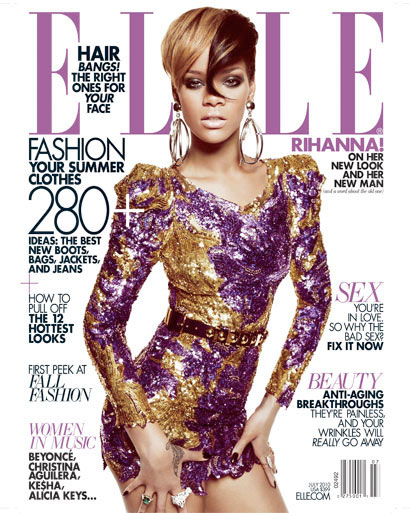 Watch Rihanna behind the scenes her Elle Magazine photo shoot:
Kate Moss is looking absolutely beautiful on the cover of French Vogue or Vogue Paris June/July 2010. Moss is still my beauty inspiration after all these years. Her looks are classic and legendary.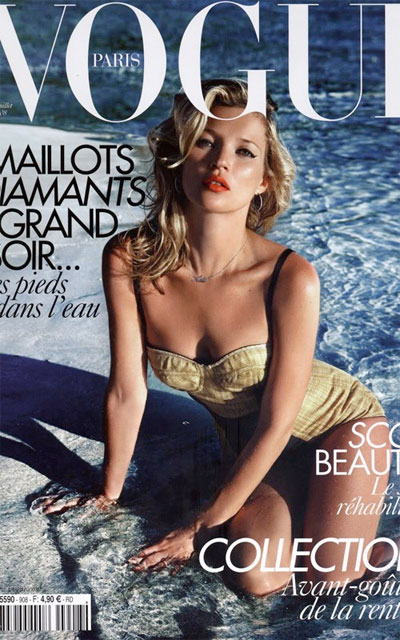 Katherine Heigl is back to blonde on the cover of Harper's Bazaar June 2010 and I approve. Just like Kim Kardashian was born to be brunette, Katherine was born to be blonde.

Katherine Heigl, photo by Alexi Lubomirski for Harper's Bazaar
Kristen Stewart is gracing the upcoming June 2010 issue of  Elle Magazine. We LOVE:)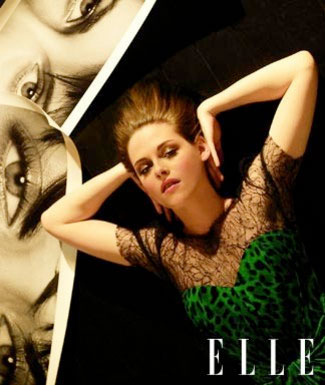 Photo: Carter Smith; Styled by Joe Zee
Kristen Stewart: June 2010. A Behind-the-scenes look at ELLE's June cover shoot. Watch here.
Looking for hair that has Boom Boom Pow? Tracey Cunningham, Redken Creative Consultant for Color and Hollywood colorist, gave Fergie glam color for Elle May 2010 issue cover shoot.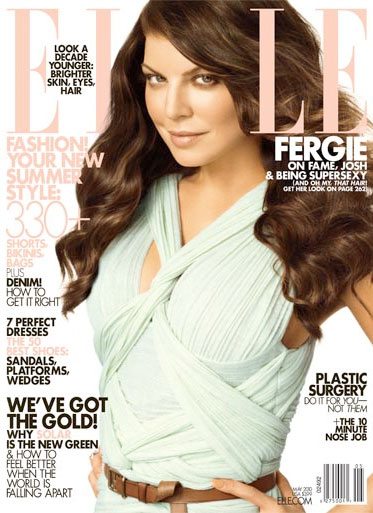 If you want Fergie's fab color, ask your colorist to use:
1. Redken Color Fusion (5NN) on the base: Color Fusion Advanced Performance Color Cream delivers healthy-looking, multi-dimensional haircolor and features Redken's exclusive Colorbond Technology to provide optimum durability, condition and shine.
Sarah Jessica Parker is gracing the cover of VOGUE Magazine May 2010: In a salute to the upcoming exhibition at the Metropolitan Museum of Art Costume Institute, "American Woman: Fashioning a National Identity," VOGUE's May 2010 issue offers a celebration of the same topic. To herald the cause and as the emblem of today's American woman, Sarah Jessica Parker is VOGUE's May cover star. VOGUE contributing editor Vicki Woods visits with Ms. Parker as she prepares for the upcoming release of the sequel to Sex and the City, begins her role as president and chief creative officer of Halston, and faces the challenges of being a mom to three small children. Styled by Tonne Goodman, Ms. Parker was photographed for the cover by Mario Testino.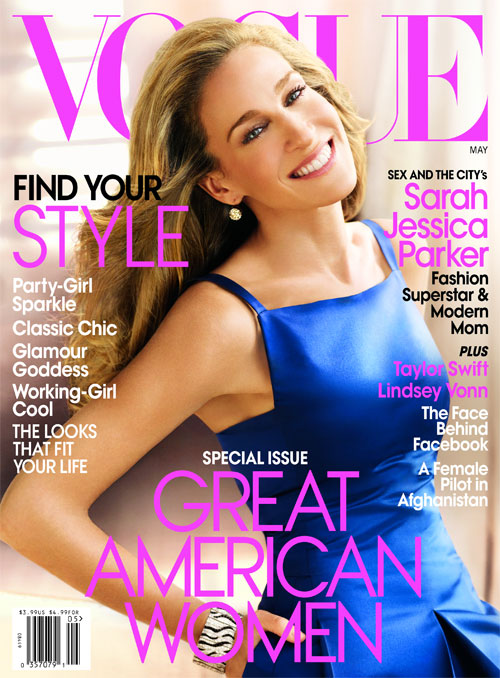 Photo Credit: Mario Testino/VOGUE
WATCH the behind the scenes of the Sarah Jessica Parker VOGUE May 2010 Photo Shoot (via: vogue.com):
Highlights From the Article:
This is revolutionary and I'm quite impressed with Jessica Simpson's move to pose without makeup and all natural on the cover of Marie Claire Magazine May 2010 edition. With the success of reality TV and our growing interest in watching real people why not show realism on Magazine covers too. Looks like posing nude for Playboy is not the only way to grab my attention. Star of VH1 's "The Price of Beauty" sets a good example for young women and all women to love and embrace the way they look. This is a good line: "I don't have anything to prove anymore. What other people think of me is not my business."-Jessica Simpson. I should always remember that!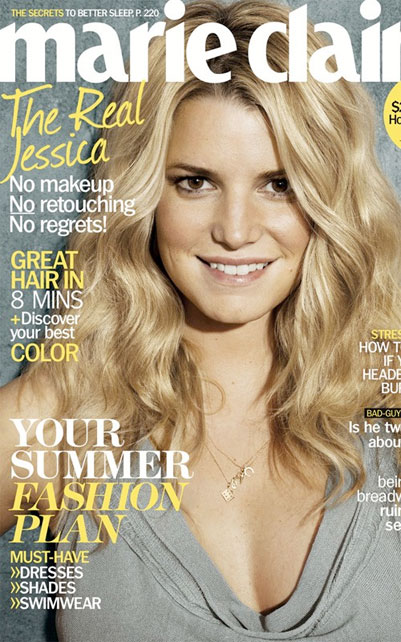 Jennifer Aniston is looking beautiful on the cover of British Harper's Bazaar for May 2010. Jennifer was photographed by Alexi Lubomirski. Do you love?
Gisele Bundchen is gracing VOGUE Magazine cover April 2o10.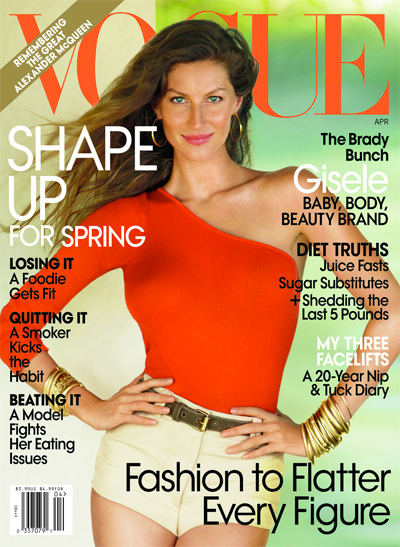 Photo Credit: Patrick Demarchelier/Vogue
Devoted to health, wellness, and the trials and triumphs of shape and size, VOGUE's annual April 2010 tribute to the female form, the Shape Issue, is replete with stories that range from the inspirational to the poignant, but all celebrate a love for life, from model Kim Noorda's moving account of her struggle with food issues and how, through treatment, she has gained the confidence to let go of the diet demons that controlled her life, to VOGUE Contributing Editor Vicki Woods's tale of how she finally stood up to smoking and its diktats to live a cigarette-free life and foodie Julie Powell, a lifelong gym-phobe who decides to get fit once and for all. VOGUE also profiles role models like Harvard-educated Kate Dilllon, one of today's most successful plus-size models, and pixie rocker Janelle Monáe, who may stand a mere five feet but who is by no means short on style or talent.
A little secret about Marta Walsh: I'm a huge fan of Kate Moss. I don't really know Kate personally but I do know that I like what I see. She is beautiful and is the ultimate rock chic (which is what I like to describe my style). Well, Kate is now gracing Vogue UK magazine cover for April 2010. Kate's makeup is by Rimmel London. Do you love?