Rihanna looks bigger than life on the cover of Elle Magazine July 2010. Rihanna was photographed by Tom Munro. On turning her dream of popstardom into reality: "If I were in Barbados still, I would be dreaming about this. I asked for it, and I love it, so why am I complaining? My first day on tour, I remember saying 'I'm so tired—this is so much.' Then I thought, What the fuck? You asked for this—you prayed to God to tour like Madonna." Read full article in Elle.com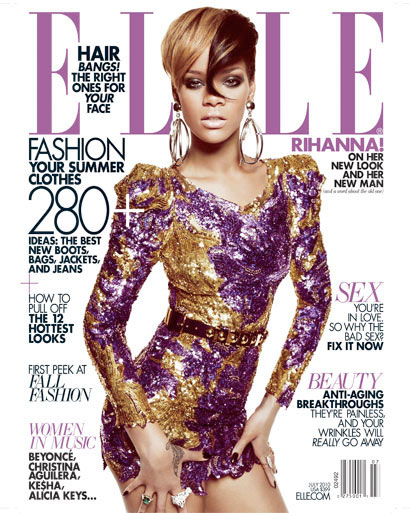 Watch Rihanna behind the scenes her Elle Magazine photo shoot:

Rihanna in a Draped silk dress, $4,993, head scarf, $645, both, Lanvin, collection at Bergdorf Goodman, NYC. Diamond earrings, Anita Ko, $4,600. Yellow gold necklace, Cartier, price upon request.