Looking for hair that has Boom Boom Pow? Tracey Cunningham, Redken Creative Consultant for Color and Hollywood colorist, gave Fergie glam color for Elle May 2010 issue cover shoot.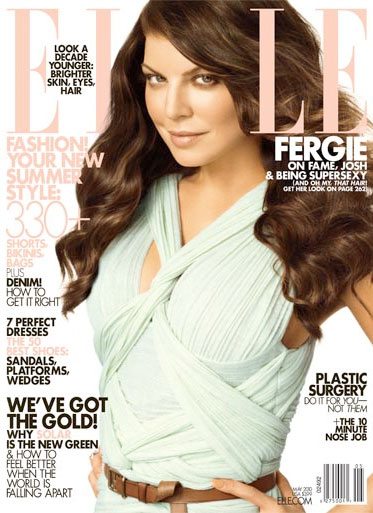 If you want Fergie's fab color, ask your colorist to use:
1. Redken Color Fusion (5NN) on the base: Color Fusion Advanced Performance Color Cream delivers healthy-looking, multi-dimensional haircolor and features Redken's exclusive Colorbond Technology to provide optimum durability, condition and shine.
2. Highlight with Redken Up to 7 De-Dusted Lightener: Lifts hair up to 7 levels while providing predictable, extra light results with no added fragrance.
3. Finish with Shades EQ (equal parts 09NB Irish Crème and 07G Saffron): Shades EQ equalizing conditioning color gloss is the #1 long-lasting, no-lift, no-ammonia, demi-permanent haircolor in the U.S. It provides healthy, shiny results, incredible conditioning with an amazing number of mixing possibilities.
Remember to use a haircare regimen to protect your haircolor – Tracey recommends Redken Color Extend line which includes:
– Color Extend Shampoo
– Color Extend Conditioner
– Color Extend Rich Recovery
– Color Extend Total Recharge
– Color Extend Shine Enrich
You get to know Tracey and ask her your hair color questions by logging on to Redken.com, Ask The Experts page.