All Posts Tagged With: "Elle"
Makeup for Redheads: I stumbled upon this article: ELLE's Best Makeup for Redheads with a photo gallery of the best makeup looks for redheads with tips and tricks from celebrity makeup artist Rachel Goodwin on how to achieve each look. Celebrity Redhead Number One: Christina Hendricks. Rachel Goodwin, a celebrity makeup artist for Chanel, says that lipstick isn't what it used to be—and that's a good thing: "In the 1960s, it was somewhat chalky and colors were overly pigmented. Since then, formulations have gotten friendlier. Textures are more sheer and natural-looking."
Move over Carrie Bradshaw, there's a new woman taking Manhattan – Riley Kendrick. "Dirty Little Secret," a new, graphic novel web series created in partnership ELLE and TRESemmé, follows six of NYC's most connected women around the Big Apple.
The 10-part series, which premieres on May 25th, 2010, on ELLE.com/DirtyLittleSecret and the TRESemmé Facebook fan page (Facebook.com/tresemme), follows the new girl in town, aspiring hairstylist Riley Kendrick and her encounters with some of the most stylish and chic women in the fashion and beauty worlds. However, her "dirty little secret," which begins as a harmless omission, spirals out of control, leading to a web of deception. The compelling drama also features real-life TRESemmé Celebrity Stylist, Jeanie Syfu. As we all know, some of the best-kept secrets are spilled in the salon chair and Jeanie has heard some scandalous ones this season.
Victoria's Secret Beauty's Miranda Kerr is celebrating the launch of the Heavenly Flowers Fragrance Collection with a chic fashion spread in ELLE's June 2010 Body Issue hitting newsstands in just a few days. Get a sneak peek to the photo spread, as well as to the Behind The Scenes Video. You can read the full feature story on ELLE.com.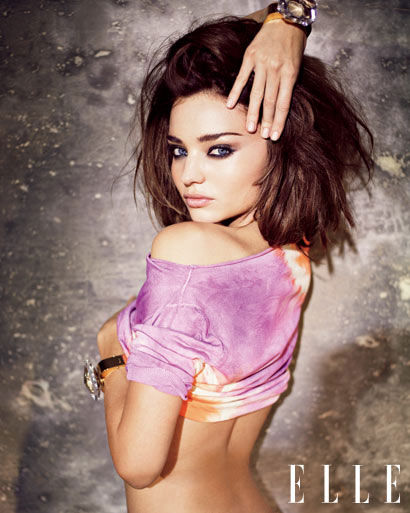 Photo: Mariano Vivanco; styled by Samuel François
ELLE & Sebastian Invite You! Enjoy cocktails and hors d'oeuvres while you receive a complimentary hair touch-up from a professional stylist. Thursday, May 13, 2010. Time: 6-8 PM. Where: ULTA—West Hollywood Gateway, 7100 Santa Monica Blvd, Suite 210. RSVP: 888.367.3553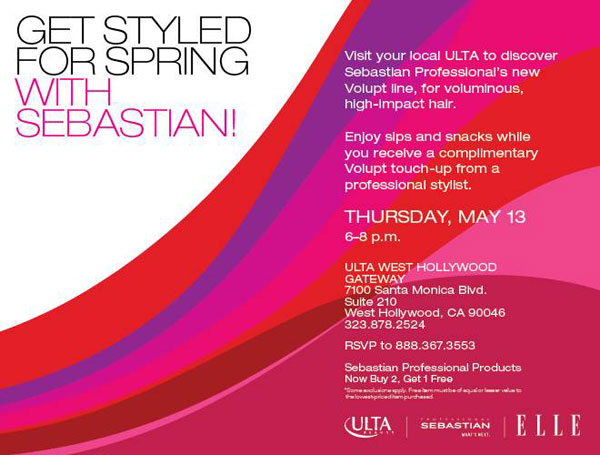 Click image above to enlarge
Looking for hair that has Boom Boom Pow? Tracey Cunningham, Redken Creative Consultant for Color and Hollywood colorist, gave Fergie glam color for Elle May 2010 issue cover shoot.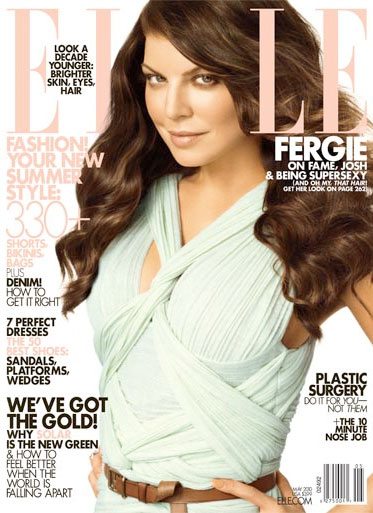 If you want Fergie's fab color, ask your colorist to use:
1. Redken Color Fusion (5NN) on the base: Color Fusion Advanced Performance Color Cream delivers healthy-looking, multi-dimensional haircolor and features Redken's exclusive Colorbond Technology to provide optimum durability, condition and shine.
Pop music sensation, Ke$ha, made a serious statement at the Erin Wasson X RVCA Fashion Week Fall 2010 showing when she posed for paps wearing barely anything else but a What Goes Around Comes Around (WGACA) studded and patched vintage motorcycle jacket! This jacket inspired them to create their own line of exclusive Custom Vintage motorcycle jackets. Made in limited supply and all one-of-a-kind, these special pieces are sure to make any gal a unique crowd pleaser – pants or not!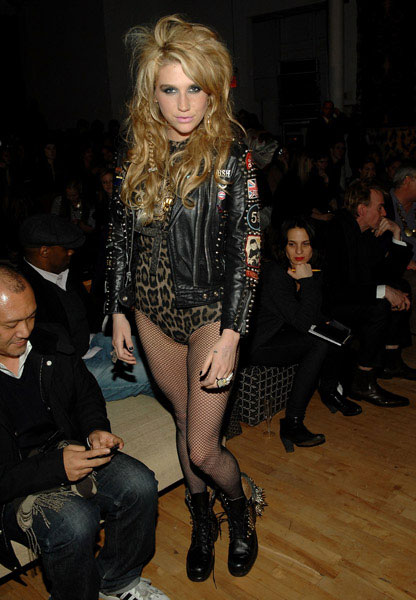 Ke$ha (in the background Creative Director of ELLE Joe Zee seems busy texting in the background:)
The store What Goes Around Comes Around takes me (Marta Walsh) back to my New York University (NYU) years as a business student. I once bought my very favorite vintage blue bell bottom cords which I wore till I had holes in my pockets. I remember thinking I'm going to wear them till I'm 80. LOL
ELLE and Sebastian Professional invite you to experience Sebastian Professional's NEW Volupt line for hair-raising volume. Enjoy cocktails and Hors d'oeuvres while you receive a complimentary hair consultation from a professional stylist. WHEN: April 8th, 2010 6-8 PM. WHERE: Riccardo Maggiore Salon 136 East 57rh Street at Lexington Avenue New York City. Kindly RSVP to 866 283 3711. Have fun:)
ELLE magazine has a brand new Beauty gallery of Spring 2010 Hair and Makeup Trends. Check out the gallery for images of celebs vs. runway models sporting the trends, and vote on who wore them best. To read full article and to VOTE visit elle.com
Here's a sneak peek: Lauren Conrad wearing bright pink lipstick alongside the runway version.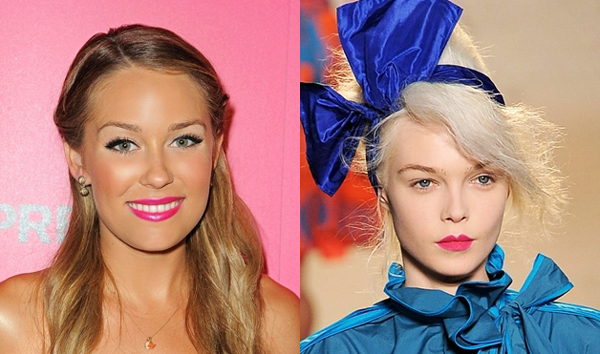 ELLE, the number one global fashion magazine, announces the ELLE Make Better Program and DVD Series. The Make Better program is a multiplatform initiative surrounding fitness, fashion and beauty content that includes a themed January issue, a dedicated website and a three-DVD set hosted by and starring model Brooklyn Decker.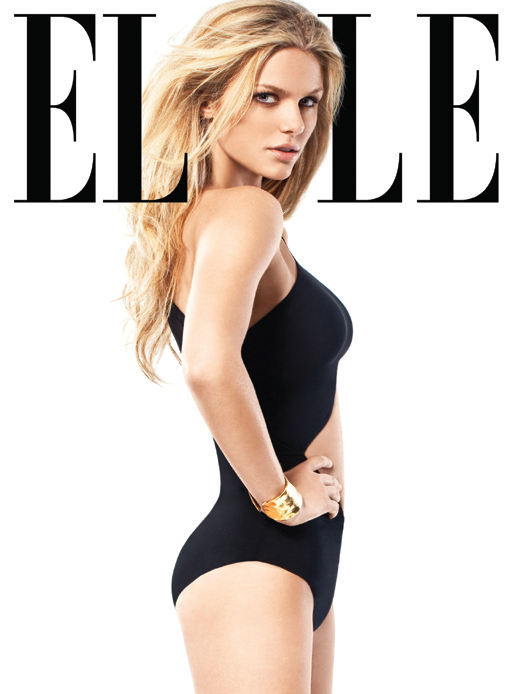 ELLE is turning the dated notion of the "makeover" on its head and instead focusing on new ways to look at fashion, beauty and fitness through simple, yet strategic adjustments to one's everyday life. Spending unnecessary time, money and energy on a new wardrobe, overhauling one's closet or engaging in expensive beauty and fitness regimes is out–so beginning with the January 2010 Make Better Issue, ELLE will demonstrate how to make small tweaks to readers' lifestyles that offer big results. ELLE will also feature Make Better edit in the beauty/fitness section throughout 2010, inspiring you to continue striving to improve your life. The program will be sponsored by Reebok, which will integrate its fitness apparel and Easy Tone technology into the DVDs and custom advertorials in the January issue.
Hearing Elle Russia takes me back to the place I was born, the Former Soviet Russian Republic Georgia. I sometimes wonder what my life would have been like if my parents never left Russia. Maybe my name would be something like Marta Shalvovna and not Marta Walsh LOL (which really happens to be my Russian middle name). Enough about me, let's talk Eva Mendes. Eva is one of my favorite Hollywood beauties. She reminds me of Raquel Welch another natural and classic beauty. The question is: Do YOU love?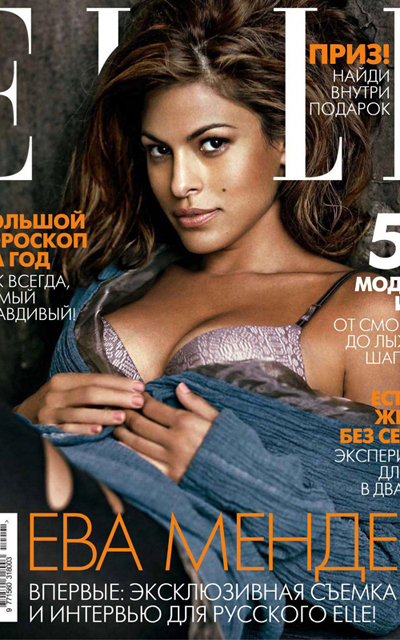 See more Eva Mendes in ELLE Russia January 2010!