All Posts Tagged With: "Sebastian"
Jen Atkin Styles 'Mad Men' Actress Christina Hendricks for the 2011 Golden Globes.
On Sunday, January 16, 2011 Hollywood's elite descended on the red carpet at The Beverly Hilton Hotel in Beverly Hills, CA for the 68th Annual Golden Globes awards. Christina Hendricks, best known for her role as the sexy secretary Joan Harris in hit drama, Mad Men, rocked a Romona Keveza gown and bouncy curls courtesy of stylist Jen Atkin for Sebastian Professional.
ELLE & Sebastian Invite You! Enjoy cocktails and hors d'oeuvres while you receive a complimentary hair touch-up from a professional stylist. Thursday, May 13, 2010. Time: 6-8 PM. Where: ULTA—West Hollywood Gateway, 7100 Santa Monica Blvd, Suite 210. RSVP: 888.367.3553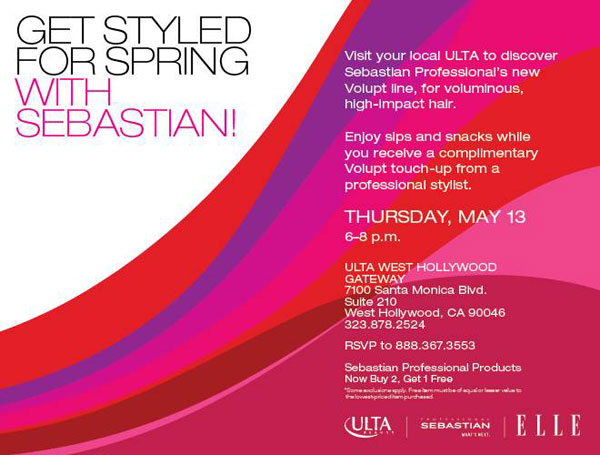 Click image above to enlarge
The stars hit the red carpet at The Costume Institute Gala Benefit. This year, the MET Ball celebrated the opening of the "American Women: Fashioning a National Identity" exhibition and Hollywood's hottest actresses showed up with equal parts glam and daring. Sebastian stylist Thomas Dunkin tended to the locks of An Education actress Carey Mulligan before the gala. Looking to counter Carey's very feminine dress with a tomboy flair, Thomas styled the actress' short 'do with a full fringe crop that's approaching a very short bob.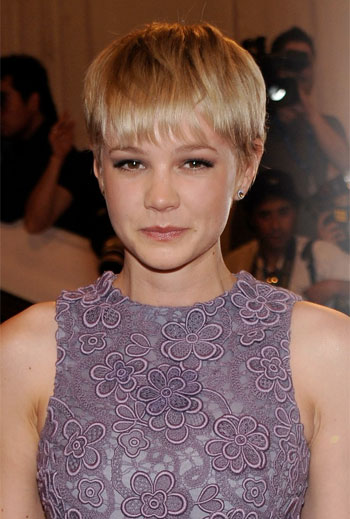 Here, Thomas shares tips for recreating Carey's understated style.
1. Dampen hair and apply a liberal amount of Sebastian Professional Potion 9.
Rachel McAdams Oscars 2010: The Hairstyle
For Hollywood's biggest night of the year, Sebastian Stylist Design Team Member Thomas Dunkin styled actress Rachel McAdams' tresses to complement her pastel watercolor-print strapless couture gown. The voluminous texture of Rachel's bun evoked a spring-time look that is effortlessly chic and breathtakingly beautiful.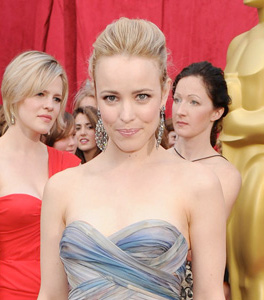 Hair Tutorial: Thomas shares styling tips for recreating Rachel's red carpet look at home
1) Start by applying Sebastian Professional Liquid Gloss to slightly damp hair.
2) Blow dry hair straight with a large round bristle brush to give hair a smooth, polished base and voluminous texture from which to start styling.
3) Brush hair back and put in a ponytail just above the occipital bone. Secure with bobby pins.
GET THE LOOK: On Saturday, January 23, 2010 at the Shrine Auditorium in LA, Hollywood honored its own top talent at the 16th Annual Screen Actors Guild Awards. Nominated for Outstanding Performance by a Female Actor in a TV Movie or Miniseries, for her role in Georgia O'Keefe, Joan Allen sparkled and shone on the red carpet. Sebastian Stylist Design Team member Thomas Dunkin crafted the actress' soft, cascading waves that gracefully grazed her shoulders and complemented her overall look.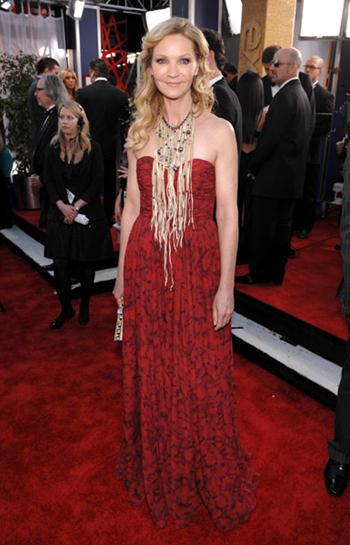 To recreate this A-list style at home, Thomas shares these step-by-step instructions:
1. To begin, apply Sebastian Professional Taming Elixir to slightly damp hair
2. Blow-dry hair straight to give the hair a smooth, even base to work on and part slightly to the left of center
3. Once dry, use a ¾-inch curling iron to wave the hair by starting at the nape and taking 2-inch sections of hair and leaving them loose to drop slightly
The cast of Sherlock Holmes traveled from Berlin to Madrid then to Paris for three star-studded international premieres for the global blockbuster. Sebastian stylist Thomas Dunkin, who also styled leading lady Rachel McAdams' hair for the world premiere, created three different looks for the actress in these three different cities to complement her gorgeous gowns.
In Berlin, Thomas styled 40's-inspired finger-waves for Rachel that bespoke elegance and grace.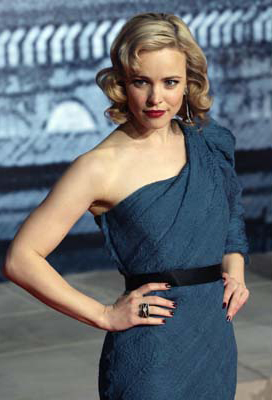 Thomas shares the step-by-step on how to get Rachel McAdams' hairdo at the Berlin Sherlock Holmes Premiere:
1) Begin by saturating damp hair from root to tip with Sebastian Professional Volupt Spray
2) Blow-dry hair with a medium-sized round brush and set whole head in medium-sized Velcro rollers
3) Leave the rollers in hair for about 5-10 minutes to cool down
4) Remove rollers beginning at the bottom, then use a ¼-inch curling iron to curl each section beginning at the root and eventually wrapping the entire section around the iron
5) Brush through hair with a Mason Pearson brush and use large section clips to define the waves where they naturally indent
6) Spray hair with Sebastian Professional Shaper Zero Gravity hair spray over the entire head and leave to set for another 10 minutes
7) Finish by removing the section clips and shaking head for an easy, sexy look
In Madrid, Thomas styled Rachel's unstructured updo with vixen-like volume.
Love Rachel McAdams hairdo at the 'Sherlock Holmes' London Premiere? Talking Makeup has the scoop on how to get Rachel's hairstyle thanks to Sebastian Stylist Design Team Member Thomas Dunkin!
For the world premiere event of the highly-anticipated Sherlock Holmes movie, Sebastian Stylist Design Team Member Thomas Dunkin styled actress Rachel McAdams' tresses to complement her Grecian-inspired gown for a red carpet look that radiated grace and glam. All eyes were on Sherlock's leading lady's asymmetrical, loosely textured side braid styled by Thomas Dunkin.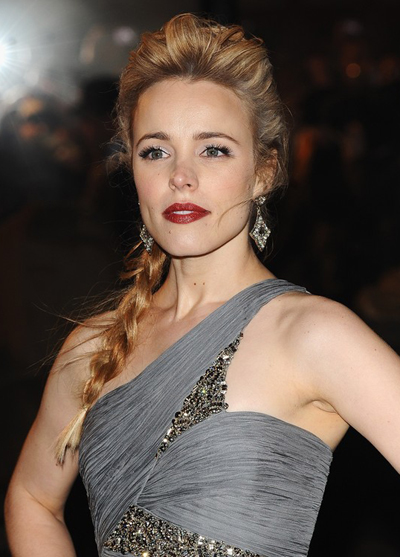 Thomas shares styling tips for recreating Rachel's red carpet look at home:
1. Start by applying a volumizing product like Sebastian Professional Texturizer to wet hair.
2. Blow dry in sections, and pin each section in medium and large sized Velcro rollers throughout whole head and allow to set for 5-10 minutes.
3. Allow to cool then take down rollers, and spray hair with a dry shampoo for added texture.
4. Emulsify a small dab of Sebastian Professional Microweb Fiber between palms and run through top of hair. Backcomb front section and manipulate for height and volume. Secure with pins.
New York Fashion Week Spring 2010 Report: Michael Angel spring '10 – September 10th Hair by Sebastian Professional
Inspiration: Taking inspiration from strong influential women like Nancy Cunard, Josephine Baker and Schiaparelli, Michael Angel directed a Spring '10 beauty look that's meant to replace the depressing, dark days of yore with a revived, empowered and reenergized youthfulness. A fresh, healthy "just come back from holiday" look subtly complements the collection's energy-packed, color-rich and cool designs that Michael is famous for.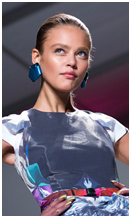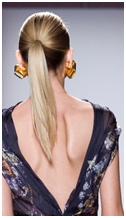 The Hair Look: To keep this ponytail from looking cold and severe, Sebastian Professional lead stylist Thomas Dunkin kept the crown soft and clean, allowing some of the hair's natural texture free reign for a played-in feeling.
Here's how to create your own perfect pony:
1) Apply Sebastian Professional Thickefy Foam to damp hair; blend evenly throughout
2) Blow hair out straight with a medium to large-sized round brush
3) Neatly brush hair back with a comb or flat brush and fasten with a hair tie just below eye level to avoid looking too "sporty"
4) Smooth the first half of the head with Shine Define for a shiny finish or apply Microweb Fiber to entice rogue wisps for a more lived-in look
5) Mist the length with Halo Mist and leave smooth and straight