All Posts Tagged With: "perfect pony"
New York Fashion Week Spring 2010 Report: Michael Angel spring '10 – September 10th Hair by Sebastian Professional
Inspiration: Taking inspiration from strong influential women like Nancy Cunard, Josephine Baker and Schiaparelli, Michael Angel directed a Spring '10 beauty look that's meant to replace the depressing, dark days of yore with a revived, empowered and reenergized youthfulness. A fresh, healthy "just come back from holiday" look subtly complements the collection's energy-packed, color-rich and cool designs that Michael is famous for.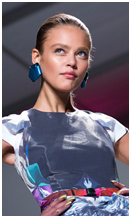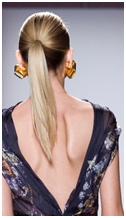 The Hair Look: To keep this ponytail from looking cold and severe, Sebastian Professional lead stylist Thomas Dunkin kept the crown soft and clean, allowing some of the hair's natural texture free reign for a played-in feeling.
Here's how to create your own perfect pony:
1) Apply Sebastian Professional Thickefy Foam to damp hair; blend evenly throughout
2) Blow hair out straight with a medium to large-sized round brush
3) Neatly brush hair back with a comb or flat brush and fasten with a hair tie just below eye level to avoid looking too "sporty"
4) Smooth the first half of the head with Shine Define for a shiny finish or apply Microweb Fiber to entice rogue wisps for a more lived-in look
5) Mist the length with Halo Mist and leave smooth and straight