All Posts Tagged With: "2010 SAG Awards"
GET THE LOOK: Nominee Diane Kruger's glamorous asymmetrical Jason Wu gown (which BTW Marta loves Diane's dress! Best Dressed for sure!) was the inspiration for the soft, romantic side-chignon that celebrity stylist Mark Townsend created for the 2010 SAG awards.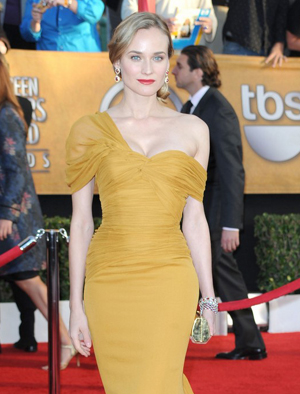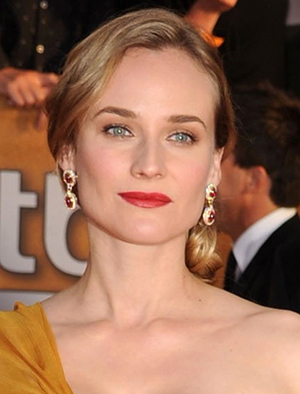 "I started by taking a small amount of Moroccanoil Treatment and finger combed it through Diane's dry hair" explained Townsend. "The original Moroccanoil is super light-weight and absorbs right in, to give the hair amazing shine without weighing it down.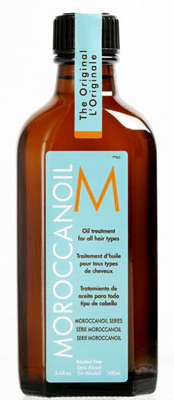 GET THE LOOK: Nicole Kidman's hairstyle at the 2010 SAG Awards
Celebrity hairdresser David Babaii achieved Nicole Kidman's red carpet look by combining eras of vintage fabric textures with the perfect epoch red hair color. According to David, "Nicole Kidman always inspires me but for the 2010 SAG Awards, her beautiful skin tone and breathtaking beauty took the lead. The right style and hair color became my main objective." David fell in love with this unique period wig that had various tones of ginger.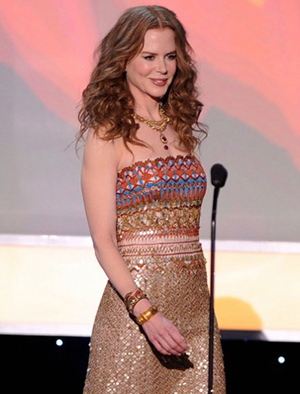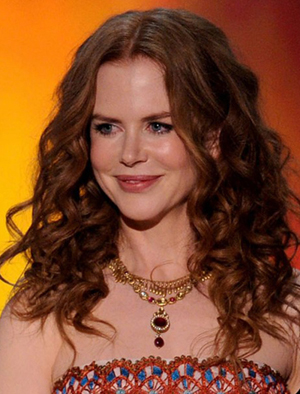 In order to achieve the perfect color match, David sought out the master talents of celebrity hair colorist Lorri Goddard-Clark. Lorri created Nicole's rich new color, while David created the perfect texture needed to enhance this natural but classic "Bohemian" look.
The Color: Lorri Goddard-Clark matched the vintage wig selected by David Babaii by utilizing a combination of deposit-only color, her signature foil-out reverse highlighting technique and a sulfate-free glaze. Nicole's hair was transformed from a medium blonde into a rich, warm Gingered Toffee Red to enhance her azure eyes and porcelain skin.
GET THE LOOK: On Saturday, January 23, 2010 at the Shrine Auditorium in LA, Hollywood honored its own top talent at the 16th Annual Screen Actors Guild Awards. Nominated for Outstanding Performance by a Female Actor in a TV Movie or Miniseries, for her role in Georgia O'Keefe, Joan Allen sparkled and shone on the red carpet. Sebastian Stylist Design Team member Thomas Dunkin crafted the actress' soft, cascading waves that gracefully grazed her shoulders and complemented her overall look.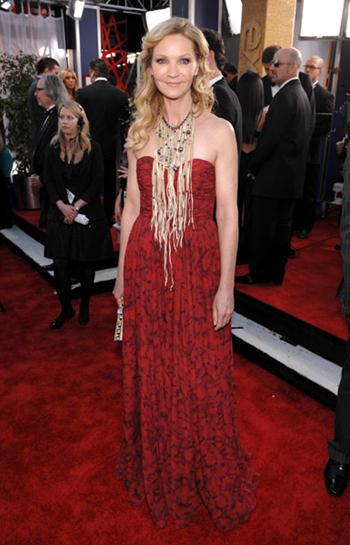 To recreate this A-list style at home, Thomas shares these step-by-step instructions:
1. To begin, apply Sebastian Professional Taming Elixir to slightly damp hair
2. Blow-dry hair straight to give the hair a smooth, even base to work on and part slightly to the left of center
3. Once dry, use a ¾-inch curling iron to wave the hair by starting at the nape and taking 2-inch sections of hair and leaving them loose to drop slightly
GET THE LOOK: Actress Katrina Bowden, star in the hit show "30 Rock" made her mark on the red carpet of the 2010 SAG Awards this weekend! mark celebrity makeup artist Jamie Greenberg explains how she created Katrina's sultry look for the event.
How to Get Katrina's Memorable Makeup Look at the 2010 SAG Awards:
Face
"I started by prepping Katrina's face with mark For Goodness Face Antioxidant Skin Moisturizing Lotion and mark Kiss Dry Goodbye Lip Smoother onto her lips. I evened out her complexion with mark Face Xpert Flawless Touch Makeup in Golden then buffed Champagne onto her cheek bones for emphasis. To give her that natural looking rosy glow, I used mark Just Pinched Instant Blush Tint in Peachy, smoothed onto the apples of her cheeks followed by a dash of mark Bronze Pro Bronzing Powder. I finished her face with a final brush of mark Matte-nificent Oil-Absorbing Powder to eliminate any excess shine. I then used mark Jewel Body Cream on any exposed skin to give her body a gorgeous glow."
GET THE LOOK: Looking camera ready, Giuliana Rancic and Toni Collette were glowing as they stepped on the red carpet with HDTV perfect skin for the 16th Annual Screen Actors Guild Awards. Once again, Hollywood's leading celebrities turned to the ultimate skin-finishing brand, St. Tropez, for an award winning look.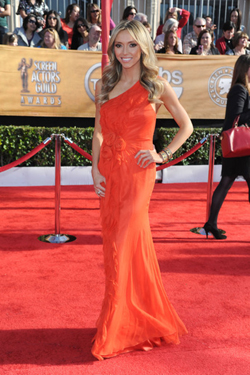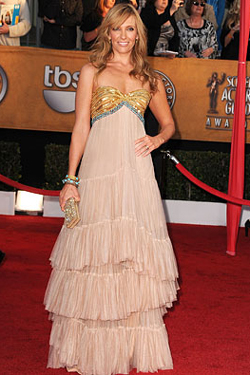 Giuliana Rancic says, "I can't live without my bi-monthly St. Tropez skin-finishing appointment. St. Tropez gives the most natural and gorgeous color on the market. I'm also obsessed with the products like the Bronzing Rocks and the Radiance Mousse. They give me a beautiful glow on the set of E! News everyday, as well as on the red carpet. I love St. Tropez!"
"Not even the rain will stop the stars skin from glowing radiantly at the16th Annual SAG Awards in Hollywood" says St. Tropez Skin Finishing Expert Fiona Locke. Rain or shine I will still be providing St. Tropez Skin Finishing treatments to some of Hollywood's hottest stars nominated for a SAG Award this weekend, providing a healthy, confident boost of color to the skin that will glow with pure radiance even under dark skies."
Frederic Fekkai Celebrity Stylist Adir Abergel created Sandra Bullock's hairstyle for the 16th Annual Screen Actors Guild Awards.
The Look:  modern, carefree twist.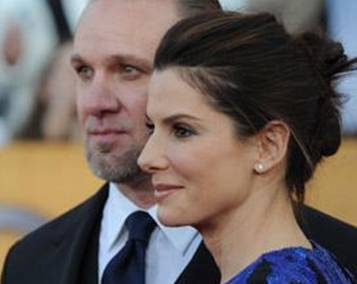 How to get Sandra Bullock's hairdo at the 2010 SAG Awards:
First, Abergel applied FEKKAI COIFF CONTRÔLE IRONLESS STRAIGHTENING BALM to keep the hair frizz-free. Then, he dried the hair with a FEKKAI LARGE ROUND BRUSH to create a smooth foundation.
BEST DRESSED: Sandra Bullock looked gorgeous in an Alexander McQueen gown at the 2010 SAG Awards. I must say, Sandra's dress was a bit tame relative to Alexander McQueen's usual styles. Nevertheless, Marta loves:)
Sandra Bullock at the 2010 SAG Awards: Do you love?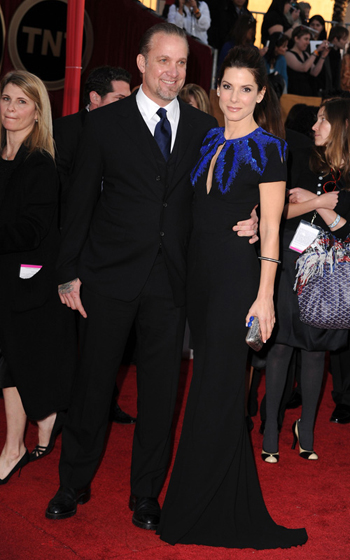 Sandra Bullock with Jesse James at the 2010 SAG Awards
BEST DRESSED: Drew Barrymore chose a very Avant Garde gown to the the 2010 SAG Awards and I approve. Drew looks very elegant and mature these days and it works. Everything was kept simple around the gown: hair was up, not much jewelry, and light makeup. With a dress like that you really don't need anything else!
Drew Barrymore at the 2010 SAG Awards: Do you love?
BEST DRESSED: I adored Anna Paquin's dress at the 2010 SAG Awards. The colors looked amazing on Anna. Loved the matching gold infused shoes, hair and makeup. Also, cute to see how Anna Paquin and her partner Stephen Moyer are inseparable on the red carpet. Must be love! BTW Anna Paquin is a New Zealand actress.
Anna Paquin's dress at the 2010 SAG Awards by British fashion designer Alexander McQueen from his Spring 2010 collection. No wonder I love it. McQueen is my style genius and hero:)
Anna Paquin at the 2010 SAG Awards: Do you love?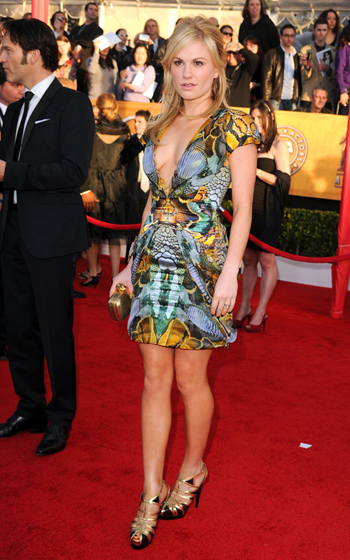 BEST DRESSED: Kate Hudson brought  pure elegance to the red carpet last night for the 2010 SAG Awards. You had to see the back of the dress to really appreciate the whole look. I hear from Celebrity Stylist Rachel Zoe's Twitter that she was the style genius who picked Kate's white PUCCI gown. Marta LOVE:) "White is the new black :)" according to Rachel Zoe.
Kate Hudson at the 2010 SAG Awards: Do you love?