All Posts Tagged With: "Alexander McQueen"
Backstage at Alexander McQueen Fashion Show Fall 2012 Paris with Redken. "The whole idea of this was I wanted to depersonalize the girls completely, and this was achieved by fitting them all with the exact same white/platinum wig. The wigs are like helmets with mirrored visors so it's very futuristic looking…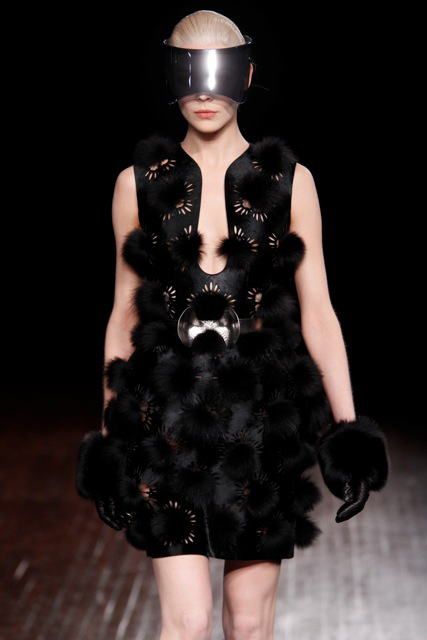 ALEXANDER McQUEEN Fall 2012
At Alexander McQueen, Redken Creative Consultant Guido created very intricate hair masks for each model to wear, creating a fabulous, fantasy-like overall look when paired with the exquisite, embellished Spring/Summer 2012 collection.


Runway Hairstyles: Alexander McQueen Spring/Summer 2012 Paris Fashion Week
"Overall this season, there was a simplicity and wearablility to the styles we created, but this is not one of them. Often we talk about Fashion Week hairstyles as being more fantasy and aspirational, and the look we created today at Alexander McQueen is just that…
(Las Vegas, NV – May 22nd, 2011) – Singer Fergie is futuristic at the 2011 Billboard Awards, accessorizing her avant-garde look with Stephen Webster jewelry. Fergie wore a Stephen Webster Fly By Night Ring in 18ct yellow gold with smoky quartz and black sapphires and Cascade earrings in 18ct yellow gold with black sapphires to the event where the Black Eyed Peas took home the award for top duo/group. Dress my Alexander McQueen. Shoes by Christian Louboutin.
Marta Walsh says" "Fergie looks fabulous from head to toe and blonde hair is her best friend". BTW stay tuned for my interview with Fergie thanks to AVON this week. xxx
Hourglass Artistic Director Gina Brooke did Madonna's makeup for this evening's "Alexander McQueen: Savage Beauty" Costume Institute Gala at The Metropolitan Museum of Art. "The Met Ball is one of fashion's biggest nights out, and I wanted Madonna's look to be elegant, timeless and absolutely luminous – inspired by 1930s glamour. The focus is flawless skin and ravishing eyes—Madonna's gorgeous eyes and lashes are among her best attributes—which always resonate on the red carpet," says Gina Brooke.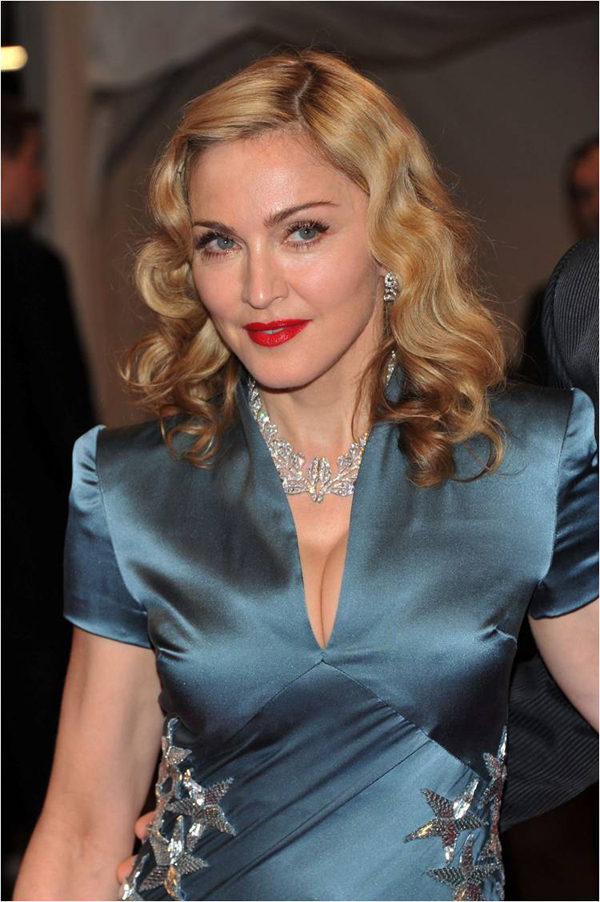 Madonna at the 2011 Met Gala in Stella McCartney dress and Cartier jewelry
How to get Madonna's makeup look:
Skin:
Prep skin first with Intraceuticals Rejuvenate Daily Serum to increase vital moisture and visibly revive the complexion. Follow with Hourglass Veil Mineral Primer, a must-have product for any event because it ensures that makeup lasts all night. It also neutralizes the skin, reduces the appearance of fine lines and pores and enables an artist to paint the perfect canvas.
VOGUE Royal Wedding Dress. "Catherine Middleton and Sarah Burton have successfully kept the best-guarded secret in fashion history. The incredibly moving moment when the new Duchess of Cambridge stepped out of her car in an Alexander McQueen dress was the fantasy everyone in fashion has been dreaming would come true."
The dress—pure and yet conveying the grandeur of its importance—is an exquisitely modern example of a personal collaboration between a bride and her designer.
Sneak peek to V MAGAZINE's issue #68 upcoming age defying issue – "The Who Cares About Age Issue" – starring legendary female actresses –Jane Fonda, Susan Sarandon, Sigourney on newsstands now. All Photography by: Inez Van Lamsweerde & Vinoodh Matadin.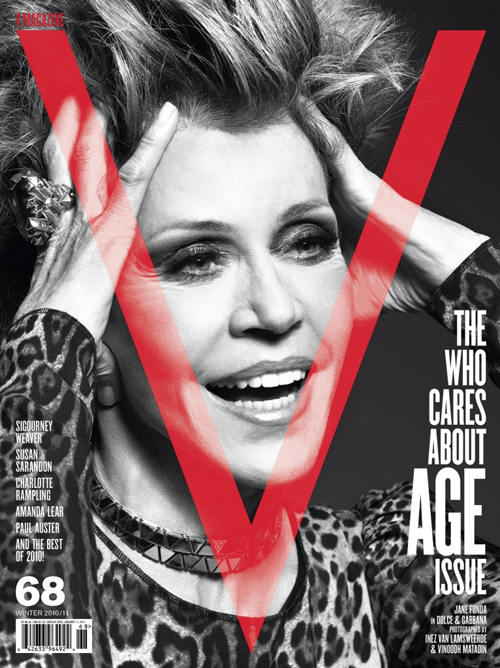 Paris Fashion Week SS 2011. At Alexander McQueen, the fantastical look was basket-weaved panels inspired by nature, straw, wicker and basket weaving.

image via blog.squa.re
"The collection is very inspired by nature and creating things from what is around you. This style was inspired by whicker, straw and basket weaving – it's a fantasy hairstyle and not meant to be wearable." –Guido, Redken Creative Consultant
Redken Products & how to:
Anna Paquin's Hairdo at the 2010 Emmy Awards. Frederic Fekkai Celebrity Stylist, Renato Campora, created a soft yet glamorous style for Anna Paquin. The Hairstyle & Inspiration: A soft yet glamorous look to compliment her dress by Alexander McQueen.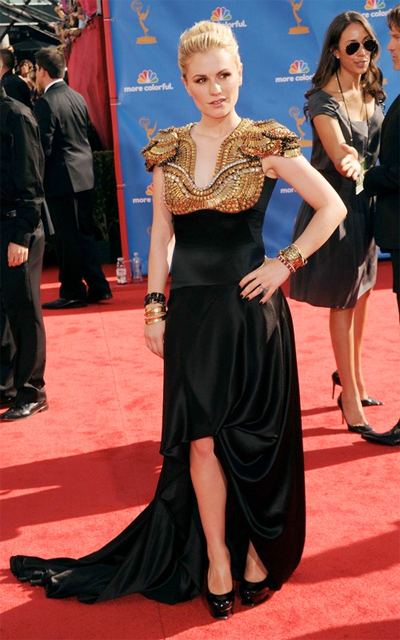 Here's how to get Anna Paquin's hairstyle at the 62nd annual Primetime Emmy Awards: Hair Tutorial
On wet hair, Renato Campora applied the Fekkai Full Blown Volume™ Styling Whip to the roots and the Fekkai Coiff™ Perfecteur Anti-Frizz Silkening Crème. Once dried, he used a ½ inch curling iron and set the hair in pin curls. After 15 minutes, Campora removed the curls and ran his fingers through the hair to loosen and create shape.
I'm excited to share with you my interview with Amy Bailey who has begun to make her mark within Hollywood's demanding movie stars. Amy can be seen in the star-studded movie, "Nine" along side Nicole Kidman, Penelope Cruz, and Kate Hudson. Up next for the actress, she will be playing the Hatteress in Tim Burton's "Alice in Wonderland."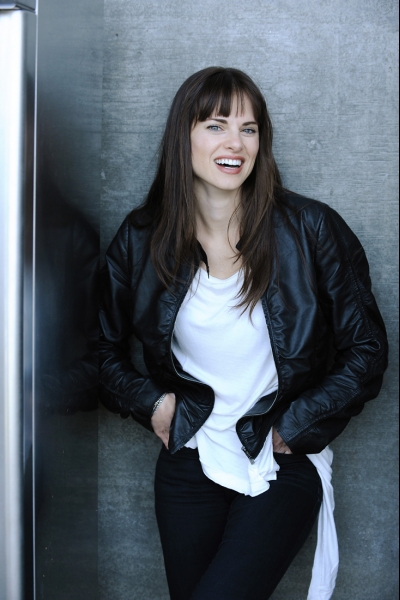 Amy Bailey
In this interview Amy Bailey tells Marta Walsh about how it all began for her in Hollywood. Her role in the film "Nine" and what was it like working with its director Rob Marshall. How one day she took Penelope Cruz and her sister to see the Royal Ballet perform. Her latest acting role in  "Alice in Wonderland", also staring in this film Johnny Depp. Future plans, and of course, style and beauty secrets!
Marta Walsh: Where did you grow up and where is home for you?
Amy Baliey: I grew up in a coastal town called Corpus Christi, in South Texas. I loved going to the beach right after school. Now I divide my time between London and L.A.
MW: How did you decide on a career in showbiz, and what were some of your first breaks?
AB: I was a professional ballerina by 17yrs old, so I guess being onstage always felt pretty natural. My parents couldn't believe that as a teenager I would skip out parties because I had ballet class the next morning. It kept me out of trouble, for the most part 🙂
BEST DRESSED: Sandra Bullock looked gorgeous in an Alexander McQueen gown at the 2010 SAG Awards. I must say, Sandra's dress was a bit tame relative to Alexander McQueen's usual styles. Nevertheless, Marta loves:)
Sandra Bullock at the 2010 SAG Awards: Do you love?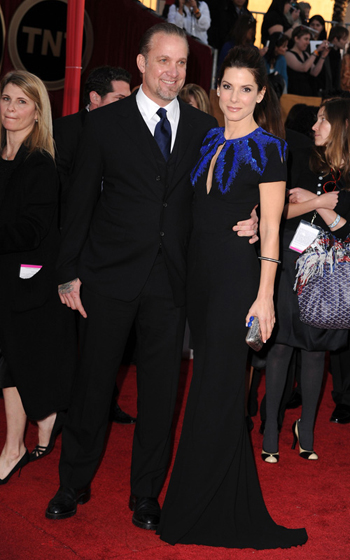 Sandra Bullock with Jesse James at the 2010 SAG Awards