All Posts Tagged With: "London"
Tom Ford is to open his first stand alone London flagship in Fall 2013. The 8,000 square foot, directly operated retail store will be located on world renowned Sloane Street in the luxury shopping neighborhood of Knightsbridge. The retail site will encompass the complete womenswear and menswear collections including daywear, tailoring, sportswear, eveningwear, footwear, accessories, eyewear, jewelry, fragrance and cosmetics under the TOM FORD label.
London 19th of September – Tom Ford hosted an intimate dinner at CUT in London to celebrate his womenswear presentation.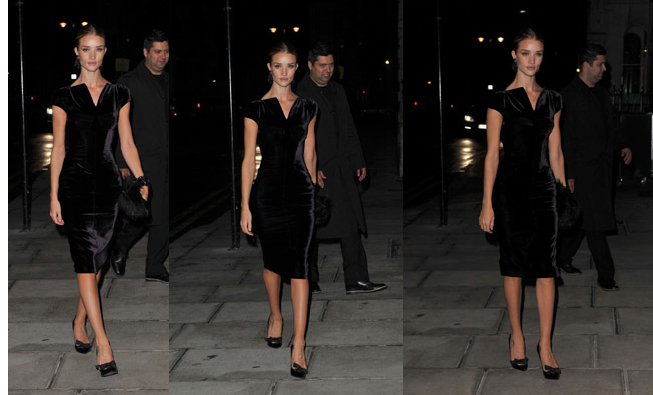 Rosie Huntington- Whiteley wore a purple velvet overstitched cups cocktail dress, black pate de verre cuff, black patent pumps with black silk bow, amethyst pate de verre bouquet earrings and a black fox fur envelope all from the TOM FORD Womenswear collection.
See who else is wearing Tom Ford…
Amsterdam/London, January 14th, 2011 – On the evening of January 13th, 2011, G-Star presented London RAW Night: an eclectic mix of performance, art, music, fashion and film; curated by British actress and new face of G-Star's Spring/Summer 2011 advertising campaign, Gemma Arterton.
A crossover of guests from different artistic fields, were welcomed at One Mayfair; an old church that had been turned into part gallery, part performance stage, part disco and part art installation.
I just received the G-Star Raw London Raw Night invite and gutted I can't make it to London, Marta Walsh's favorite city. Anyways here's a sneak peek to a cool fashion event invitation and how fashion and beauty blogging is fun.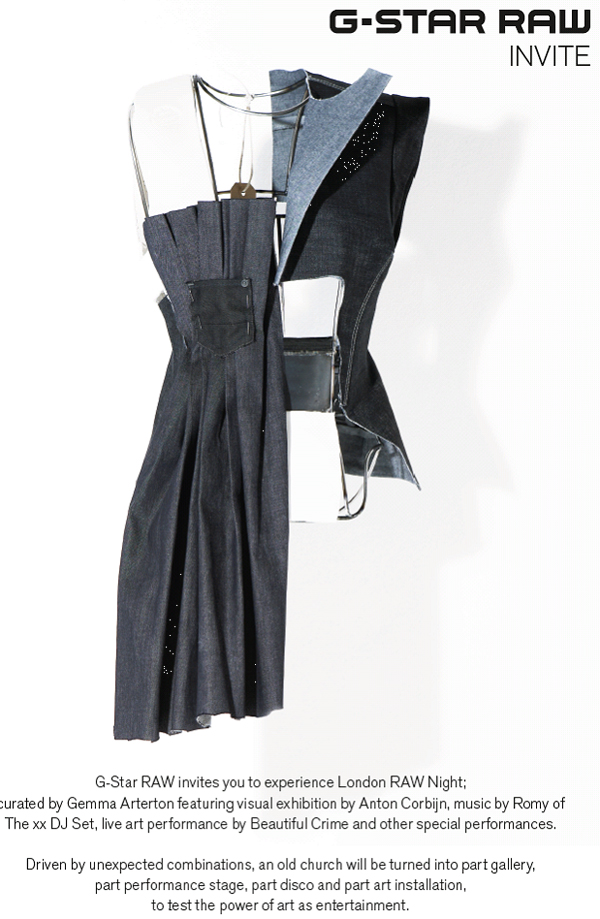 A little bit more of my favorite, English celebrity news. Kate Moss is looking her gorgeous self at the launch of her new perfume Vintage Muse in Boots in London England. Moss is my fave star and I love her rock chic style which is very much like mine. Well, I try:) I haven't smelled the perfume yet but it's sure on my beauty to do list:)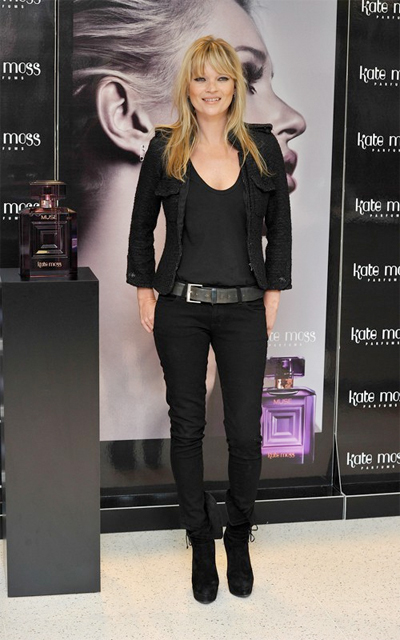 Sneak peek to he September issue of ASOS Magazine (London version) featuring 19 year-old actress Bonnie Wright (Harry Potter). Bonnie is one of the "Rising Stars" and models new fashion trends from the A/W 2010 season. Bonnie was photographed by Enric Galceran. Full issue will be live on www.ASOS.com on September 3rd, 2010.
ASOS Magazine – The Fashion Issue
Minimal Mood – Refresh your wardrobe with simple cuts and grown-up pieces for instant luxury
"The Sorcerer's Apprentice – Harry Potter is ending but one of its stars is set to cast her own spell"
While I was in London England I took a walk in Notting Hill and stumbled upon the AllSaints store. One of the things I miss about living in a big city is walking the streets and discovering new cool shops. I used to do that all the time when living in New York City. Back to AllSaints, I immediately fell in love with their boots and leathers. They are exactly my style. See, I feel sometimes as if I never grow up. I will be wearing leather pants and go out on the town when I'm 80, LOL. Anyways, AllSaints is Marta Walsh's new style obsession.

Love love love these boots by AllSaints!! Marta want:) x
Jennifer Aniston has a new fragrance and she was spotted promoting it at Harrods department store in London, England today, July 21st, 2010. Aniston looked gorgeous in a in a blush Valentino mini dress. Do you love?
Chloe The Summer Pump: The Harvey Nichols London shoe department is the place to be since these delectable Chloe pumps hit the shop floor and sold out within hours. Every now and again a shoe comes in that is so popular it's gone quicker than you can say "I want them"! And this beauties would fall into that category. Marta want! xo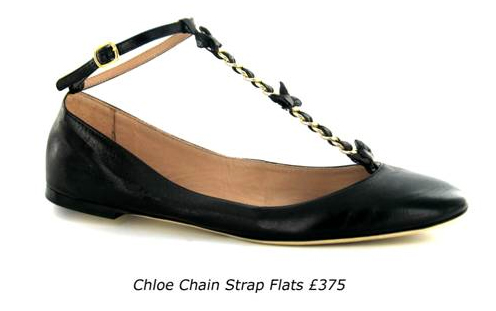 Harvey Nichols windows in London are famous for their exciting and innovative window schemes. The latest display is by no means an exception. Inspiration for the new windows is taken from the A/W trend 'understated classics', illustrated on the catwalk shows by designers such as Stella McCartney and Céline.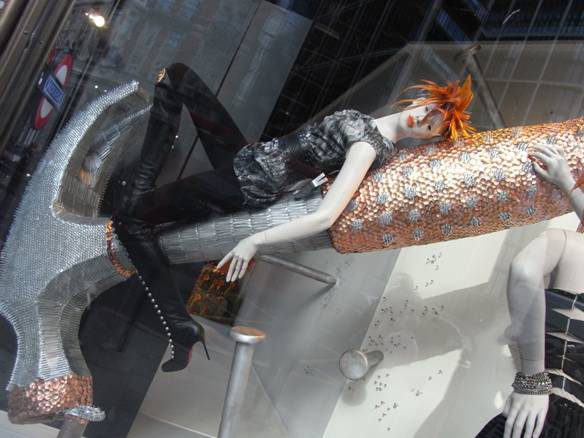 Hammer made of nails
The scheme is a celebration of mundane items that are so every day you almost ignore them without noticing their true beauty and design worth. Everyday items are used as the main prop and are made of smaller related items, e.g. a giant hammer covered in nails, a tree made from pencils and a piano made from cassettes. The display is completed using tool boxes, cassette tape and giant nails. The colours used follow suit in mainly neutral tones, the only colours used being hints of yellow and orange.
Janet Wardley, Head of Visual Display says.., "Harvey Nichols have used the current trend 'classics' and turned it on its head to transform mundane objects into works of art!…expect the unexpected…"