All Posts Tagged With: "Kate Moss"
This evening Cara Delevingne was at Sephora in New York City's Meatpacking District to celebrate the launch of Burberry's My Burberry fragrance, where customers had the opportunity to meet and be photographed with her, as the face of the My Burberry campaign.
Supermodel and style icon Kate Moss stars in the new Kérastase Paris image campaign featuring the brand's latest Couture Styling offerings. This impactful campaign marks the one year anniversary of Couture Styling, the brand's luxury styling collection.
Inspired by the "perfectly imperfect" look so sought-after by women today, Kérastase's newest Couture Styling products re-invent highly sophisticated "un-styled styles" reminiscent of Brigitte Bardot's untamed mane or the flowing waves of the Studio 54 era. For the shoot, Kate's hair was styled by Kérastase Artistic Director, famed hairdresser and close personal friend, Luigi Murenu. "The Brigitte Bardot "mussed-up" 60's look is both quintessentially French and completely universal. Kate Moss is the Brigitte Bardot of today," says Murenu. "She epitomizes the freedom that every woman wants."
For SS 2013, rag & bone returned to England to shoot Kate Moss in the Cotswolds. Photographed by Alasdair McLellan, the campaign captures Moss in Southrop, Gloucestershire. This rag & bone first look is SO me. Looks like I love wearing tailored inspired clothes with a hint of masculine, tom boyish. I am a big believer in the beauty of contrasting in this case feminine with masculine. The look: White Jefferson Blazer, White Winchester Shirt, White Betty Top, Black Moto Pant, Black Fender Platforms.
"We shot our first campaign on a deserted North London street so thought it would be an interesting contrast to follow up in a remote English village, which Kate happens to have an affinity for. It was also a fun play on our British heritage." — Marcus Wainwright, Managing Partner.
Absolutely love Kate Moss' Stella McCartney Little Black Dress. It's sexy without being too uncomfortable. The perfect example of subtle sexy. There is that fine line between tacky and getting the right sophisticated and intriguing hot look. Kate or Stella got it right:)
Redken's Runway Report from Paris: Louis Vuitton & Miu Miu with hair by Guido. Ending Paris Fashion Week with two show-stopping styles, Guido ended his three city, four week tour with Louis Vuitton and Miu Miu. At Louis Vuitton, the hairstyle was a very "dominatrix-like rich, ponytail to complement the constricting head pieces."–Guido, Redken Creative Consultant.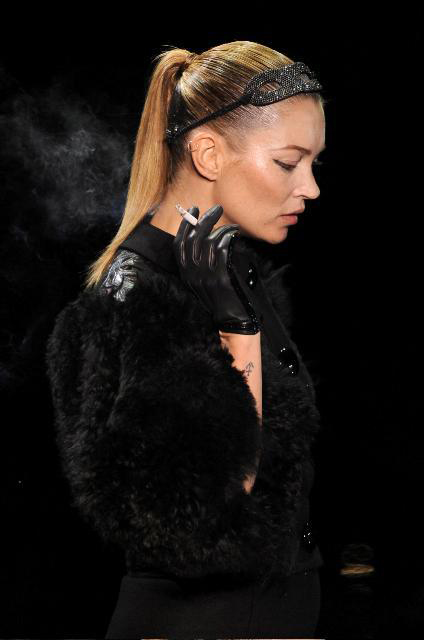 Kate Moss at Louis Vuitton Paris fashion week 2011
A little bit more of my favorite, English celebrity news. Kate Moss is looking her gorgeous self at the launch of her new perfume Vintage Muse in Boots in London England. Moss is my fave star and I love her rock chic style which is very much like mine. Well, I try:) I haven't smelled the perfume yet but it's sure on my beauty to do list:)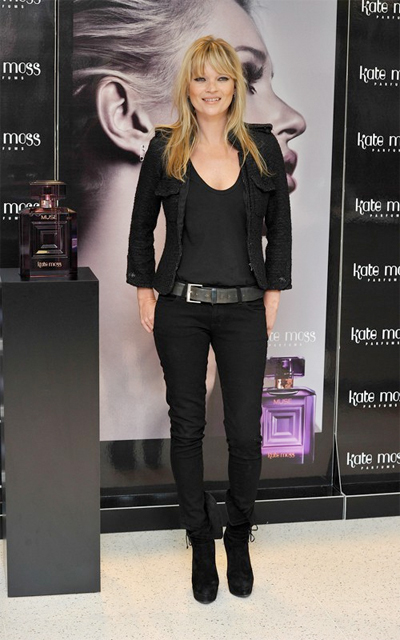 For the first time, the editors of Vogue present a one-of-a-kind salute to the year's most iconic women, including Blake Lively, Lady Gaga, Carey Mulligan and Kate Moss.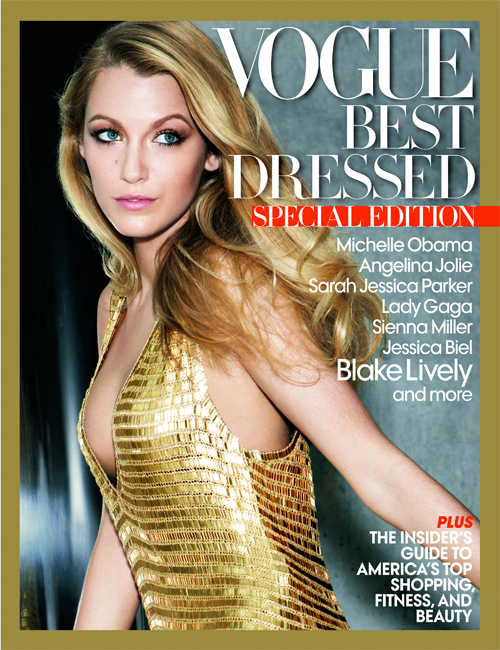 The Vogue Best Dressed Special Edition also features:
Sneak peek to Kate Moss for Topshop AW10. I describe this Topshop collection, very classic rock and roll, 1960's, and very Kate Moss-esqe. It's nice to see that rock and roll edge and mystique back. To view the rest of collection go to: telegraph.co.uk

Kate Moss for Topshop via telegraph.co.uk
Rumor is that the Kate Moss for Topshop Fall/Winter 2010 collection would be her last. "When we started the project we didn't have an end in mind but I'm really proud of all 14 collections," says Moss. "I've learned a lot about the design and development process; experiences that I'd only ever seen informally through being a model." To read full article & watch the Kate Moss for Topshop Video got to: tmagazine.blogs.nytimes.com
I know, a bit late and we're heading towards fall fashion, but, I couldn't resist Kate Moss. No one does Rock & Roll better than Kate. We LOVE!

Kate Moss For Topshop Spring Summer 2010