All Posts Tagged With: "Kate Moss"
I stumbled upon this absolutely classic photo of Kate Moss wearing Isabel Marant in US Vogue September Issue 2010. There is no other celebrity, model, or beauty I relate to more than Kate Moss (sorry Kim Kardashian I love you but, you're just not my type). I love this outfit, so Marta Walsh. I WANT, I want, I want!
Year after year, the September issues are a highly anticipated event between the cover stars and fall fashions. And this year is no exception. Check out Modelinia.com's round-up of the September 2010 covers – starring more than a few of your favorite models such as Rosie Huntington-Whitely, Naomi Campbell, Natasha Poly, Doutzen Kroes, and Kate Moss!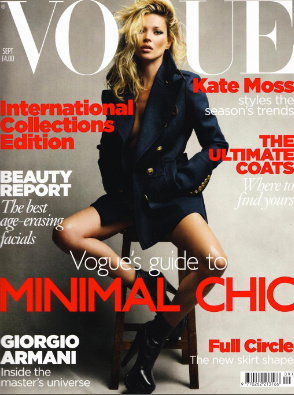 Kate Moss in a super hot Burberry Trench on the cover of VOGUE UK September 2010
Kate Moss is the one and probably the only supermodel I relate to. What you see on the cover of VOGUE UK September 2010 is really SO Marta Walsh. I can definitely rock this outfit:) xo
Kate Moss is looking absolutely beautiful on the cover of French Vogue or Vogue Paris June/July 2010. Moss is still my beauty inspiration after all these years. Her looks are classic and legendary.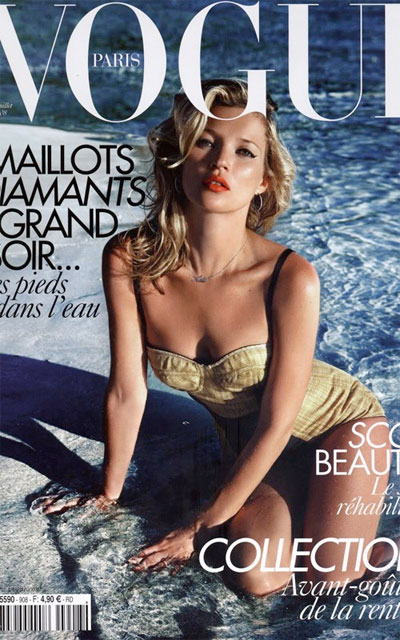 Topshop has landed in Harrods and Harvey Nichols country. The British fast-fashion retailer is upping its game with a new, 14,000-square-foot Knightsbridge store — complete with a circular staircase made from granite, steel and glass inspired by the one at the Louvre.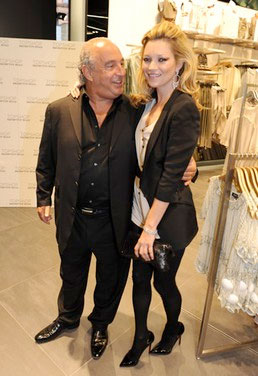 Sir Philip Green and Kate Moss
Photo By Tim Jenkins for wwd.com
The unit, which opened for business Thursday, May 20th, 2010, stocks edited, fashion-driven collections. "We've taken Topshop to the next level," said owner Sir Philip Green, who cut the ribbon Wednesday, May 19th, 2010, evening with a party at the store, followed by dinner for about 140 at Zuma, the buzzy Japanese restaurant around the corner. "It's a very high-profile location. This kind of opportunity rarely comes up." Read full article in www.wwd.com
A little secret about Marta Walsh: I'm a huge fan of Kate Moss. I don't really know Kate personally but I do know that I like what I see. She is beautiful and is the ultimate rock chic (which is what I like to describe my style). Well, Kate is now gracing Vogue UK magazine cover for April 2010. Kate's makeup is by Rimmel London. Do you love?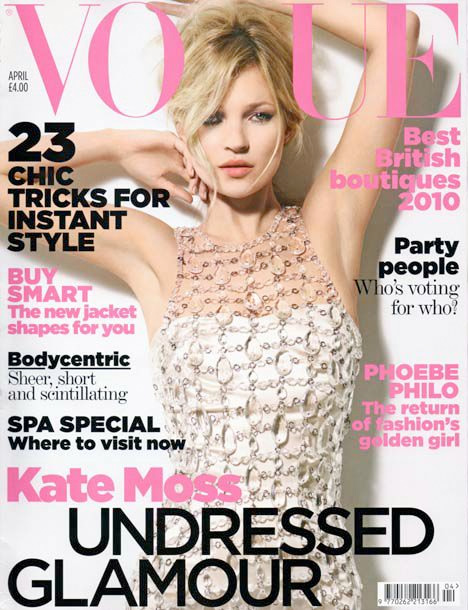 Coty Inc., a leading global beauty company, announced today that the company will sign Zooey Deschanel, Solange Knowles and Alejandra Ramos Munoz to team with Kate Moss, Georgia May Jagger and Coco Rocha as the aspirational ambassadors of Rimmel London, the iconic British cosmetics brand. With their distinguished styles, talents and diverse backgrounds, the new faces embody the wonderfully cosmopolitan nature of London, the city that serves as the inspiration for the witty, edgy and streetwise beauty brand.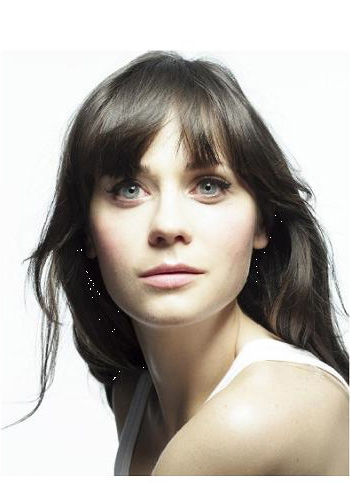 Zooey Deschanel
"Zooey, Solange and Alejandra each bring a distinct look and personality to Rimmel London, expanding the brand's visibility and strengthening Coty's global color platform," said Coty CEO, Bernd Beetz.
The star of such films as (500) Days of Summer, Yes Man, The Happening and Elf, Zooey Deschanel is one of Hollywood's most sought after young actresses. In addition to Zooey's work on-screen, she is also a talented singer-songwriter, set to release her second album with her band, She & Him in Spring 2010. She & Him released their first album, Volume 1 in 2008 to both popular and critical acclaim.
New York Fashion Week Fall Winter 2010: Seattle native and downtown New York denizen Chris Benz saw all of his influences collide in a spectacular way on Monday, Febuary 15, 2010, for his Fall 2010 presentation. The collection mixes the patterns, textures and utility of clothes made for the Great Outdoors as worn by the renegade, Outward Bound Debutante.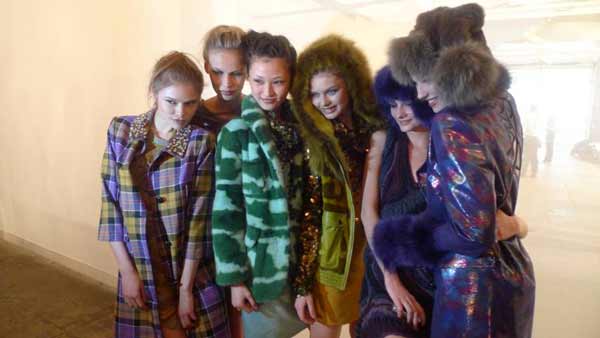 Makeup Tutorial: Lead makeup artist Daniel Martin (who helped create the Chris & Tell shade with the designer for Spring 2010) wanted a "makeup" makeup look, so he and Chris settled on what they're calling Gothic Chic. The eyes and the lips were given equal attention. The eyes were smoky in gradations of shimmery charcoal and chocolate. Daniel used the new Ombre Magnétique, a mousse-like cream shadow, in black, layered with Color Design Eye Shadow in Guest List, an opaque espresso shade. For the lashes, several coats of Hypnôse Drama Mascara in Excessive Black, and for the eyeliner, Le Stylo Waterproof EyeLiner in Noir along the waterline, completed the look.
I'm a little behind this all "girl crush" business, but if I understand the concept properly then Marisa Miller is the one. The new Love Rocks perfume by Victoria's Secret is what I was looking for. I'm all about the Rock Chic or Rock Chick look. SO  Marta. Also why I'm huge fan of Kate Moss sense of style. Taylor Momsen is also the perfect rock chick. I actually smelled the Sexy Little Things Love Rocks eau de parfum on my last Victoria's Secret visit (which BTW is where I hang out 15% of my precious time lol), and it's smells GOOD. I notice the Vanilla note which is my favorite.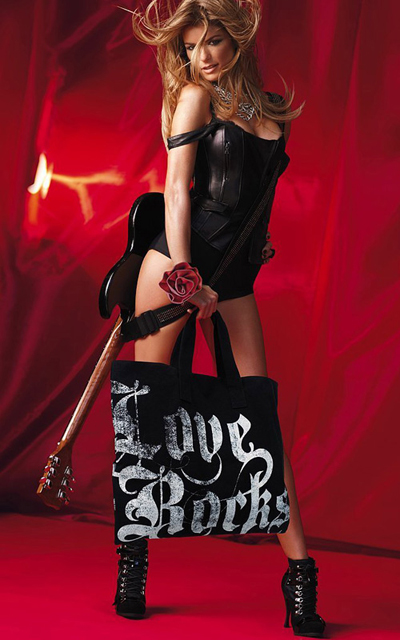 About Sexy Little Things Love Rocks eau de parfum by Victoria's Secret, $39: Wild at heart. A punk princess. Rock chick meets très chic in this rebellious riff on vivid plum, hypnotic violet and sensual vanilla, the latest addition to VS glamorous Sexy Little Things fragrance collection. Love out loud in Love Rocks!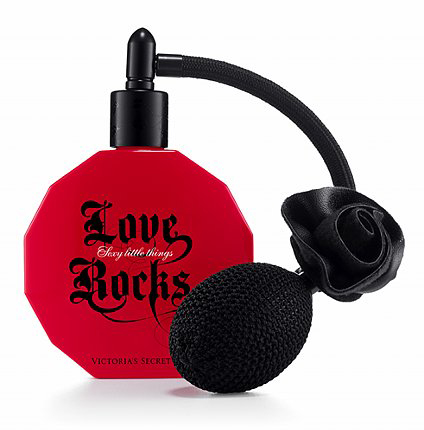 Kate Moss sits down with Women's Wear Daily's Brid Costello to discuss her new scent Vintage, which was introduced in Europe earlier this month. Stephen Mormoris, svp of global marketing at Coty said they may look into having Moss create a special color cosmetics collections for its Rimmel brand, which Moss also fronts. On the fragrance's genesis – her love for vintage fashion – has much more humble origins. "I couldn't really afford designer clothes when I was young, so I just went to the secondhand shops. It wasn't called vintage then, It was called 'secondhand' when I was 15." She also opens up about how she relaxes, her inspirations and how to multitask.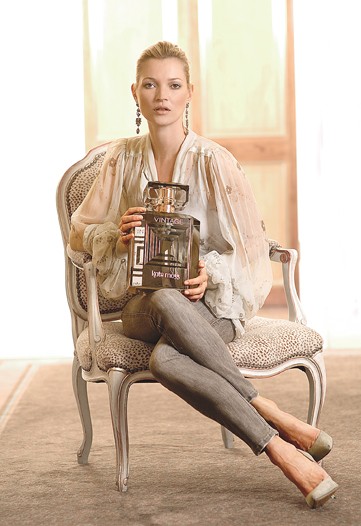 Kate Moss with Vintage, her latest scent.
Photo By Courtesy Photo
On defining beauty: "it sounds really corny, but I think that if you're beautiful inside, it shows on the outside for sure. You can be a pretty face, but if your not a nice person it just doesn't work. I'm not traditionally a beauty, but apparently people think I'm all right. If you're a nice person, it definitely helps."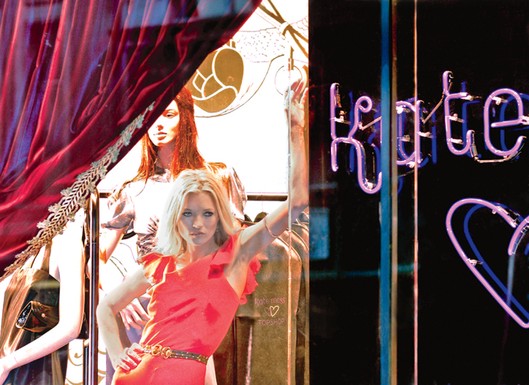 Kate Moss in the window of Top Shop to celebrate the launch of her line.
Photo By Dylan Martinez/Reuters/Corbis
Now with her fourth fragrance, Kate Moss is building upon her perfume empire. This one's called Vintage, a title which kind of goes quite perfectly with her personal style and inspiration. The ad campaign features the model lounging ever so effortlessly in a display to promote the new fragrance, which will come out in September. Pair this new perfume with her previous three scents (Kate, Summer Time, Velvet Hour), dress in Topshop by Kate Moss, and channel the style icon.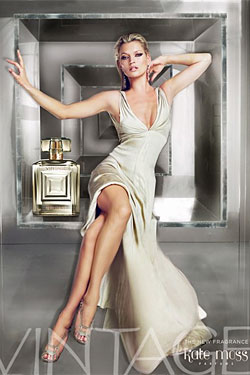 Read full story at Modelinia.com