All Posts Tagged With: "Coco Rocha"
Coco Rocha's new website, where you can see her entire career mapped out and keep up to date on her latest news, is live as of today.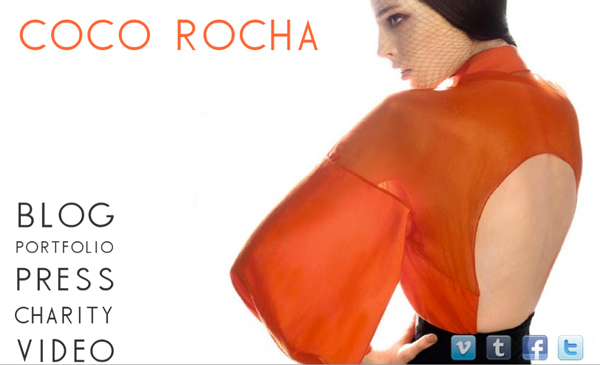 Models Coco Rocha, Hilary Rhoda, Doutzen Kroes and actress Riley Keough attended the the 2010 Costume Institute Gala to celebrate the launch of American Woman: Fashioning A National Identity at the Metropolitan Museum of Art, New York City, Monday, May 3, 2010.
Coco Rocha in a dress by Zac Posen.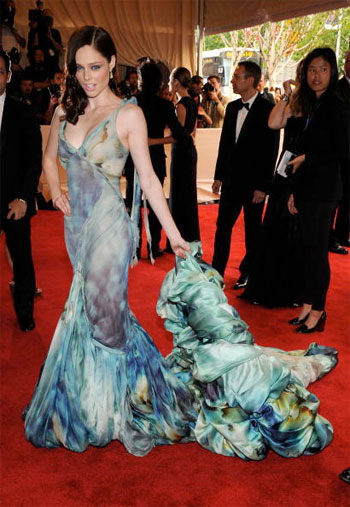 Coty Inc., a leading global beauty company, announced today that the company will sign Zooey Deschanel, Solange Knowles and Alejandra Ramos Munoz to team with Kate Moss, Georgia May Jagger and Coco Rocha as the aspirational ambassadors of Rimmel London, the iconic British cosmetics brand. With their distinguished styles, talents and diverse backgrounds, the new faces embody the wonderfully cosmopolitan nature of London, the city that serves as the inspiration for the witty, edgy and streetwise beauty brand.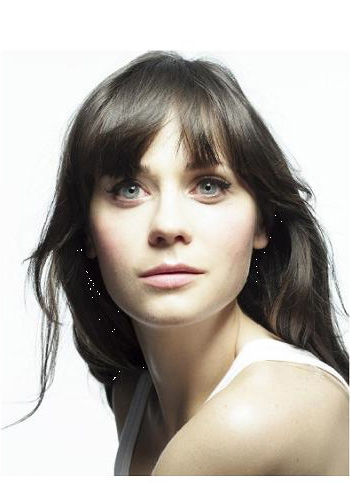 Zooey Deschanel
"Zooey, Solange and Alejandra each bring a distinct look and personality to Rimmel London, expanding the brand's visibility and strengthening Coty's global color platform," said Coty CEO, Bernd Beetz.
The star of such films as (500) Days of Summer, Yes Man, The Happening and Elf, Zooey Deschanel is one of Hollywood's most sought after young actresses. In addition to Zooey's work on-screen, she is also a talented singer-songwriter, set to release her second album with her band, She & Him in Spring 2010. She & Him released their first album, Volume 1 in 2008 to both popular and critical acclaim.
MODELINIA Magazine has been seen in the hands of Chanel Iman, Coco Rocha, Diane Von Furstenberg, and Emily Didonato.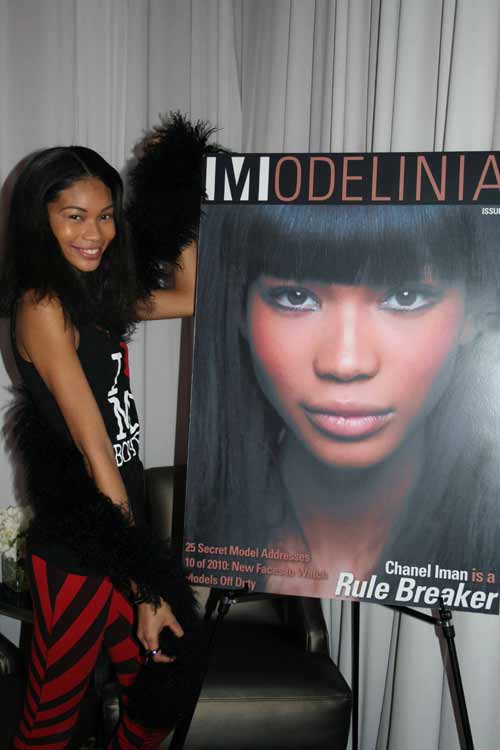 Chanel Iman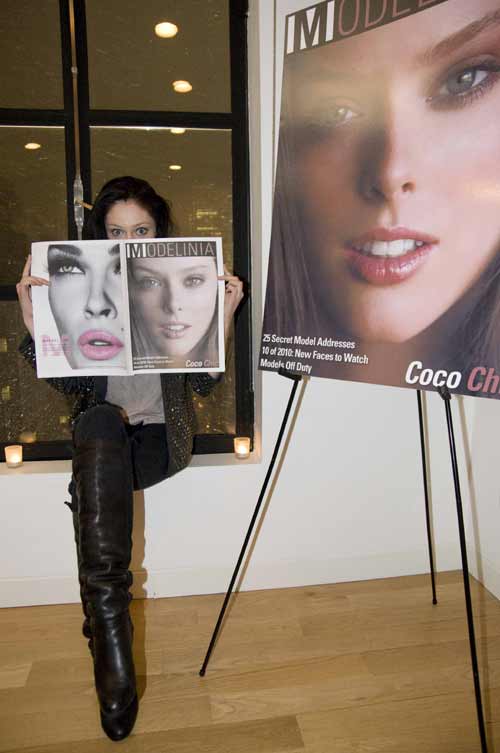 Coco Rocha
Dior Celebrity Makeup Artist Ricky Wilson created a sultry, sophisticated look for model Coco Rocha at the 10th Anniversary of J'adore party, held at the Boom Boom Room at The Standard NYC on Wednesday September 23rd.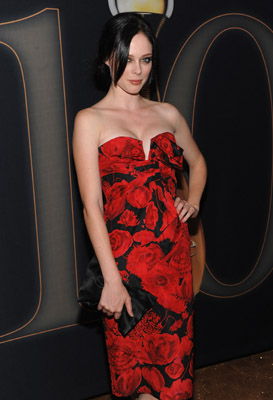 Eyes: Dior Crayon Waterproof Eyeliner in Trinidad Black, DiorShow Unlimited Mascara layered with DiorShow Iconic Mascara, Dior 5-Colour Eyeshadow in Night Dust, Dior 1-Colour Eyeshadow in Golden Touch.
Skin: DiorSkin Nude Foundation #010, Dior Skinflash Radiance Booster Pen #001
Cheeks: DiorBronze Matte Sunshine #002
Lips: Dior Lip Pencil in Toffee Delight and Dior Addict Lipcolor in Havana Beige
Model, Coco Rocha, shoots a fashion-inspired music video for Modelinia.com at Meatpacking District, New York City, Tuesday, June 28, 2009.
Style: Coco Rocha was wearing: Skirt: Tory Burch. Top: Tory Burch. Jacket: Vintage. Boots: Tory Burch.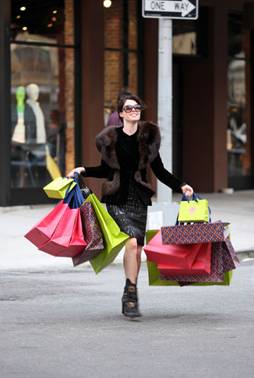 Thanks to modelinia.com we have this cute video of Heidi Klum interviewed by Canadian supermodel, Coco Rocha.
In this video Heidi Klum gives Coco Rocha tips on camera presence:
On Monday, June 29th, 2009 a screening of Coco Rocha's E! Fashion Week Special was held at the Bryant Park Hotel. Elite Model Management threw this a small celebratory cocktail party for Coco, her close friends, and those who contributed to the special. Guests enjoyed popcorn during the screening and cocktails and hor deourves in the Cellar Bar following….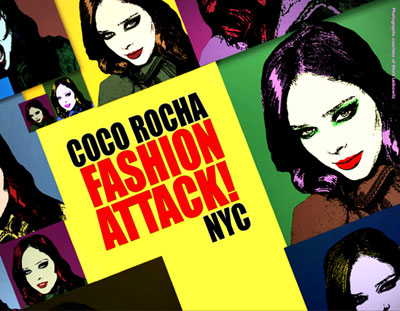 Part of invitation from the event
In attendance was Victoria's Secret model and friend, Behati Prinsloo, and renowned hair stylist Louis Licari, who has recently died Coco's hair fire red and almost black!
Canadian model, Coco Rocha attended the 2009 CFDA Awards at Alice Tully Hall, Lincoln Center, NYC, Monday, June 15th, 2009.
Model Coco Rocha's style: Dress: Michael Kors. Clutch: Michael Kors. Shoes: Michael Kors. Makeup: Ricky Wilson for Dior Beauty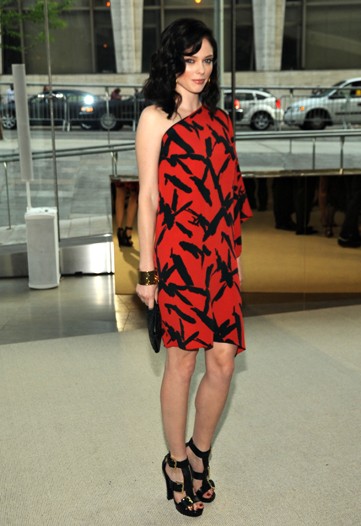 Coco Rocha in Michael Kors
Photo by Steve Eichner
Image via wwd.com
Canadian model Coco Rocha attended the American Ballet Theatre Spring Gala at Metropolitan Opera House, NYC, on Monday, May 18th, 2009.
Coco Rocha is looking stunning wearing a dress by Carolina Hererra and a clutch by Vintage.
I can't get over how Coco Rocha looks amazing as a redhead! Red hair looks horrible on me, lol. With a strong hair color like red, dark brown, or black, go for light and sheer makeup to balance the look, just like Coco!