All Posts Tagged With: "Behati Prinsloo"
Victoria's Secret Wins THREE 2014 Fragrance Awards. Victoria by Victoria's Secret won the 2014 Fragrance Foundation Awards Fragrance of the Year Consumer Choice Award. Victoria also won Women's Fragrance of the Year.
Victoria by Victoria's Secret Perfume fragrance notes: Victoria features an aromatic burst of Red Berries, a heart note of signature Victoria Rose and the warmth of Crème Brûlée. It's a fresh, floral, fruity blend that captures the timeless appeal of Victoria's Secret.
On March 11th, 2010, Ashley Tisdale, One Republic, Matt White, and DJ Irie celebrated PINK Nation with performances in Key West's Mallory Square while Behati Prinsloo hosts Spring Break activities.
On Monday, June 29th, 2009 a screening of Coco Rocha's E! Fashion Week Special was held at the Bryant Park Hotel. Elite Model Management threw this a small celebratory cocktail party for Coco, her close friends, and those who contributed to the special. Guests enjoyed popcorn during the screening and cocktails and hor deourves in the Cellar Bar following….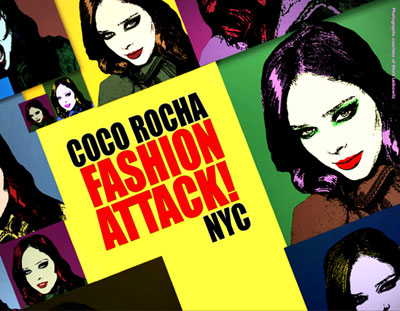 Part of invitation from the event
In attendance was Victoria's Secret model and friend, Behati Prinsloo, and renowned hair stylist Louis Licari, who has recently died Coco's hair fire red and almost black!
Key Makeup Artist Polly Osmond for  Created a Cleopatra-esqe Look for Christian Siriano's Fall 2009 Runway Show.
According to Osmond, "The look was based on a modern take of an Egyptian feel. We used heavy golds and blacks. The eyes were lined underneath with VS Makeup Eyeliner in Black Velvet with a more square shape rather than cat like. On the top of eyelids we used a gold shadow (VS Makeup Silky Eyeshadow in Champagne). We highlighted the face using the champagne shadow and lightly contoured with the VS Makeup Goddess Bronzer. On the darker skins, we used the bronzer as the highlighter. Mascara was then applied to top lashes only. Lips were a heavy gold. (For a more wearable shade, try VS Makeup Brilliant Lip Shine in Charm)."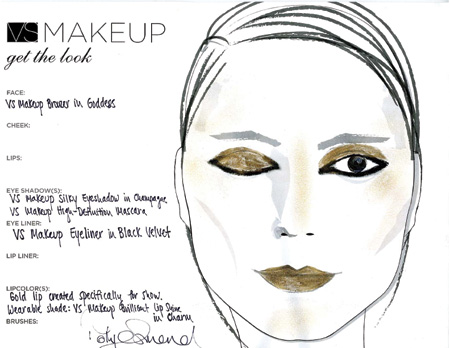 Click image above to enlarge to view Poly Osmond's face chart for Victoria Secret Beauty!
Behati Prinsloo, the new face of Victoria's Secret PINK Body, is pictured below with Tori Spelling after the show.