All Posts Tagged With: "Topshop"
I just got back from a fabulous trip to Toronto Canada and of course I had to go to the city and check out the shopping. Looks like British Topshop has arrived Canada at The Bay and is looking great. Umm…Topshop, when are coming to the Fashion Square Mall in Scottsdale Arizona, we need you?:)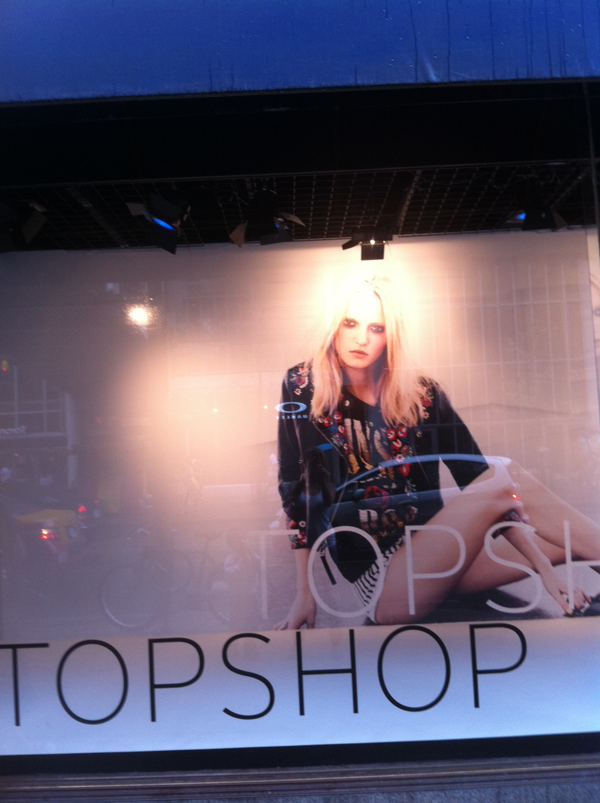 Topshop in The Bay Department Stores, Toronto Canada (176 Yonge St Eaton Centre). Photo by Marta Walsh
Sneak peek to Kate Moss for Topshop AW10. I describe this Topshop collection, very classic rock and roll, 1960's, and very Kate Moss-esqe. It's nice to see that rock and roll edge and mystique back. To view the rest of collection go to: telegraph.co.uk

Kate Moss for Topshop via telegraph.co.uk
Rumor is that the Kate Moss for Topshop Fall/Winter 2010 collection would be her last. "When we started the project we didn't have an end in mind but I'm really proud of all 14 collections," says Moss. "I've learned a lot about the design and development process; experiences that I'd only ever seen informally through being a model." To read full article & watch the Kate Moss for Topshop Video got to: tmagazine.blogs.nytimes.com
Topshop has landed in Harrods and Harvey Nichols country. The British fast-fashion retailer is upping its game with a new, 14,000-square-foot Knightsbridge store — complete with a circular staircase made from granite, steel and glass inspired by the one at the Louvre.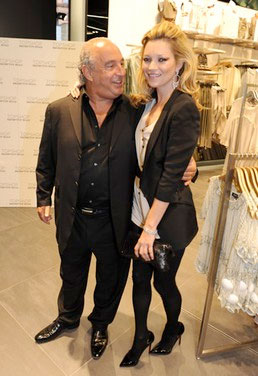 Sir Philip Green and Kate Moss
Photo By Tim Jenkins for wwd.com
The unit, which opened for business Thursday, May 20th, 2010, stocks edited, fashion-driven collections. "We've taken Topshop to the next level," said owner Sir Philip Green, who cut the ribbon Wednesday, May 19th, 2010, evening with a party at the store, followed by dinner for about 140 at Zuma, the buzzy Japanese restaurant around the corner. "It's a very high-profile location. This kind of opportunity rarely comes up." Read full article in www.wwd.com
Hello loves, the NEW Topshop Make Up line has arrived! Bold and innovative Topshop Make Up makeup will offer the ultimate cosmetics experience at an affordable price. Staying true the Topshop promise for everyday basics combined with statement pieces, beauty essentials will sit alongside directional colors and formulas to capture and inspire their audience of self-styled tastemakers.
The Concept: 'From the start we wanted to create a range that would appeal to all yet have the uniqueness the customer expects from Topshop.' Lizzie Dawson, Topshop Designer Lizzie Dawson and the in-house Topshop design team injected their knowledge of trends, colour and textures into the creation of this unique and fashion-forward beauty range. From the hot spots of London, New York and Tokyo, to the beaches of Rio and the newest of LA hang outs, Topshop cool hunters embarked on a world tour of the hippest neighborhoods for inspiration.
In need of a beauty revamp? Expert style advice or hot new party looks?
Topshop has teamed up with the Serge Normant at John Frieda Salon, Jouer cosmetics and nail specialists M2M to create the ultimate army of fashion and beauty experts – and they are here to help get you looking party perfect!

For one week only – December 14-21 -you are invited to stop by the Topshop Dressing Room to kick up their feet and get pampered like the stars.