All Posts Tagged With: "Brow Pencil"
Charlotte Tilbury Legendary Brows, $27, CharlotteTilbury.com
The secret behind Charlotte Tilbury's Legendary Brows is the combination of the new lightweight Sculpt Gel formula and her Miracle Precision Brow Brush. The Miracle Precision Brow Brush acts like a natural compass that captures even the smallest of baby hairs – coating, shading and grooming your way to perfect brows. It never misses a hair for instant and maximum definition.
Introducing MAC Prêt-à-Papier. Available April 22nd– July 2010.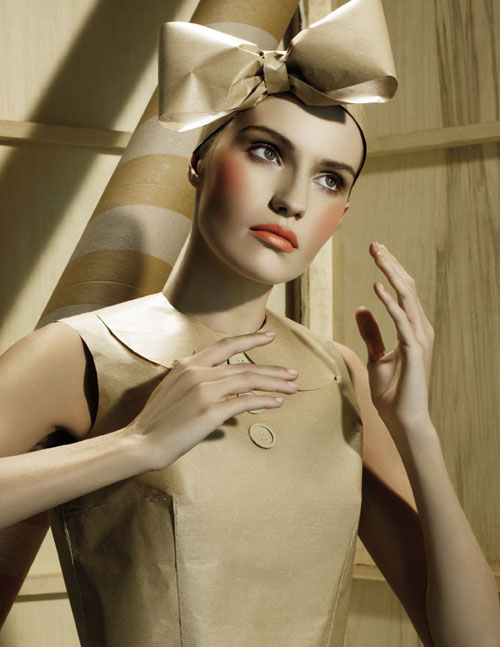 Craft-paper couture – an inspired idea cut like a pattern and whipped up into a frisky little "Funny Face" frock. The Prêt-à-Papier collection was a Project Runway challenge of sorts, with paper as the source, the instigator of ideas, the beginning of something simply, basically beautiful. Lipstick, Lipglass, Eye Shadow, Paint Pot, Chromagraphic Pencil, Studio Fix Lash, Impeccable Brow Pencil, Sheertone and Mineralize Blushes, and Nail Lacquer in a seamless spectrum of parchment-to-vellum beiges, with an occasional, clever colour spill, coral among the most au courant.
New York Fashion Week Fall Winter 2010: Seattle native and downtown New York denizen Chris Benz saw all of his influences collide in a spectacular way on Monday, Febuary 15, 2010, for his Fall 2010 presentation. The collection mixes the patterns, textures and utility of clothes made for the Great Outdoors as worn by the renegade, Outward Bound Debutante.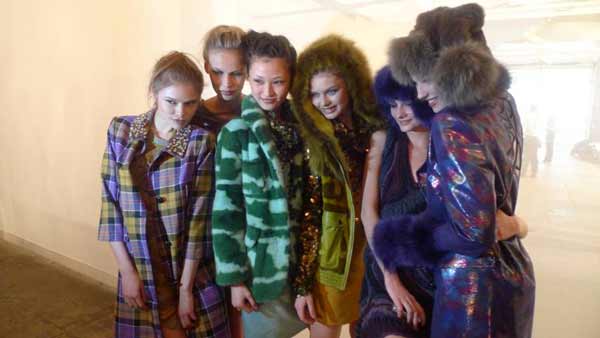 Makeup Tutorial: Lead makeup artist Daniel Martin (who helped create the Chris & Tell shade with the designer for Spring 2010) wanted a "makeup" makeup look, so he and Chris settled on what they're calling Gothic Chic. The eyes and the lips were given equal attention. The eyes were smoky in gradations of shimmery charcoal and chocolate. Daniel used the new Ombre Magnétique, a mousse-like cream shadow, in black, layered with Color Design Eye Shadow in Guest List, an opaque espresso shade. For the lashes, several coats of Hypnôse Drama Mascara in Excessive Black, and for the eyeliner, Le Stylo Waterproof EyeLiner in Noir along the waterline, completed the look.
The Row, the collection designed by Mary-Kate and Ashley Olsen, had its Fashion Week debut yesterday, February 16, 2010, at a gallery on New York's west side. The line has earned a following for its simple yet sophisticated structured pieces and the new collection continued beautifully on that theme.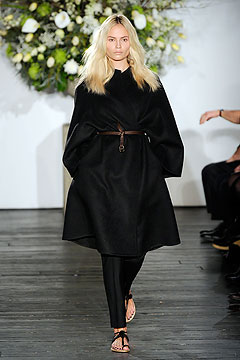 Makeup Tutorial: Lancôme's creative director for makeup Aaron De Mey keyed the show. Aaron sought an exaggerated yet natural makeup look that focused on strong, defined brows and a dewy complexion. The neutral color palette meant that skincare played an important role. To prep, Aaron used Lancôme Eau Fraiche Douceur Micellar Cleansing Water and followed it with Lancôme Genifique Youth Activating Concentrate massaged generously into the skin; this duo gave each model a luminous complexion. Lancôme Le Crayon Poudre filled and defined the brows—a focal point of this look. To finish, Aaron dabbed Lancôme Effeacernes Concealer on the lips, a trick that removed the natural lip color and kept the focus squarely on the brows.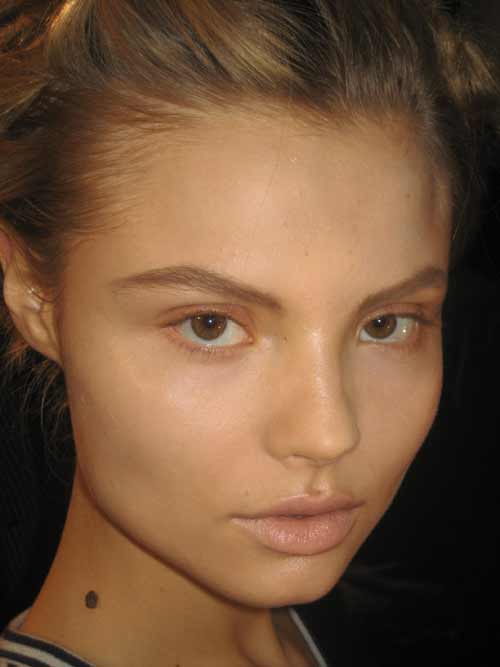 Everyone backstage and front of house was obsessed with the braided black Louboutin sandals made exclusively for the show. (And the models were clearly happy to get a break from all the skyscraper heels!) Mary-Kate and Ashley chose a deep wine colored polish –Lancôme Le Vernis in Untamed Plum – for the toes, but kept the fingernails clean and shiny with a coat of clear nail polish.
Bobbi Brown Makeup Face Lift Collection:
Problem: You made all these amazing beauty resolutions to start the New Year. But why is the payback taking so long? Solution: Instantly brighten your face and play up your eyes with just a few simple tweaks.
"I designed this collection to give women all the tools they need to look well-rested and bright-eyed in five minutes flat." – Bobbi Brown
This January, Bobbi makes it easy to keep all of your New Year resolutions with her Makeup Face Lift Collection, which allows you to instantly brighten your face and play up your eyes with just a few simple tweaks.
New Extra Eye Repair Cream: Do your eyes need something extra? Packed with peptides, natural plant oils and humectants that target wrinkles, dark circles and puffiness, this rich concentrated cream visibly revives eyes. Use morning and night- warm between fingers, then pat gently around eye area. Once cream is absorbed, follow with Tinted Eye Brightener or Concealer. Available: January 2010. Price: $65.00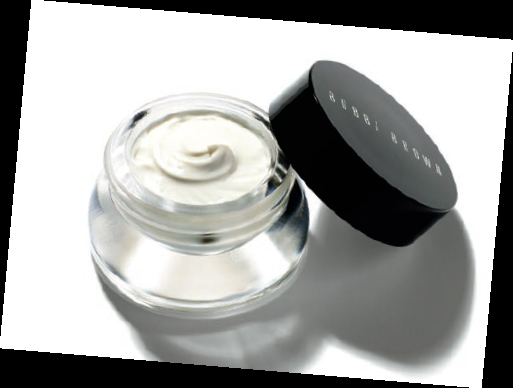 All Ages, All Races, All Sexes is our credo. Now MAC takes the "One World" idea further than ever, with a multi-culti colour story, intent on a universal focus – spectacularly shaded and shaped brows for all, because beautiful people come in colours! Miraculously matched to the individual, Impeccable Brow Pencil is the ultimate artist's tool to fill, lengthen and shape, with a firm tip that sharpens application for high-performance precision. Penultimate Brow Marker, in one shade suits all, is a liquefied glide adept at the all-important arch. But that's not all: Lipstick, Lipglass, Eye Shadow and Nail Lacquer shade extensions speak your language, a match for every international skin tone.
Available January 7, 2010 through March 2010 at all MAC locations.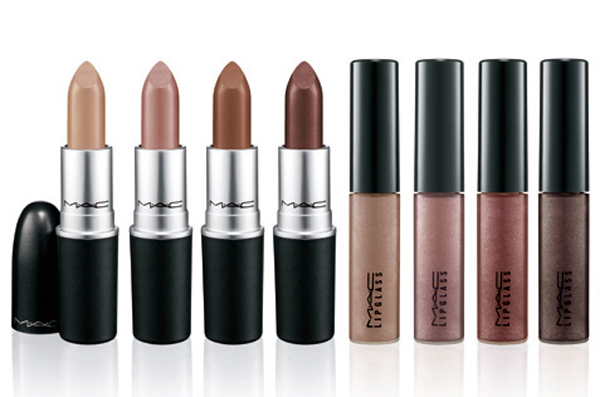 LIPSTICK
Equality Light dirty mauve with traveling pearl (Lustre)
Myself Creamy pale yellow beige (Lustre)
Empowered Creamy mid-tone neutral brown (Satin)
5N Plumy sheer brown (Lustre)
Suggested Retail Price $14.00 U.S./$16.50 CDN
LIPGLASS
Naked Frost Sheer taupe with silver pearl (Frost)
Glamour for All Sheer pale baby pink with pearl (Frost)
Liqueur Frosted mid-tone pink brown (Frost)
Spirit & Soul Frosted dark cool brown (Frost)
Suggested Retail Price $14.00 U.S./$16.50 CDN
Introducing MAC Post Holiday Collections 2010. Available Jan – Mar 2010.
MAC Post Holiday 2010 features nudes and warm, comfy colours in Warm & Cozy and All Ages, All Races, All Sexes and shimmery, icey winter shades in Love Lace. In the Studio debuts MAC Studio Fix Lash, a new mascara that features a synth-rubber moulded brush for ultimate definition, while MAC In Lillyland, a collaboration with Palm Beach's Lilly Pulitzer, brings out the South Florida sun with brilliant colors.
MAC WARM & COZY
A fireside fantasy far from the maddening crowd is undeniably appealing. Seek refuge in the warmth, the glow of skin rosy with Refined Golden Mineralize Skinfinish, Shadesticks in Cuddle, Nurture and Snuggle shades, cozy as a mug of cocoa on a bearskin rug. Care Blends Essential Oils in Sweet Orange + Lavender, or Grapefruit + Chamomile feels soothing and sultry when elements are harsh and extreme…add MAC signature innovation with Mineralize All-Over Moisture Lotion, a new permanent product, and see new radiance, revivified lustre, optimum health. Like going on retreat and communing with nature, it's an earthly way to bring back what the city takes away, and a sensual solution to make life simple, but luxurious. Winter beauty begins here.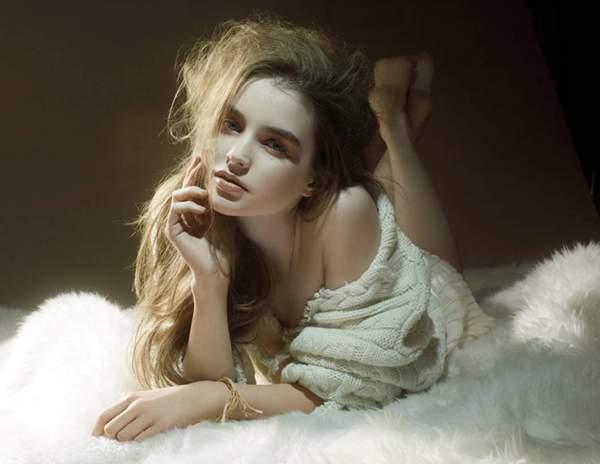 Available December 26, 2009 through February at all MAC locations.
Celebrity makeup artist Vanessa Scali transformed the already beautiful "Twilight" star Ashley Greene into a gorgeous vision at last night's "New Moon" premiere in Los Angeles. "The look was classic 60's," reports Vanessa. "Well-defined eyes with lots of lashes, a strong brow and clean skin with subtle pink/coral cheeks and lips."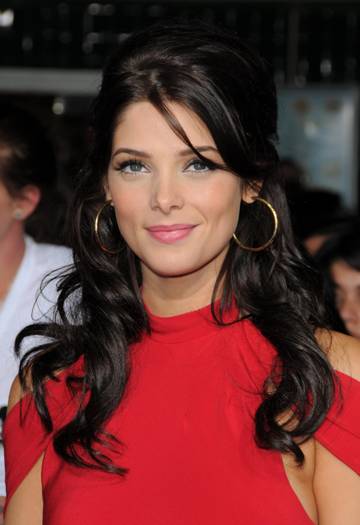 How to get Ashley Greene's makeup look at the "New Moon" Premiere:
To start, Vanessa evened out Ashley's "nearly flawless skin" with Lancôme's Effacernes concealer in Light Bisque underneath the eyes. "It gives clean, fresh, flawless coverage," she said. Bobbi Brown's Foundation Stick followed. Lancôme's Blush Subtil in Shimmer Pink Pool topped the apples of the cheeks.
Watch Marta's video blog for today talking all about brows & her favorite brow pencil: Diorshow Brow Styler Ultra-Fine Precision Brow Pencil, $28.
Diorshow Brow Styler Ultra-Fine Precision Brow Pencil is so easy to use and to control. The fine pencil mimics the small hair on your brows which gives you a natural look when you fill in your brows. It is light and thin so you can carry it in your makeup bag, for a quick brow touch up anytime. I don't leave my house without it!
 


Kim Kardashian wore MAC Cosmetics to the MTV Video Music Awards aka VMAs in New York on Sunday, September 13th, 2009.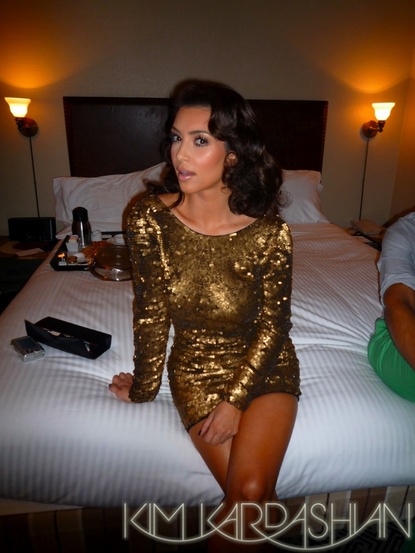 Image via: www.kimkardashian.celebuzz.com
MAC Cosmetics Products:
•Powder Blush in Peaches
•Lip Pencil in Subculture
•Dazzleglass Crème in Sublime Shine
•Brow Pencil in Lingering
•Eye Kohl (pencil) in Smolder
•Eye Shadow in Bronze
Visit www.maccosmetics.com for additional product details.