All Posts Tagged With: "New Moon"
As the holiday season approaches, we prepare ourselves for Christmas and New Year's Eve celebrations. As seen backstage for Tamara Pogosian Holiday 2010 fashion show in NYC, it was all about colored cheeks or bold lips. Makeup Artist Stephanie Flor created the makeup look. It was fun and original, and perfect for any occasion.
Inspired by the movement of Twilight: New Moon, Stephanie muted the colors on the face to add a dramatic effect with an intense dark red lip and angel white eyes.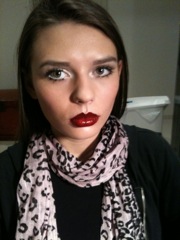 Using a rich white shadow (Cover Girl Golden Sunset) Stephanie covered the upper lid and blended it to the brow bone. The eyebrows were combed upward with clear gel. White liner (Covergirl starlightening white) was applied to the inner rim of the models eye's to add that special touch.
Just in case you didn't get enough of the New Moon Permiere last week, here are some highlights via swide.com 
Robert Pattinson at NY's New Moon screening wearing D&G (image below):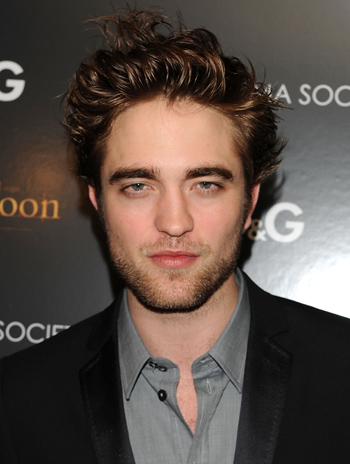 "We saw Twilight and we loved the kind of visceral, profound love that links the protagonists, their passions and their values. This is why we wanted to celebrate the release of New Moon with D&G by organizing a special screening and an after-party at The Box in New York. Robert Pattison, Kristen Stewart and Taylor Lautner, apart from being beautiful, embody an ideal that goes beyond the story that they interpret. They let us understand that there is a need of emotions and of passions. They are for real the mirror of that generation that inspires our creations, that generation to which we are trying to talk with our work".-Domenico Dolce and Stefano Gabbana
The Twilight saga is officially taking over the world. Introducing Twilight inspired makeup collection!! Want to look like your favorite Twilight star and get a vampire look?
Besides their sharp fangs, a vampire's greatest weapon is their stunning appearance. Glistening skin, blood-red lips, sultry eyes and a barely there flush perfectly play innocence against danger – and what girl wouldn't want to harness that twilight-inspired spirit? To celebrate the premier of New Moon, Nordstrom is exclusively launching the Luna Twilight cosmetics collection. So whether you side with "Team Edward" or "Team Jacob", these products will seduce to every Twilight fan.
The Luna Twilight makeup collection:
Luna Twilight Mortal Glow Blushing Cream, $20: This breakthrough blend of mousse and cream blush glides on effortlessly for a satin finish that perfectly emulates a vampire's ethereal glow.
Celebrity makeup artist Vanessa Scali transformed the already beautiful "Twilight" star Ashley Greene into a gorgeous vision at last night's "New Moon" premiere in Los Angeles. "The look was classic 60's," reports Vanessa. "Well-defined eyes with lots of lashes, a strong brow and clean skin with subtle pink/coral cheeks and lips."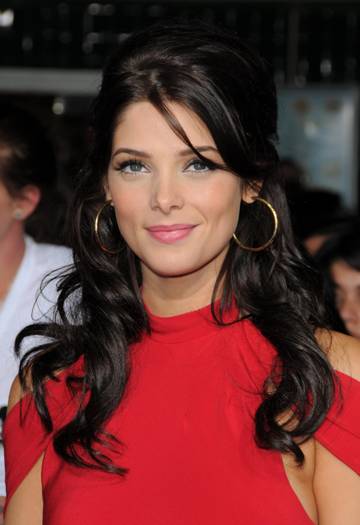 How to get Ashley Greene's makeup look at the "New Moon" Premiere:
To start, Vanessa evened out Ashley's "nearly flawless skin" with Lancôme's Effacernes concealer in Light Bisque underneath the eyes. "It gives clean, fresh, flawless coverage," she said. Bobbi Brown's Foundation Stick followed. Lancôme's Blush Subtil in Shimmer Pink Pool topped the apples of the cheeks.
Ashley Greene is looking fabulous wearing makeup by Lancôme at the The Twilight Saga: New Moon Premiere held at the Mann Village Theater Westwood California, Monday November 16th, 2009.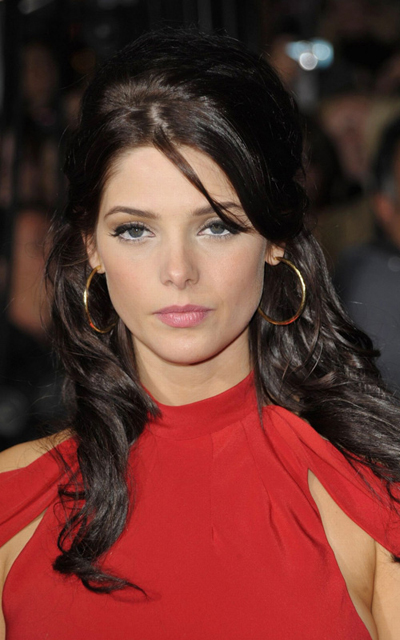 JUST IN: Makeup artist Vanessa Scali will be doing "Twilight" star Ashley Greene's makeup at the "New Moon" premiere tonight in Los Angeles. Vanessa will be using Lancôme and will provide us with details on Ashley's look tomorrow. Stay tuned for all the details!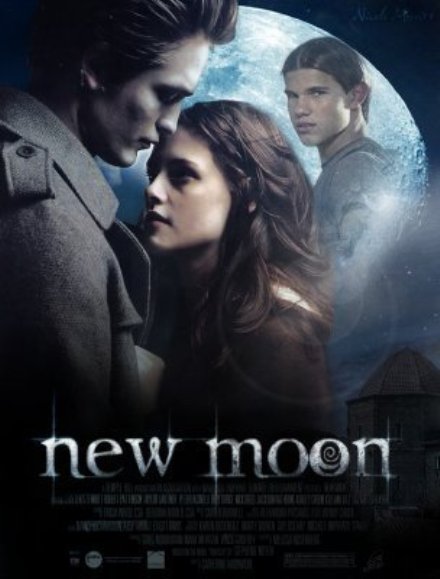 The ladies from The Twilight Saga: New Moon show you how to go from daytime pretty to nighttime hot in "Twilight Beauty," as featured in Glamour's upcoming September 2009 issue, on newsstands August 11th. The gorgeous photo spread, shot by Matthias Vriens-McGrath, features Nikki Reed, Rachelle Lefevre, Ashley Greene and Noot Seear. The issue hits stands Tuesday, August 11.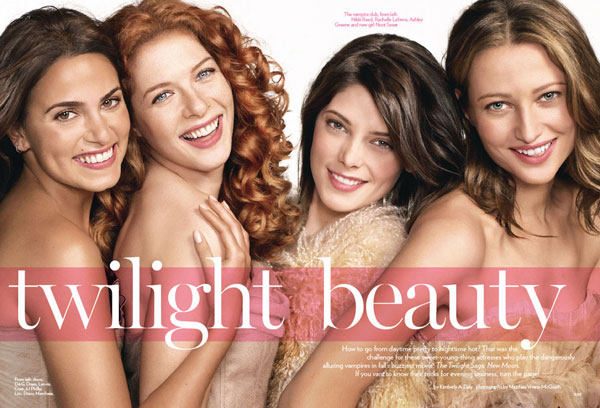 Click image above to enlarge
Twilight Beauty: How to Take Your Look from Day to Night: How to go from daytime pretty to nighttime hot? That was the challenge for these sweet-young-thing actresses who play the dangerously alluring vampires in fall's buzziest movie, The Twilight Saga: New Moon. If you vant to know their tricks for evening sexiness, turn the page!
And btw-Jessica Simpson graces the cover of Glamour September 2009 issue: