All Posts Tagged With: "dark red lip"
As the holiday season approaches, we prepare ourselves for Christmas and New Year's Eve celebrations. As seen backstage for Tamara Pogosian Holiday 2010 fashion show in NYC, it was all about colored cheeks or bold lips. Makeup Artist Stephanie Flor created the makeup look. It was fun and original, and perfect for any occasion.
Inspired by the movement of Twilight: New Moon, Stephanie muted the colors on the face to add a dramatic effect with an intense dark red lip and angel white eyes.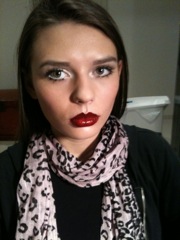 Using a rich white shadow (Cover Girl Golden Sunset) Stephanie covered the upper lid and blended it to the brow bone. The eyebrows were combed upward with clear gel. White liner (Covergirl starlightening white) was applied to the inner rim of the models eye's to add that special touch.