All Posts Tagged With: "Makeup Artist"
Celebrity makeup artist, Vincent Oquendo worked with Paris Jackson for the 2017 Met Gala on Monday, May 1st in New York, NY.
GET THE LOOK:
"Paris' skin was prepped with the Colbert MD Illumino Anti-Aging Brightening Mask followed by Klorane Soothing & Relaxing Eye Patches. Dr. Barbara Sturm face mask cream was then massaged into the skin using a chilled Georgia Louise Quartz Stone then gently wiped away.
Good read. Chanel Beauté Interviews from the 2017 Golden Globes. Chanel Beauté Partners with Makeup Artists and Manicurists at the 2017 Golden Globe Award
An Interview with Makeup Artist Mélanie Inglessis (@melaniemakep) on creating her beauty look for Ruth Negga:
What steps did you take to prep for the look, and what inspired you?
Products mentioned in this post are available at: chanel.com
On October 7th at Bergdorf Goodman ( Address: 754 5th Avenue, New York, NY 10019 ) in New York City, international makeup artist Charlotte Tilbury with BG Fashion Director Linda Fargo hosted VIP influencers, celebrities and media guests to celebrate the launch of the esteemed makeup artist's namesake collection at a VIP preview party. VIP attendees included: Naomi Campbell, Olivia Palermo, Serge Normant, Lauren Santo Domingo, Amy Sacco, Harley Viera Newton, Carole Radziwill, Lauren Remington Platt, Gia Bass, Derek Blasberg, and more.
With the holiday season about to begin, Marta Walsh has a sneak peel on Hourglass' holiday gift set, as well as holiday looks and tips from Hourglass Artistic Director Gina Brooke who is one of the most sought-after makeup artists in the world. Gina has worked with such luminaries as Madonna, Anne Hathaway, Naomi Campbell and Gwen Stefani. The makeup artist believes in radiant looking skin without too much sparkle—even during the holiday season. "I like fresh, beautiful makeup all year round," she says. "That said the holidays are the perfect time to make a statement." Here's how to pull it off elegantly.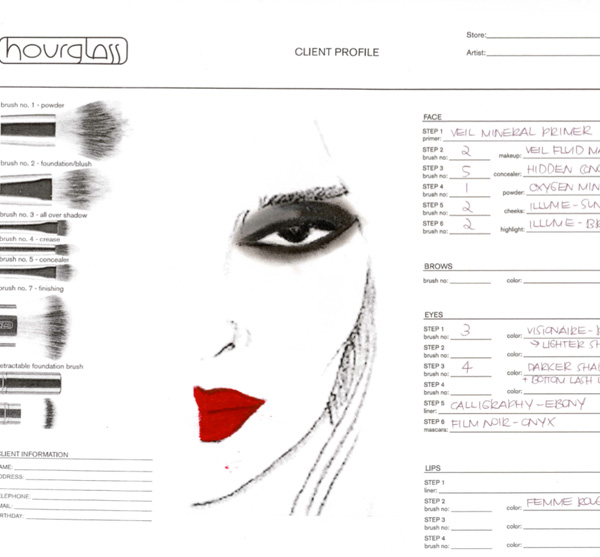 • "When it comes to chic cheeks, I have a three-dimensional approach that anyone can replicate at home.
I had the honor to meet Tom Pecheux renowned makeup artist and Estée Lauder's Creative Makeup Director backstage at Peter Som Fall 2010. I love being around talented people, they truly inspire me. Tom did the makeup for the show using MAC Cosmetics products. And of course, Marta was taking notes 🙂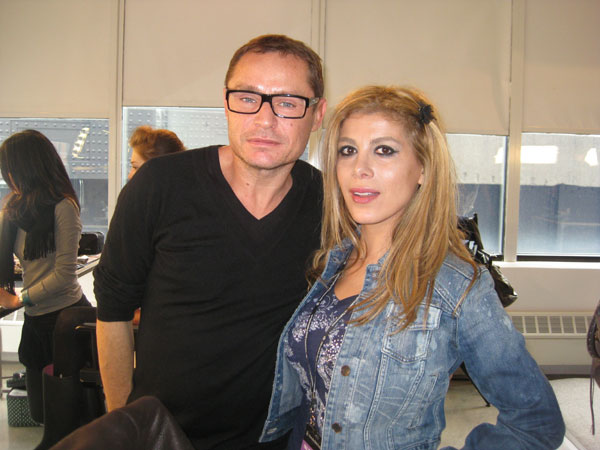 L to R: Top Pecheux and Marta Walsh
I asked Tom Pecheux some good questions about makeup and what does it take to be a top makeup artist backstage at Peter Som Fall 2010. You can even see Peter in the background. 
Going backstage at Chris Benz fashion show during New York Fashion Week is always exciting to me because I know I'm going to get to see and chat with Lancome's fabulous lead makeup artist Daniel Martin. Just a reminder, Daniel and fashion designer Chris Benz were the brilliant minds behind one of Lancom'e best selling lipstick (and Marta's all time favorite) Chris & Tell. If you're into makeup like myself, Daniel is the best guy to pick his brains about it. Needless to say, he is always so sweet to me! Thanks Daniel. xo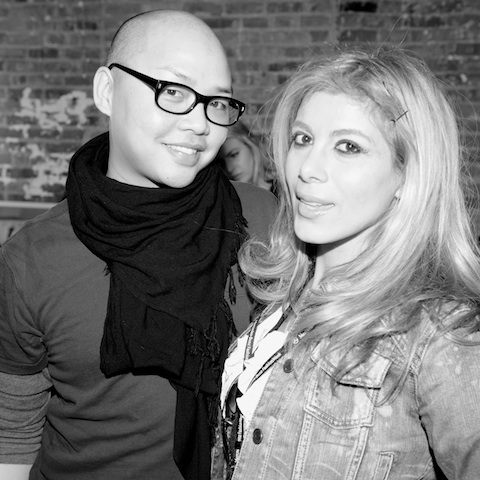 Daniel Martin and Marta Walsh backstage at Chris Benz Fall 2010 with Lancome
Photo Credit: © amber rima mclinn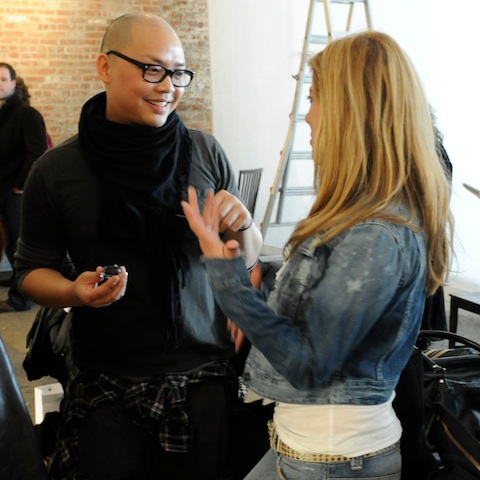 Photo Credit: © amber rima mclinn

Me, Marta Walsh, backstage at Chris Benz Fall 2010, also in the background Redken
team busy creating the hairstyle for the show. Photo Credit: © amber rima mclinn
Danica Jardien is a Denver-based makeup artist with a resume most beauticians feign. Not only has she worked with President Barack Obama, but she's also had the luxury of working with Tyra Banks. Danica is looked up to by many people for her thoughts on beauty and her continued studies on numerous products in the industry. She is a hard-working professional who is in touch with her fans on many of the top social networking sites such as Twitter, YouTube, and Facebook.
In a recent update to her popular YouTube Channel, Danica goes over the art of covering up dark circles. She starts off showing the viewers how she starts off with a concealer, and then discusses how she has finally found an eye serum that works wonders at reducing puffiness and dark circles.
This eye serum is called the "Dark Circle Serum," and it's made by Wrinkle System. The Dark Circle Serum is part of the popular "Two Minute Wrinkle Drill," and if you follow the above link you can see Danica perform the entire routine, which starts off with a cleanser and also includes an anti-wrinkle solution.
Dark circles are caused by many factors, and they can be perceived by people in many ways – none are positive! Dark circles give off the notion that one leads an unhealthy lifestyle, does not sleep properly, or abuses drugs or alcohol. One cannot simply afford to have dark circles or puffy eyes, and for this reason, it's important to watch Danica's video.
*Above post is a sponsered post.
GET THE LOOK: Cameron Diaz was wearing CHANEL Beauté at the 67th Annual Golden Globe Awards. Cameron's makeup look was created by Makeup Artist Robin Fredriksz.
Beauty Inspiration & The Look: "I wanted to blend my old Hollywood inspiration from the dress with the sunny California girl that is Cameron. So I paired the classic CHANEL red mouth with the golden sunny California eye."
Beauty Tip: "I used the gold shadow from the CHANEL Quadra Eye Shadow in Mystic Eyes in the outer corner of Cameron's lids and crease, and then I used the darker peach and gold mixed together from CHANEL Quadra Eye Shadow Quad in Demure on her lids. I lined her eye with CHANEL Precision Eye Definer in Khaki Dore, and finished with CHANEL Inimitable Mascara in Noir. On her lips she wore CHANEL Rouge Allure Laque in Dragon."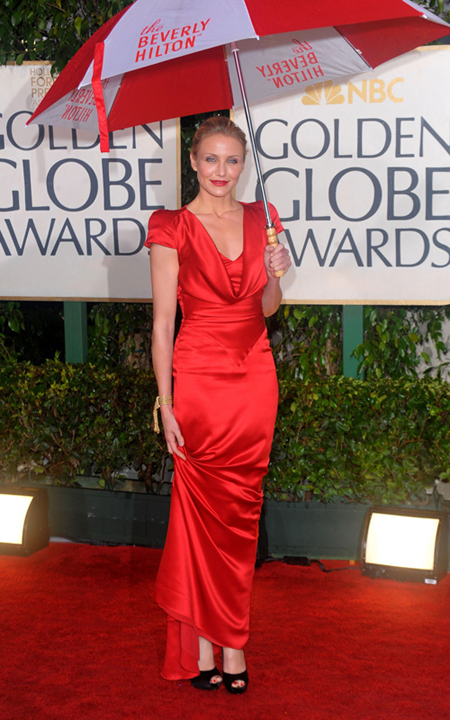 As the holiday season approaches, we prepare ourselves for Christmas and New Year's Eve celebrations. As seen backstage for Tamara Pogosian Holiday 2010 fashion show in NYC, it was all about colored cheeks or bold lips. Makeup Artist Stephanie Flor created the makeup look. It was fun and original, and perfect for any occasion.
Inspired by the movement of Twilight: New Moon, Stephanie muted the colors on the face to add a dramatic effect with an intense dark red lip and angel white eyes.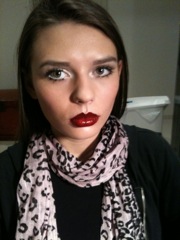 Using a rich white shadow (Cover Girl Golden Sunset) Stephanie covered the upper lid and blended it to the brow bone. The eyebrows were combed upward with clear gel. White liner (Covergirl starlightening white) was applied to the inner rim of the models eye's to add that special touch.
Lancôme and Lollipop Theater Network celebrated the launch of La Collection Lollipop last week at Bellacures in Beverly Hills. Jordana Brewster and Jennie Garth hosted the festive soiree, where guests were treated to champagne, cupcakes and manicures using the nail polishes from the collection.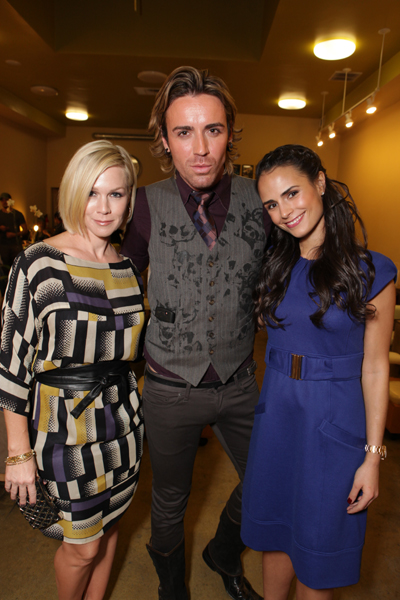 From left: Jennie Garth, Darais, and Jordana Brewster