All Posts Tagged With: "Mario Dedivanovic"
Good read. Chanel Beauté Interviews from the 2017 Golden Globes. Chanel Beauté Partners with Makeup Artists and Manicurists at the 2017 Golden Globe Award
An Interview with Makeup Artist Mélanie Inglessis (@melaniemakep) on creating her beauty look for Ruth Negga:
What steps did you take to prep for the look, and what inspired you?
Products mentioned in this post are available at: chanel.com
Celebrity hairstylist Michael Silva and celebrity makeup artist Mario Dedivanovic worked with Kim Kardashian for the 2015 TIME 100 Gala on Tuesday, April 21st in New York, NY.
HAIRSTYLIST MICHAEL SILVA
BEAUTY INSPIRATION:
"We decided on a sleek pony for a chic look. We wanted to allow the neckline of the dress to show and also thought a pony would complement the volume of the skirt."
How to get Kim Kardashian's hair
"I first prepped Kim's wet hair using Shu Uemura Ample Angora Mousse all over. I then added some Kerastase Touche Final Serum on ends and throughout.
I blow dried her hair section by section and flat ironed it. Then I created a center part and secured it into a low ponytail."
Celebrity makeup artist Mario Dedivanovic worked with Chrissy Teigen for the 101st Annual White House Correspondents' Association Dinner on Saturday, April 25th in Washington, DC.
How to get Chrissy Teigen's makeup look
"Chrissy's look was all about gorgeous skin with a bold lip. I used Armani Luminous Silk Foundation and applied it with a Beauty Blender all over skin. I only set the t-zone area with a bit of powder to keep the skin looking dewy.
Celebrity hairstylist Michael Silva and celebrity makeup artist Mario Dedivanovic worked with Kim Kardashian for the 57th Annual Grammy Awards on Sunday, February 8th in Los Angeles, CA.
How To Get Kim Kardashian's Hair & Makeup
HAIRSTYLIST MICHAEL SILVA
BEAUTY INSPIRATION: "Our inspiration was a reference I pulled of an editorial image of the eternally cool Kate Moss."
GET THE LOOK:
I'm very excited to share with you my interview with celebrity makeup artist Mario Dedivanovic also known on Twitter as makeup byMARIO. Like Celebrity Makeup Artist Scott Barnes who is famous for revolutionizing Jennifer Lopez's red carpet makeup looks, Mario Dedivanovic is creating the same magic for Kim Kardashian. Quite genius.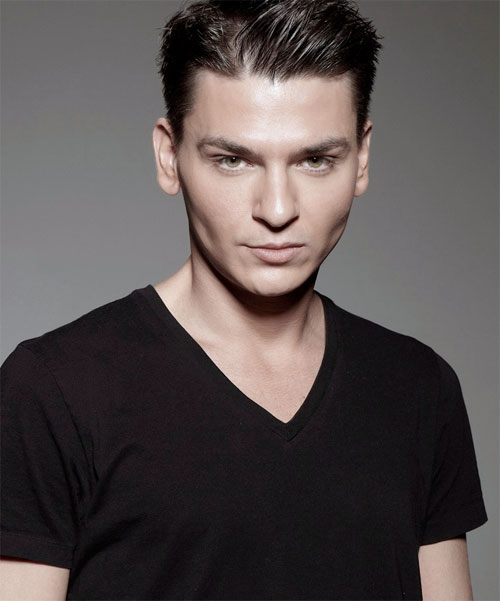 Makeup Artist genius Mario Dedivanovic
Besides his work with the lovely Kardashian, Mario who began his beauty career at a young age as a makeup artist behind New York City retail counters is securing a place among the world's best and most well-known makeup artists. He has collaborated on countless editorials and red carpet looks for celebrities, all of whom showcase the skill, talent, personality and attention to detail that is brought to every transformation he creates.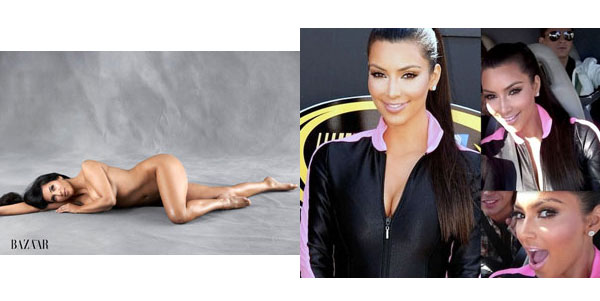 L to R: Mario Dedivanovic created the makeup looks for Kim Kardashian for her Harper's Bazaar photo shoot and for for the recent Nascar event
In this interview Mario Dedivanovic talks to Marta Walsh about his first memories falling in love with beauty and makeup. The most memorable red carpet makeup looks he created for Kim Kardashian. What's in his professional makeup bag. What and who inspires him. Reveals one or two things you might not know about him. And, future plans.
Marta Walsh: Where do you call home?
Mario Dedivanovic: JFK airport! I've been traveling a great deal so I feel like I live in hotels and airports. I was born and raised in the Bronx and live in NYC. Since I stay in Los Angeles so much as well, I will most likely get a place there too.
This week Kim Kardashian debuted her new and first perfume KIM KARDASHIAN at Sephora Miami Beach. Looks like Celebrity Makeup Artist Mario Dedivanovic was the genius behind Kim's gorgeous makeup and we LOVE!  This is according to Mario's Twitter makeupbymario: "Morning! Excited for the launch of @KimKardashian 's fragrance today at Sephora in Miami. Going to glam her up soon! ;-)"  Mario, when are you going to do makeup for Marta Walsh?:)