All Posts Tagged With: "Beauty Interviews"
Good read. Chanel Beauté Interviews from the 2017 Golden Globes. Chanel Beauté Partners with Makeup Artists and Manicurists at the 2017 Golden Globe Award
An Interview with Makeup Artist Mélanie Inglessis (@melaniemakep) on creating her beauty look for Ruth Negga:
What steps did you take to prep for the look, and what inspired you?
Products mentioned in this post are available at: chanel.com
Actress Kate Hudson and Hairstylist David Babaii Launch Hair Care Line at Sally Beauty Supply Stores!
Actress Kate Hudson and her hairstylist David Babaii will announce on Tuesday May 19th, 2009, that David Babaii for WildAid, an innovative eco-friendly line of hair care products, will be introduced at Sally Beauty Supply stores nationwide beginning June 1, 2009.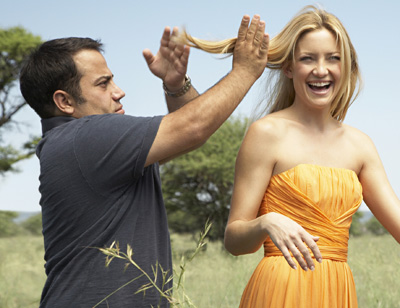 David Babaii for WildAid is free of sulfates, parabens and toxic petrochemicals. However, the line's most important attribute is: the products are not tested on animals, but rather on Kate Hudson! This cruelty-free hair care line supports wildlife conservation by donating 10% of profits to WildAid, the global wildlife conservation organization (www.wildaid.org ).
Last week I had an amazing chance to chat with celebrity hairstylist Harry Josh who has been Gisele's colorist for quite some years now. Harry Josh is also John Frieda's International Creative Consultant.
I've interviewed Harry Josh for Talking Makeup's celebrity beauty section: www.beautyinterviews.com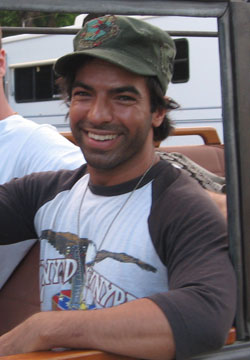 Harry Josh is a top celebrity hairdresser coming to us from Vancouver Canada. Harry Josh is also John Frieda's International Creative Consultant and the hairdresser behind supermodel Gisele Bundchen's hair. Aside from Gisele, Harry Josh styled hair for celebrities like Cameron Diaz, Gwyneth Paltrow, Natalie Portman, Fergie, and Reese Witherspoon.
I caught up with Harry Josh on the telephone interrupting his very busy morning to learn more about his fascinating career as top celebrity hairdresser.
In this interview Harry Josh talked to me about what attracted him to the world of hairdressing. His working relations with Gisele Bundchen. Gives tips to how we can achieve Gisele's hair at home. Lists some John Frieda products he just can't live without. Dishes out summer hair trends and future plans.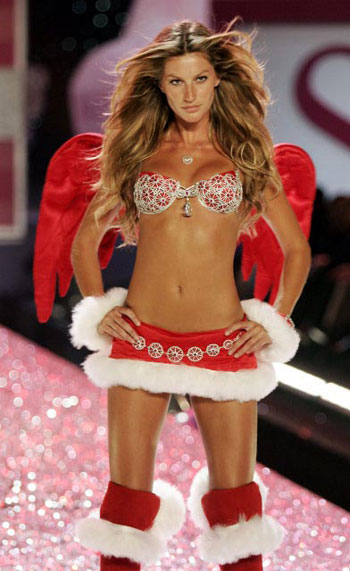 Marta Walsh: Why have you decided on a career in hairstyling?
Harry Josh: I always had a passion to be in front of the camera, I wanted to be an actor or a model and that didn't work out so well. I then realized that if you can't beat them, join them! I remember looking through fashion magazines when I was young , particularly Vogue, and seeing an outtake from a photo shoot of a hairdresser brushing model's hair on a cliff. It didn't even look like a job it looked like fun. As a hairdresser you get to work with beautiful models and to travel to exotic locations. It seemed like a cool job and I wanted to get it!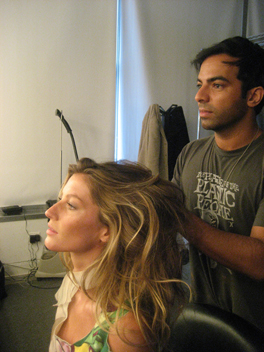 I'm so excited to share with you my interview with Nicolas Degennes, Givenchy's Le Makeup Artistic Director for Beauty Interviews. Here it is:
Nicolas Degennes is Givenchy's Le Makeup Artistic Director. Nicolas is the brilliant mind behind Givenchy Spring 2009 Maharani Makeup Collection and of Givenchy's many other beautiful makeup. I met Nicolas at a Givenchy breakfast in New York City and was absolutely mesmerized with his speech. Nicolas made me fall in love with Givenchy, makeup, beauty, and being a woman. I had to share my life changing experience meeting Nicolas with you.

Nicolas Degennes.
In this interview Nicolas Degennes takes us back to Paris at age 16 where the love for art and beauty began for him, his philosophy about makeup, memorable celebrity collaborations such as with Monica Bellucci, Kristin Scott Thomas and Liv Taylor. Some of the must-have Givenchy products in every woman's makeup bag, and where he finds his biggest inspirations in life.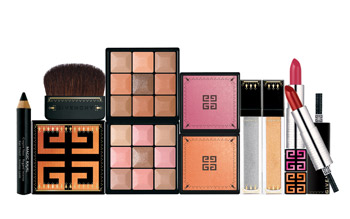 Givenchy Spring 2009 Maharani Makeup Collection.
Marta Walsh: When did your fascination with beauty begin?
Nicolas Degennes: My passion with makeup and the arts began when I was a child. I left Paris at the tender age of 16 to follow my dream to study the arts, music, theater and photography. While exploring my fascination with arts in a fresh and inspiring environment, I befriended a great makeup artist in New York who introduced me to the world of makeup. Beauty and makeup became my newfound passion, and I have been working in this field ever since.
Few days ago I had the great pleasure to interview actress Bree Turner for Beauty Interviews. Bree has a role in an upcoming film called The Ugly Truth opposite Katherine Heigl. Here it is:
Bree Turner is an actress who began her journey in Hollywood as a professional dancer. Bree was a background dancer in such hit films as The Big Lebowski (1998), She's All That (1999) and Mike Myers' Austin Powers: The Spy Who Shagged Me (1999). Bree's love for performing and being on stage makes acting a natural transition. Bree Turner can be seen opposite Katherine Heigl and Gerard Butler in The Ugly Truth- out July 24, 2009.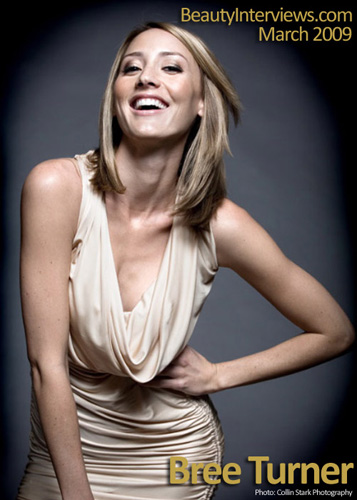 Bree Turner cover of Beauty Interviews March 2009.
Photo Credit: Collin Stark photography.
I caught up with Bree Turner via telephone from LA early in the morning, to talk about her beginnings in Hollywood, her upcoming film The Ugly Truth, future career plans and even some beauty secrets!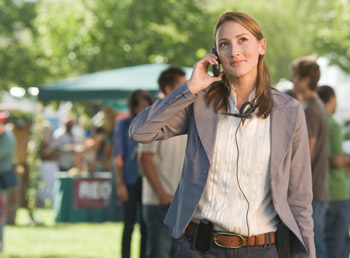 Bree Turner in The Ugly Truth.
Marta Walsh: How did you decide on a career in acting, and what were some of your first breaks as an actress?
Bree Turner: I started out as a dancer which got me on stage. I was pretty shy as a kid so my mom decided to enroll me in a dance class, and I fell in love with being on stage and performing. I danced all through my teens and early 20's. Dancing brought me down to Los Angeles with a dance scholarship in UCLA.
I've recently interviewed renowned plastic surgeon Dr Jennifer Walden for Beauty Interviews, and picked her brains on what to expect when considering plastic surgery.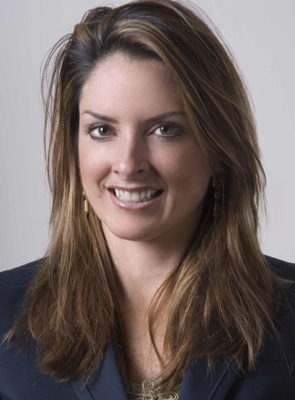 Plastic Surgeon Dr Jennifer Walden.
Dr. Jennifer Walden is a Plastic and Reconstructive Surgeon who is fellowship-trained in aesthetic surgery and board certified by the American Board of Plastic Surgery. She currently is an associate attending in Plastic Surgery at Manhattan Eye, Ear and Throat Hospital and Lenox Hill Hospital. She is also a member of the American Society of Plastic Surgeons and is a Fellow of the American College of Surgeons. Her office is located at in Manhattan at 50 East 71st Street(on the corner of Park Avenue and 71st Street). Dr. Walden has been featured on CBS, ABC, and Fox News to discuss various topics in plastic surgery and has been quoted in magazines, such as: Vogue, Cosmopolitan and SELF.
In this interview Dr Walden talks to Marta Walsh about her fascination with plastic surgery which began in junior high, some of the challenges of being a woman plastic surgeon, her passion for sharing her knowledge in plastic surgery, gives advice to anyone considering plastic surgery for the first time, and best celebrity plastic surgery makeovers.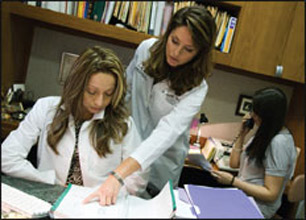 Marta Walsh: When did your fascination with plastic surgery begin?
Dr Jennifer Walden: My fascination with surgery began when I was in junior high, and one of our science projects was to dissect a pig. My science teacher told me I was going to be a surgeon after I completed the project in one day, after my lab partner left the room in disgust. As for plastic surgery, I decided I enjoyed the realm of producing visible surgical results and the immediate gratification that comes with that when I was a medical student in Texas.
I'm really into the new MTV series The City with Whitney Port. Have you been watching? This is why I was so thrilled when I actually got to interview Erin Lucas for www.beautyinterviews.com . Erin Lucas is Whitney Port's BFF and roommate.
The City is the latest spin-off of The Hills with Lauren Conrad.
Here it is, my interview with Erin Lucas:
Erin Lucas is Whitney Port's roommate and BFF on the hit new MTV series The City. When Whitney moves to NYC, Erin, who she's known for years, is the only person Whitney can call a friend.
In this interview Erin Lucas shares with Marta Walsh some of her beauty secrets.
I keep my hair beautiful thanks to… Frederick Fekkai glossing shampoo and conditioner and glossing cream (but to be honest I only wash my hair maybe twice a week)
My favorite skin care products are… Pat Wexlar exfoliating cleanser with acnostat – I've been using this face wash for years and haven't had a breakout since!
I get my eyelashes looking long, full and sexy using… Chanel Inimitable
The best lip gloss I ever owned… Nars Turkish Delight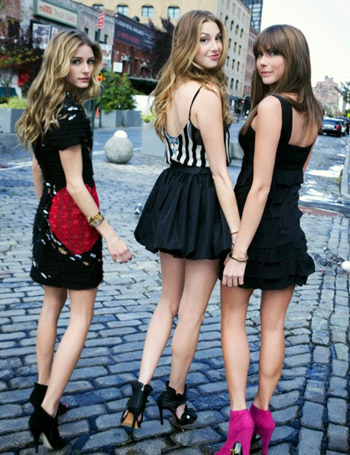 From Left: Olivia Palmero, Whitney Port, & Erin Lucas.
Few weeks ago I had an amazing opportunity to interview Kendra Wilkinson for www.beautyinterviews.com and find out about her beauty secrets.
Here it is, my interview with Kendra Wilkinson!
Kendra Wilkinson is best known for her role on the E! reality series The Girls Next Door as Hugh Hefner's third girlfriend after Holly Madison and Bridget Marquardt.
Wilkinson met Hugh Hefner at his 78th birthday party in April 2004, where she was hired to be one of the "painted girls". Hefner had apparently seen her picture, shot by photographer Kim Riley, on a fax machine at the Playboy Mansion and wanted to know who she was. Shortly after they met, Hefner asked Wilkinson to be one of his girlfriends and he moved her into the Playboy Mansion. Kendra is now engaged to Philadelphia Eagles wide receiver Hank Baskett.
In this interview Kendra Wilkinson shares her beauty secrets with Marta Walsh.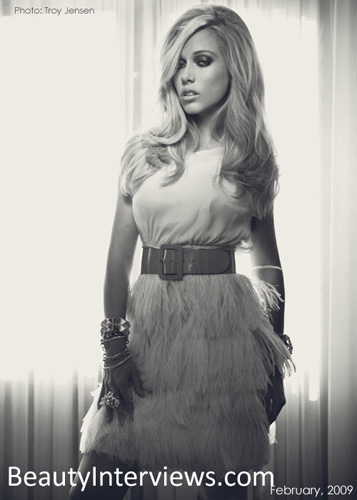 I keep my hair beautiful thanks to… Herbal Essences Citrus Fruit Shampoo and Conditioner and Pantene Pro V
My favorite skincare products are… Cetaphil moisturizer and Dove body soap
I get my eyelashes looking long, full, and sexy using… Maybelline Lash Stylist
I've recently interviewed actress Shirly Brener for Beauty Interviews. I find Shirly's interview captivating. Her passion for acting is contagious. And, I love people who are passionate about what they do:)
I also found out some of Shirly Brener's beauty secrets. Doesn't she looks beautiful, and SO fit! New year's resolution for me is a Shirly Brener inspired yoga, maybe?
Here it is, my interview with Shirly Brener:
With several high-profile films to be released within the next few months, Shirly Brener has been a busy actress. She currently shares screen-time with legends Robert DeNiro and Al Pacino in Jon Avnet's thriller, RIGHTEOUS KILL. Amongst her many projects, included is the much anticipated crime drama, STREETS OF BLOOD, also starring Sharon Stone and Val Kilmer.
Shirly also stars in indie film director, Jake Torem's latest project, LETTING GO, in which she plays the manic depressive lead character, April, alongside Bokeem Woodbine and Christopher Knight. Shirly also plays the roles of actress and producer in the upcoming film, SESSION, starring Steven Bauer, to be released in 2009. Shirley can also be seen in the crime drama, HONOR, which will also be released in 2009 as well. Apart from her serious roles in dramas and thrillers, Shirly's versatile acting skills come to life as she stars as "Britney" alongside Lindsay Lohan and Cheryl Hines in the upcoming comedy, LABOR PAINS, to be released in 2009.
Couple of months ago, I had an amazing opportunity to interview the beautiful Patrica Kara for Beauty Interviews.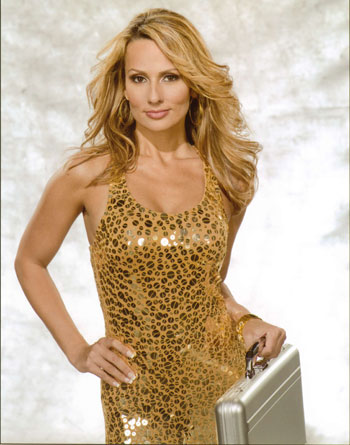 Patricia Kara is an actress, model, and a TV personality best known as Deal or No Deal's #9. Patricia along with Tameka Jacobs, were the only ones chosen to be on the new Daytime Deal or No Deal with Howie Mandel, which premiered in September 2008. In addition, Patricia has appeared in over 20 television programs, such as, E! Entertainment's Wild On, Extra, and the Golden Globes.
Read my interview with Patricia Kara where we chat about her love for hosting TV shows, how Deal or No deal revolutionized her career, beauty secrets, her upcoming calendar, and plans for the future.
Why have you decided on a career in hosting and reporting?
I started out with modeling about twenty years ago back in Chicago. That led me to Florida and New York. When I was in New York my modeling agency started to send me out to auditions for hosting and acting. I started booking jobs here and there. One job led to the next job. Then I moved to LA and kept working. And I love it! Anytime I can talk and get paid for it to, is just great. I find my job real easy, it is what I love to do. With hosting I get to try new and different things, depending on what I'm hosting about, and being part of them in a way most people don't get to do. For example, if I do a show about wake boarding, I'll try wake boarding. I've done a fishing show. I've also hosted a lot of sporting events, such as Kentucky Derby.