Few days ago I had the great pleasure to interview actress Bree Turner for Beauty Interviews. Bree has a role in an upcoming film called The Ugly Truth opposite Katherine Heigl. Here it is:
Bree Turner is an actress who began her journey in Hollywood as a professional dancer. Bree was a background dancer in such hit films as The Big Lebowski (1998), She's All That (1999) and Mike Myers' Austin Powers: The Spy Who Shagged Me (1999). Bree's love for performing and being on stage makes acting a natural transition. Bree Turner can be seen opposite Katherine Heigl and Gerard Butler in The Ugly Truth- out July 24, 2009.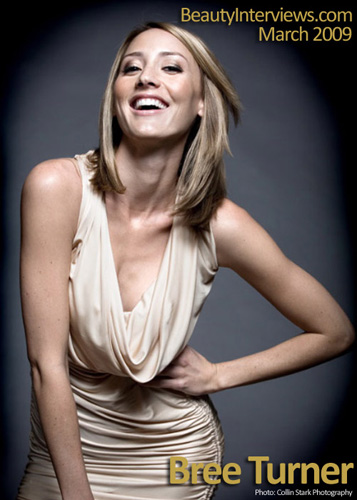 Bree Turner cover of Beauty Interviews March 2009.
Photo Credit: Collin Stark photography.
I caught up with Bree Turner via telephone from LA early in the morning, to talk about her beginnings in Hollywood, her upcoming film The Ugly Truth, future career plans and even some beauty secrets!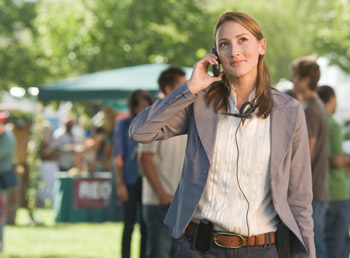 Bree Turner in The Ugly Truth.
Marta Walsh: How did you decide on a career in acting, and what were some of your first breaks as an actress?
Bree Turner: I started out as a dancer which got me on stage. I was pretty shy as a kid so my mom decided to enroll me in a dance class, and I fell in love with being on stage and performing. I danced all through my teens and early 20's. Dancing brought me down to Los Angeles with a dance scholarship in UCLA.
I heard that you can actually make money as dancer, so I got a dance agent and began working in commercials, music videos, and the Grammys. I did that for about 6 years. I then decided to pursue acting. I was so in love with being on set and movie making. I loved movies since I was a baby. It was the only thing that would calm me down. I was very colicky as a child so my mom would take me to watch movies. Grease was the movie that would stop me from crying. Dancing, performing, and being on stage is all I've done forever, it's all I really know.
MW: Tell us about your dancing roles in The Big Lebowski (1999) and Mike Myers' Austin Powers: The Spy Who Shagged ME (1999)?
BT: The Big Lebowski was very cool, and I love that I'm in it, it's one of my favorite movies. But the experience was torture because as one of the bowling pin girls on the set I had to wear a 2 and half foot high bowling pin head dress made out of heavy wood. It had to be secured on our heads. It would squeeze our brains it was so tight. The other dancers with me on the set and I couldn't take the head dresses off because they were such pain to put back on. By the end of the shoot no one was talking to each other, we just sat there with our heads between our legs. Our costume weighted about 50 pounds, we couldn't even go to the bathroom. It was hysterical and not glamorous at all. Being on Austin Powers film was the opposite experience. We were shooting in a secret mansion in Malibu, 76 degrees outside, blue skies, and we just hang out all day. Only my arm with a tennis racket ended up on screen and you can't even see me. So sad!
MW: How would you describe your character in The Ugly Truth film with Katherine Heigl?
BT: I play Joy, Katherine Heigl's best friend and co-worker. Katherine Heigl's character in The Ugly Truth, Abby Richter, is a Type A, very professional, workaholic, and uptight with her love life. She even schedules her dates. She meets Gerard Butler, Mike Alexander, who is a bad boy. I'm the voice of reason for her, I push her when she needs to get out of her comfort zone. I'm there for her when she is complaining. I'm her body! It is a sparkly and fun romantic comedy that is actually honest and not manipulative. The relationships in the film are not forced. It was an easy relationship for me on screen and it was therefore super fun. It was a sweet bubbly role and I had good time doing it!
MW: What was it like working with Katherine Heigl and everyone on the set?
BT: It couldn't be an easier experience. It was effortless. It truly didn't feel like we were working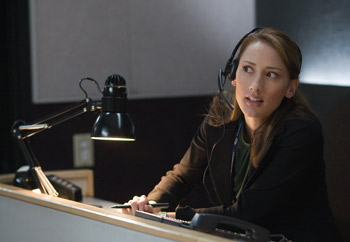 Bree Turner in The Ugly Truth.
MW: Which other Hollywood actors/actresses inspire you with your own acting?
BT: Katharine Hepburn was phenomenal, I would have loved to work with her. She was such a force, competing with all the boys of her time. She was quick and witty with her on screen persona. Philadelphia Story (1940) is one of my all time favorite romantic comedies. Diane Keaton and Debra Winger are delightful and deliciously humane on film and unexpected with their choices. Kate Winslet is timeless and a chameleon, she can play any age and any era. I deeply respect her talent. Kate Hudson is the cutest and makes me laugh.
MW: If you ever won an Oscar, who would be some of the people you would thank?
BT: My aunt Shelly who has been with me since day one of my career, she is a great support for me. My family, they never pressured me to get a 'real job' when times I wasn't working. They are my support system since I was little girl. And my husband.
MW: What is next for Bree Turner?
BT: I'm in a middle of shooting a Cinfu movie. I always wanted to do an action film. My dream scene is a slow motion shot of me with a huge ridicules gun and a bikini walking towards the camera. Who doesn't want that slow motion moment of them as a bad ass?
MW: Was it tough being photographed for Maxim?
BT: It was challenging at first but then I've loosened up and we actually had a really good time. I have a hard time standing still in front of the camera, so I'm not sure I'm best as a model. It is very unnatural for me to hold a pose. Then you get a bit conscious about your body parts. Having an adorable 20 something woman photographer by the name of Kelly Stewart helped! That definitely relaxed me, I thought as a woman she knew which were the right poses for me.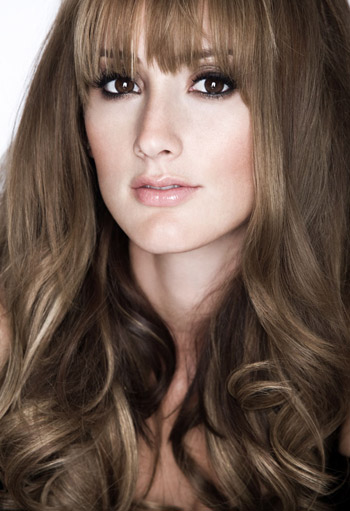 Bree Turner. Photo Credit: Collin Stark photography.
I keep my hair beautiful thanks to…
Kerastase Chroma Protect it gives my hair texture, and prevents by blonde hair from turning brassy.
My favorite skincare products are…
When I'm feeling super fancy I like to use skincare products from 3LAB. They have this cream that changed my skin! It's called WW Cream, it's expensive but I justify my purchase because it lasts me a long time. It totally minimized my pores, it gives a porcelain look to it, it's amazing. I also love Neutrogena and their Oil Free Eye Makeup Remover. It's the best! I also like Neutrogena Ultra-Soft Eye Makeup Remover Pads, ideal when you travel. It doesn't leave any icky residue or greasiness.
I get my eyelashes looking long, full, and sexy using…
Whatever packaging looks good, I'll go with that, but right now I'm using Victoria's Secret Beauty Rush Mascaras. You can buy them at the Victoria's Secret store and they are only $5 for 4 mascaras. They come in different cool shades like navy, purple, and green, and black.
The best lip-gloss I ever owned…
I love Bobbi Brown Lip Gloss because it tastes like caramel and it stays on for long time. It's kind of sticky but I like it. If you want to wear a lip gloss you can't be afraid that it's sticky!
My signature fragrance is…
Jo Malone Pomegranate Noir, it was given to me as a gift. At first I didn't like it that much. I'm a floral fruity type of fragrance girl and this one is woodsy. Then I start wearing it, and now I'm addicted to it! In high school I used to wear Jessica McClintock.
The one beauty product you will always find in my makeup bag is…
Aquaphor Healing Ointment Advanced Therapy which I like to use underneath my lipstick, because I've developed some kind of lipstick allergy.
My number one beauty secret is…
My beauty mantra is look like I'm not wearing makeup or the the no makeup makeup look. I also really love smoky eyes. I use MAC Eye Kohl Liner in Teddy which is a red brown shade with a bit of a sparkle. I apply it in the inner rim of my eyes, they immediately pop out yet look very natural. And my indulgent is getting my hair professionally blown out once a week. I feel a bit like a 50's housewife, but it really lasts especially with a dry shampoo. To keep the blow out last, at night I put my hair in a scratchy. When I take it down in the morning and my hair has this great wave to it. This rally changed my life, lol.
I keep fit thanks to…
I work out, I'm not going to lie. I eat small portions. My weakness is candy like Gummy Bears in sour watermelon. I purposely don't buy things that I'm going to binge on. My husband is not pleased because there is never anything interesting to eat in my kitchen. I also try to do something active everyday like go to the gym, a dance class, walk, and I take the stairs instead of the elevator.
The city I love the most…
New York City! I have a person inside me that would love to live in New York. I would love to do a show there for six months, rent a flat, and live the New York City lifestyle. Los Angeles will always remain our home base because it's so easy to live here, the weather, the ocean, and the mountains. But there is energy to New York City that nowhere else in the world has.
One or two things some people may not know about Bree Turner…
I'm really good at video games, and like to stay up late watching TV. Like the other day, I watched Big Love until 4am!
It was great to discuss beauty secrets with Bree look for her in the upcoming movie The Ugly Truth and check her official website: www.breeturner.com