I'm so excited to share with you my interview with Nicolas Degennes, Givenchy's Le Makeup Artistic Director for Beauty Interviews. Here it is:
Nicolas Degennes is Givenchy's Le Makeup Artistic Director. Nicolas is the brilliant mind behind Givenchy Spring 2009 Maharani Makeup Collection and of Givenchy's many other beautiful makeup. I met Nicolas at a Givenchy breakfast in New York City and was absolutely mesmerized with his speech. Nicolas made me fall in love with Givenchy, makeup, beauty, and being a woman. I had to share my life changing experience meeting Nicolas with you.

Nicolas Degennes.
In this interview Nicolas Degennes takes us back to Paris at age 16 where the love for art and beauty began for him, his philosophy about makeup, memorable celebrity collaborations such as with Monica Bellucci, Kristin Scott Thomas and Liv Taylor. Some of the must-have Givenchy products in every woman's makeup bag, and where he finds his biggest inspirations in life.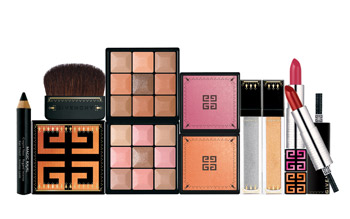 Givenchy Spring 2009 Maharani Makeup Collection.
Marta Walsh: When did your fascination with beauty begin?
Nicolas Degennes: My passion with makeup and the arts began when I was a child. I left Paris at the tender age of 16 to follow my dream to study the arts, music, theater and photography. While exploring my fascination with arts in a fresh and inspiring environment, I befriended a great makeup artist in New York who introduced me to the world of makeup. Beauty and makeup became my newfound passion, and I have been working in this field ever since.
MW: What were some of your first big breaks in the beauty industry?
ND: One of my memorable breaks was working as a makeup artist for the American band, On Stage, in France. I began to travel widely, working as a makeup artist in many countries. I was hired by the French TV Channel Canal +, and was quickly promoted from head makeup artist to the channel's Artistic Director. Meanwhile, I worked on everything from the Cesars (the French Oscars) and the Cannes Film Festival to music videos and films.
MW: What is your makeup philosophy?
ND: My philosophy is that makeup is freedom… Freedom to become whoever you want to be in that moment…to experiment…to create…to express…What have been some of your most memorable celebrity collaborations so far, and which celebrity would you like to do makeup for in the future?
In the past, I have worked well with Monica Bellucci, Vincent Cassel, Kristin Scott Thomas, Fanny Ardant, Charlotte Rampling, and of course, Liv Tyler. Working with Liv for the past few years has been wonderful because what started as a working relationship has now become a friendship. These women may be celebrities, but they are real women who create and inspire, as I believe all women do, so I don't have any one person in mind that I want to work with, as all women continue to inspire me.
MW: What was the creative process like behind Givenchy's Maharani Spring 2009 makeup collection?
ND: I was greatly drawn to the exoticism and beauty of India during my travels. I was attracted to the energy, spirit and vibrancy of colors as seen in Bollywood films, so I wanted to create a collection blazing with colors that paid homage to Indian beauty.
MW: Which Givenchy makeup products are must-haves in every woman's makeup bag?
ND: Phenomen'Eyes Mascara is a must-have because it revolutionized the way women apply mascara and maximized the results they can now achieve, as the wand grabs each and every lash. Right now, I am also loving the Magic Kajal Eye Pencil, which is like a crayon and gives you an intense black line, inspired by Indian women using kohl. And skin is always very important, so the new PhotoPerfexion Fluid Foundation I created (launching April 09) gives women a very natural, flawless complexion, as if they have been touched up.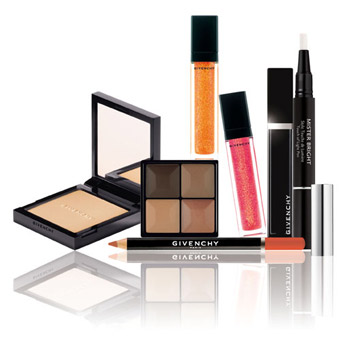 MW: Givenchy's Phenomen Eyes Mascara is truly innovative new mascara. How does it work to give us the best lashes in the world?
ND: The incredible results of Phenomen'Eyes are a combination of the spherical brush and the formula. The round brush allows for you to grab every lash, including the tiniest corner lashes, and it also grabs from the very root, lining the lid. The formula is wetter than most, so you have maximum play time with your mascara to get your lashes perfect before the formula dries. Phenomen'Eyes offers a faultless way of applying mascara, curling and separating every lash to instantly outline and enhance the eyes.
MW: How would you describe your experience as Givenchy's Le Makeup Artistic Director?
ND: It is a challenge, but at the same time exhilarating. I have been in this role for 10 years now and found that time moves quickly when you are living your passion.
MW: What makeup look do we expect to see at Givenchy in the upcoming season?
ND: My inspiration for my Summer 2009 collection is a sunny greeting from paradise! The monsoon season… Those summer days when rain and the warmth of the sun merge sensually together to caress the skin with shimmering, pure drops of light, bringing all of the senses to life. This season's palettes create a glowing and luminous complexion with lots of shimmer and shine, capturing the glistening of the sun and glimmer from water.
NW: You talk a lot about the concept of freedom when it comes to women, makeup, and beauty. What are some simple steps a woman can take to find this freedom?
ND: Makeup is ever changing. Women should feel free to try new things; makeup is the freedom of expression. I can't stress enough, please don't be scared when applying makeup. Do what you feel because makeup is freedom.
MW: What are some of your biggest inspirations in life?
ND: I have always had the urge to be present with time. My inspiration derives from my personal experiences in life. I've developed a strong attachment to Asia and Morocco, so it is during my time spent in these places that my makeup and my passion for life is ignited and inspired. I am also greatly inspired by science-fiction. There are no limits to my imagination, and I am continually listening and watching the innovations in the world.
MW: What other passions do you have besides helping women look beautiful?
ND: Currently, I am working very hard on planning an exhibition this coming April in Paris, which will celebrate my work over the past 10 wonderful years at Givenchy, and a compilation of personal works of art as well. I am excited to be sharing my art and work with the world.
It was a pleasure to interview Nicolas Degennes you can find out all about the newest Givenchy collections at the official website: www.parfumsgivenchy.com and also check out Nicolas website!