All Posts Tagged With: "Erin Lucas"
Audrina Patridge and Erin Lucas are both MTV reality TV stars and both very gorgeous! I Love them both. In the images below they look a like to me as if they were separated at birth.
Tell us what you think! Is this possible or I'm just delusional?

Audrina Patridge star of MTV's The Hills

Erin Lucas star of MTV's The City
Read Marta Walsh's interview with Audrina Patridge!
Read Marta Walsh's interview with Erin Lucas!
I'm really into the new MTV series The City with Whitney Port. Have you been watching? This is why I was so thrilled when I actually got to interview Erin Lucas for www.beautyinterviews.com . Erin Lucas is Whitney Port's BFF and roommate.
The City is the latest spin-off of The Hills with Lauren Conrad.
Here it is, my interview with Erin Lucas:
Erin Lucas is Whitney Port's roommate and BFF on the hit new MTV series The City. When Whitney moves to NYC, Erin, who she's known for years, is the only person Whitney can call a friend.
In this interview Erin Lucas shares with Marta Walsh some of her beauty secrets.
I keep my hair beautiful thanks to… Frederick Fekkai glossing shampoo and conditioner and glossing cream (but to be honest I only wash my hair maybe twice a week)
My favorite skin care products are… Pat Wexlar exfoliating cleanser with acnostat – I've been using this face wash for years and haven't had a breakout since!
I get my eyelashes looking long, full and sexy using… Chanel Inimitable
The best lip gloss I ever owned… Nars Turkish Delight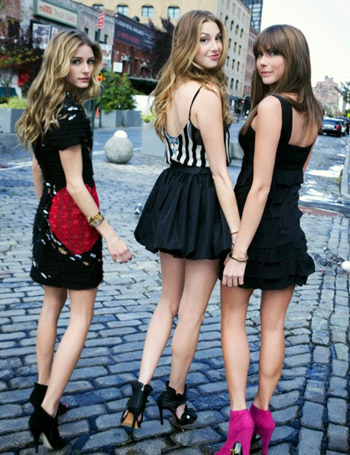 From Left: Olivia Palmero, Whitney Port, & Erin Lucas.
I'm so exited to tell you that I just interviewed Kendra Wilkinson Hugh Hefner's ex-girlfriend from the hit show The Girls Next Door or The Girls of the Playboy Mansion on E! Networks.
I also interviewed Erin Lucas from the new MTV series The City with Whitney Port.
Both Kendra Wilkinson and Erin Lucas shared with me some of their well kept beauty secrets.

Kendra Wilkinson.
My interview with Kendra Wilkinson and Erin Lucas will be published this month in www.beautyinterviews.com so make sure you stop by:)

Erin Lucas.
Are you a burgeoning fashionista? Aren't we all! Take a tip from stars of MTV's latest reality hit, "The City," to snag their stress-free and chic hairstyle! Think Whitney Port, Olivia Palermo, and Erin Lucas beautiful locks:)
To get the look: Start with got2b smooth operator Smoothing Lustre Lotion (SRP $7.99) Get Whitney's luscious bohemian-inspired locks with this decadent styling lotion.
The lotion shapes, smoothes, controls flyaways and imparts an amazing weightless lustre and softness without weighing hair down. Apply to damp hair, let it air dry, and end up on the cover of Page Six!
Then twist about one inch of hair on either side of your part and secure at the crown of your head with Goody's ColourCollection Mini Claw Clips (SRP $2.99)! These adorable accessories available in Blonde, Brunette, Black, and Red are functional, fashion forward, and ideal for perfecting your new celeb style. These discreet little claw clips are sure to keep your 'do in place from work to play- just like the starlets of "The City"!