All Posts Tagged With: "David Babaii for WildAid"
Love Kate Hudson's hairdo at the Premiere of "NINE"? Talking Makeup has the scoop on how to get Kate's look thanks to Celebrity Hairdresser David Babaii.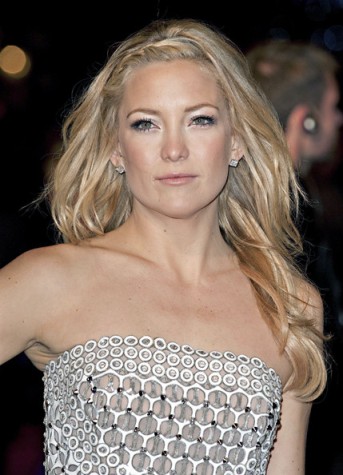 I prepared Kate's wet hair by massaging a dime size amount of my David Babaii for WildAid Hair Polish into her hair. For greater control, I parted her hair into 4 sections (both sides and crown leaving the nape area free). This helps achieve the perfect blow dry.
I dried each section straight, giving the ends a soft rounded finish with my David Babaii for WildAid Blow Dryer. For added lift and volume, I sprayed some David Babaii for WildAid Volcanic Ash Root Amplifier.
To finish, I french braided her shorter layers to sweep hair back and away from her face. For hold, I used my Mise en Plis Light Styling Spray. It's like oxygen for the hair! It doesn't weigh your style down or make it feel tacky. At the end of the night, Kate's look was completely fresh without any product build up
Visit the David Babaii for WildAid website for additional product details.
I'm getting mixed comments on Scarlett Johansson's hairdo At The Moet & Chandon Tribute To Cinema. Some, like myself  love it, and some don't. I thought to bring to you the scoop on how to get Scarlett's hairdo, anyways, just in case you do want to try this look at home.
Celebrity hairdresser David Babaii traveled across the ocean to Tokyo, Japan to create this Red Carpet look for actress Scarlett Johannson at the Moet & Chandon "Tribute to Cinema" event on October 20, 2009.

The hair jewelry worn by Scarlett Johannson is DeBeers. Scarlett's dress was Givenchy with Dior shoes.
To create this "power look" and accentuate her fire red dress, David Babaii took Scarlett Johansson's long strawberry blonde hair and transformed her tresses into a dramatic side swept, short textured bob. After rough drying her locks with Hair Polish applied to damp hair, David loosely twirled large sections of hair and sprayed them with Bohemian Beach Spray, while finishing the drying process.
Actress Kate Hudson and Hairstylist David Babaii Launch Hair Care Line at Sally Beauty Supply Stores!
Actress Kate Hudson and her hairstylist David Babaii will announce on Tuesday May 19th, 2009, that David Babaii for WildAid, an innovative eco-friendly line of hair care products, will be introduced at Sally Beauty Supply stores nationwide beginning June 1, 2009.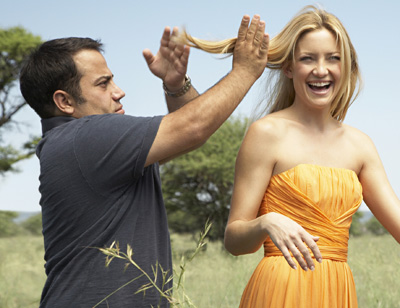 David Babaii for WildAid is free of sulfates, parabens and toxic petrochemicals. However, the line's most important attribute is: the products are not tested on animals, but rather on Kate Hudson! This cruelty-free hair care line supports wildlife conservation by donating 10% of profits to WildAid, the global wildlife conservation organization (www.wildaid.org ).
Be the one of the first to chat with Kate Hudson and David Babaii on HSN July 3rd and 4th.
Actress and Stylist Celebrate the Fourth of July in style, Bringing a New Eco-Friendly Hair Care Collection to America: David Babaii for WildAid.

David Babaii and Kate Hudson.
Actress Kate Hudson and longtime hairstylist David Babaii make their debut on HSN to unveil their new line of eco-conscious hair care products devoted to wildlife preservation called David Babaii for WildAid. David Babaii will share his top styling secrets as he demonstrates on live models how to achieve his famous red carpet hairstyles. Kate will make an appearance by phone to join David chatting with HSN callers. This unique opportunity will allow callers to obtain personalized beauty tips for their hair questions while learning to do something good for the world.
WHEN:
HSN www.HSN.com (*Check your local cable provider for details*)
July 3rd at 8am, 2pm, and 8pm EST
July 4th at 9am and 6pm EST
July 5th 5am (will only feature David Babaii)
Viewers can also watch each segment live on-line at www.HSN.com along with purchasing products through the David Babaii Store.
For anxious buyers The David Babaii Store will launch on HSN July 2, 2008 for pre-sales.
Celebrity hairstylist David Babaii and actress Kate Hudson are proud to introduce David Babaii for WildAid.
The David Babaii for WildAid mission is to celebrate the nature in beauty through an innovative new brand of professional styling tools utilizing advanced ceramic technology plus hair care products, using exotic and wild ingredients and free of parabens, sulfates, petrochemicals, and animal products. 
The David Babaii for Wild Aid is a cruelty free brand, and is donating a percentage of the proceeds to WildAid, the global wildlife conservation organization protecting endangered animals. David Babaii for WildAid supports the beauty in nature and is now available at: http://www.db4wildaid.com/