All Posts Tagged With: "strawberry blonde"
Fekkai's Adir Abergel created a feminine and flirty style for Kristen Stewart's David Letterman appearance and collaborated with Marie Robinson to change her hair color to strawberry blonde.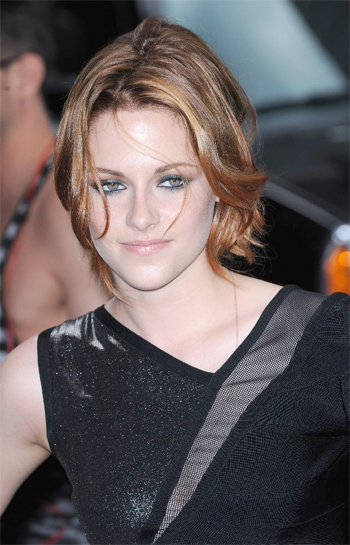 Here's how to get Kristen Stewart's Hair At The Late Show with David Letterman: Abergel started by applying the Fekkai Advanced Full Blown Volume Styling Whip at the roots and working throughout the hair. Using a round brush, he blow-dried the hair straight, and spritzed the Fekkai Advanced Brilliant Glossing Sheer Shine Mist for added shine. Adir curled the hair using a 1-inch curling iron, and sprayed with Fekkai Coiff Ocèanique Tousled Wave Spray to create the flirty texture. He then pulled the hair back loosely and secured it by knotting at the nape of the neck. To finish of the look, Adir sprayed Fekkai Advanced Sheer Hold Hairspray.
I'm getting mixed comments on Scarlett Johansson's hairdo At The Moet & Chandon Tribute To Cinema. Some, like myself  love it, and some don't. I thought to bring to you the scoop on how to get Scarlett's hairdo, anyways, just in case you do want to try this look at home.
Celebrity hairdresser David Babaii traveled across the ocean to Tokyo, Japan to create this Red Carpet look for actress Scarlett Johannson at the Moet & Chandon "Tribute to Cinema" event on October 20, 2009.

The hair jewelry worn by Scarlett Johannson is DeBeers. Scarlett's dress was Givenchy with Dior shoes.
To create this "power look" and accentuate her fire red dress, David Babaii took Scarlett Johansson's long strawberry blonde hair and transformed her tresses into a dramatic side swept, short textured bob. After rough drying her locks with Hair Polish applied to damp hair, David loosely twirled large sections of hair and sprayed them with Bohemian Beach Spray, while finishing the drying process.