Actress Kate Hudson and Hairstylist David Babaii Launch Hair Care Line at Sally Beauty Supply Stores!
Actress Kate Hudson and her hairstylist David Babaii will announce on Tuesday May 19th, 2009, that David Babaii for WildAid, an innovative eco-friendly line of hair care products, will be introduced at Sally Beauty Supply stores nationwide beginning June 1, 2009.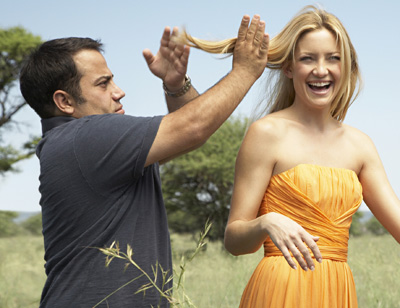 David Babaii for WildAid is free of sulfates, parabens and toxic petrochemicals. However, the line's most important attribute is: the products are not tested on animals, but rather on Kate Hudson! This cruelty-free hair care line supports wildlife conservation by donating 10% of profits to WildAid, the global wildlife conservation organization (www.wildaid.org ).
David Babaii for WildAid has received numerous awards and worldwide attention as "Best Green Hair Care" brand by InStyle Magazine. Along with the "2009 Reader's Favorites" hairspray category winner for the Mise en Plis Extra Hold Styling Spray by New Beauty Magazine. David Babaii for WildAid has also been named a finalist in the "2009 CEW Beauty Insiders Choice Awards" for Bohemian Beach Spray in the hair care, style and coloring mass category. Additionally, SELF Magazine's "Self Healthy Beauty Awards" named Volcanic Ash Sculpting Clay as Best Texturizer.
"We are excited to announce our partnership with Sally Beauty Supply, which has a national presence. Their helpful sales associates and convenient locations make Sally Beauty the shopping destination for smart consumers who are looking for the best products to solve their hair care needs. We know that the eco-conscious customer understands that 'it is beautiful to be good,'" explains co-founder David Babaii.
"Sally Beauty Supply is thrilled to welcome David Babaii for WildAid's innovative hair care line to our stores," comments Mike Spinozzi, President, Sally Beauty Supply LLC. "This cruelty free hair care line will be a wonderful offering for today's customer who understands the impact that toxic chemicals can have on our environment."
The David Babaii for WildAid web site (www.db4wildaid.com ) provides information about Kate, David and WildAid in addition to detailed product information and step-by-step styling tips to achieve red carpet looks.
Read my interview with Davide Babaii for Beauty Interviews!