All Posts Tagged With: "Tarte"
JESSICA BIEL – GET THE LOOK:
MAKEUP ARTIST: Kayleen McAdams, ck one color global makeup artist
INSPIRATION: "I wanted to do something really fresh, light and feminine. There were so many beautiful pastels in her dress, so I played with those tones."
KAYLEEN'S STEP-BY-STEP:
I prepped Jessica' skin with moisturizing face and eye products, Kiehl's Ultra Facial Cream Intense Hydration and Kiehl's Creamy Eye Treatment with Avocado, to give her makeup a good base to stick to.
Then, I used a damp Beauty Blender to apply ck one 3-in-1 face makeup with SPF 8 in fair 200, followed by ck one 3-in-1 concealer in light 1 underneath the eyes, around the nose, and along the edges of her mouth to even out her skin.
I used Charlotte Tilbury Sculpt and Highlight Powder on the tops of Jessica's cheekbones, down her nose, and on her cupid's bow.
I finished her skin with ck one cream + powder blush duo in breath 100 right on the apples of her cheeks and set it with the powder side of the product to give the look staying power throughout the night.
For Jessica's eyes, I started by using a fluffy brush to apply ck one cream + powder bronzer duo in deeply bronzed 400 all over the lid.
Then, I used ck one powder eyeshadow in expose and evolved on the inner corners of the eye and along the lash line at the outer corners.
I completed her eye with two coats of ck one volumizing mascara on the top lashes to pump up the lashes.
Then, I applied the same mascara onto an eyelash comb and combed through the bottom lashes to slightly darken them.
For Jessica's lips, I used Tarte Lip Surgence in Lucky to cover her whole lip with a matte pink; I also used this product in the center of her lips to give dimension and add moisture to her look.
Lastly, I gave Jessica's lips a good coating of Kiehl's Facial Fuel No-Shine Lip Balm to soak in while I did her eyes.
THE PRODUCTS AT-A-GLANCE:
EYE CREAM: Kiehl's Creamy Eye Treatment with Avocado
MOISTURIZER: Kiehl's Ultra Facial Cream Intense Hydration
FOUNDATION: ck one 3-in-1 face makeup with SPF 8 in fair 200
CONCEALER: ck one 3-in-1 concealer in light 1
BRONZER: ck one cream + powder bronzer duo in deeply bronzed 400
EYE SHADOWS: ck one powder eyeshadow in expose and evolve
MASCARA: ck one volumizing mascara in extreme black
LIP TINT: Tarte Lip Surgence in Lucky
LIP BALM: Kiehl's Facial Fuel No-Shine Moisturizing Lip Balm
Jennifer Aniston's Makeup: CHANEL Celebrity Makeup Artist Angela Levin worked with Jennifer Aniston at the Los Angeles premiere of The Switch on Monday, August 16th, 2010. Talking Makeup has the scoop on how to get miss Aniston's fresh, radiant red carpet makeup look.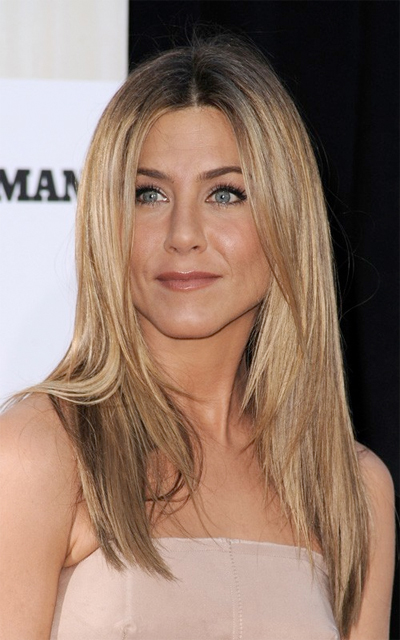 Jennifer Aniston's makeup at the Los Angeles premiere of The Switch by Celebrity Makeup Artist Angela Levin:
"I first prepped Jen's face with the new CHANEL Sublimage Concentrate, to enhance her already radiant skin. Her base was La Mer Foundation in 06, and on her cheeks I dusted a bit of CHANEL Powder Blush in Rose Pétale. On her eyes I used CHANEL Quadra Eyeshadow in Tentation Cuivré, a rich brown and copper shadow palette new for Holiday. The warm shades compliment Jen's gorgeous eye colour.
Anna Kendrick Oscars 2010: Get The Look
Anna Kendrick, Oscars 2010 best supporting actress nominee. Makeup Artist: Sara Glick. Overall Inspiration: Youthful, ethereal beauty—think soft, natural glowing skin.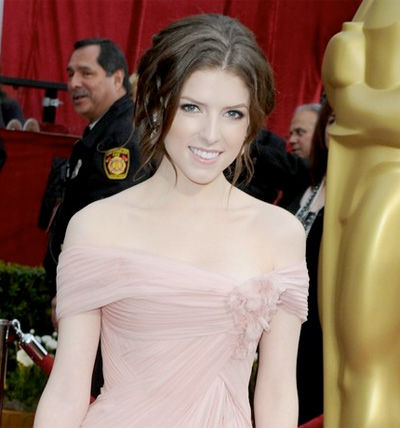 Skincare—Prep: "Anna has beautiful skin and doesn't need much to make it glow. I prepped her skin with a light, all natural moisturizer to help it stay hydrated throughout the night. " Prepped with Arcona's Magic White Ice to protect, nourish and hydrate skin.
Makeup Artist Sara Glick to use Arcona Natural Luxury Skincare and Tarte Cosmetics to create the Oscar 2010 beauty look for presenter and best supporting actress nominee Anna Kendrick.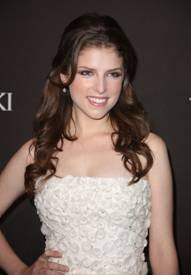 Vera Farmiga was sporting red lips at the Up in the Air LA Premier on Monday, November 30th, 2009, Westwood, Los Angeles, CA. Vera was wearing a dress by Dolce & Gabbana and her makeup look was created by Tina Turnbow, a Natural Makeup Artist.
"Vera's look was simple glamour: Her dress was ephemeral – a white, almost grecian Dolce & Gabbana, and I wanted her makeup look to shine forth her beautiful features, while keeping that simple, effortless air."-Tina Turnbow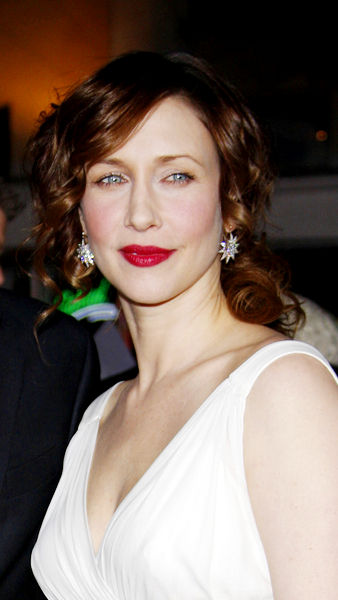 Face Products: "Vera has a beautiful, fair complexion, so I kept it simple – with a lightweight foundation and finished with a light, rosy blush.
Foundation: Almay Pure Blends Mineral Makeup in Fair – "l love that this foundation is 97.4% natural"
Blush: Revolution Organics Freedom Glow Beauty Balm in Blushed – "It's a beautiful cream stick that creates very natural-looking rosy cheeks." Mineral Fusion Blush in
Trace "a soft, baby pink to highlight cheek bones"
Powder: Tarte Provocateur SPF 8 Pressed Mineral Powder & Compact in Fair
The night before the big Orphan premiere, Vera Farmiga visited the ARCONA facial studio in Santa Monica and received their signature Facial Contouring & Enzyme Peel – her skin glowed.
Vera Farmiga's makeup look was created by celebrity makeup artist Tina Turnbow Inspired by Vera's gorgeous ivory Versace gown and her beautiful glowing skin, Tina created a soft look using gold and peach tones, with a shot of orange on her lips.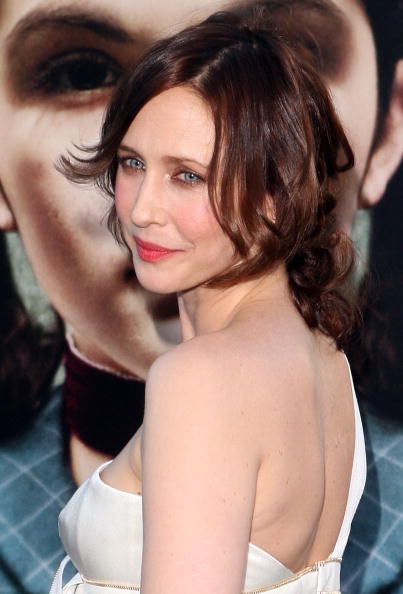 Skin: Tina prepped Vera's skin by first cleansing it with ARCONA's Triad Pads. She then spritzed ARCONA's Mineral Magic and applied ARCONA's Peptide Hydrating Complex to hydrate her skin thoroughly. "I loved using ARCONA's Mineral Magic on Vera's skin. It gave it a nice luminescent quality!" said Tina.
Foundation: Because Vera's skin had a natural glow, Tina kept the coverage to a minimum by using ARCONA's Sunsations Mineral Makeup in Ivory Seychelles.
Cheeks: Tina used Tarte Cheek Stain in Tipsy to add light peach tones to her skin.
Beauty.com's celebrity makeup artist Tina Turnbow as created the makeup look for Abaete Fall 2009.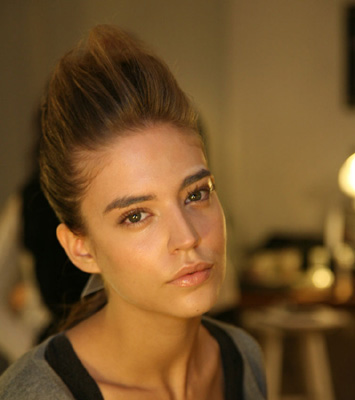 The makeup look at Abaete Fall 2009 Makeup Look: Think 18th Century France – regal, rebellious, and rich designs paired with a soft, feminine touch…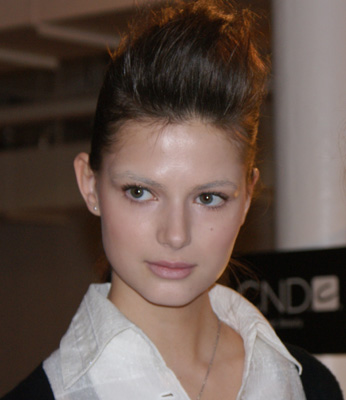 The look for Abaete's Fall 2009 collection created by Tina Turnbow with Tarte started with fresh skin. Caudalie's beauty elixir and lip conditioner hydrated skin prior to makeup application. The makeup was natural, no makeup-makeup. Tarte's ReCreate gave even color and coverage to the face. Brows were softened by wax from the toolbox brow kit and topped by provocateur mineral powder. Liquid Sunshine added a hint of shine on the lids, rejuvalash defined lashes, and Blushing Bride cheek stain, applied sparingly, added the slightest hint of color on lips and cheeks.
Couple of months ago, I had an amazing opportunity to interview the beautiful Patrica Kara for Beauty Interviews.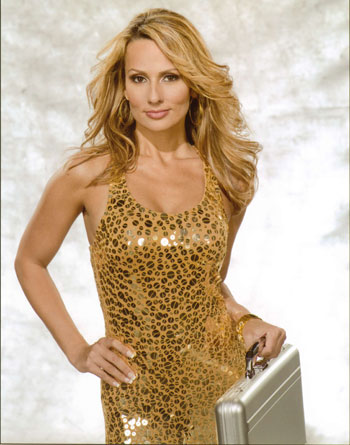 Patricia Kara is an actress, model, and a TV personality best known as Deal or No Deal's #9. Patricia along with Tameka Jacobs, were the only ones chosen to be on the new Daytime Deal or No Deal with Howie Mandel, which premiered in September 2008. In addition, Patricia has appeared in over 20 television programs, such as, E! Entertainment's Wild On, Extra, and the Golden Globes.
Read my interview with Patricia Kara where we chat about her love for hosting TV shows, how Deal or No deal revolutionized her career, beauty secrets, her upcoming calendar, and plans for the future.
Why have you decided on a career in hosting and reporting?
I started out with modeling about twenty years ago back in Chicago. That led me to Florida and New York. When I was in New York my modeling agency started to send me out to auditions for hosting and acting. I started booking jobs here and there. One job led to the next job. Then I moved to LA and kept working. And I love it! Anytime I can talk and get paid for it to, is just great. I find my job real easy, it is what I love to do. With hosting I get to try new and different things, depending on what I'm hosting about, and being part of them in a way most people don't get to do. For example, if I do a show about wake boarding, I'll try wake boarding. I've done a fishing show. I've also hosted a lot of sporting events, such as Kentucky Derby.
Here is a great post by my friend Erika Valente, the editor of Makeup Bag , from the Charlotte Ronson's Spring 2009 Runway Show. Charlotte Ronson is the twin sister of Samantha Ronson who is rumored to be Lindsay Lohan's girlfriend.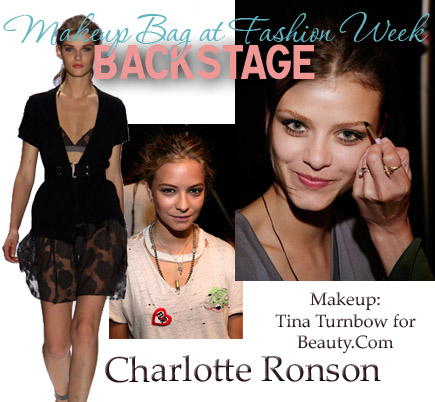 Here it is: Charlotte Ronson's Spring 2009 Runway Show was highlighted by front row occupants Samantha Ronson (Charlotte's twin sister) and girlfriend Lindsay Lohan. Additional Ronson's on hand were little sis Annabelle (who walked the runway) and brother Mark (the show's DJ).
While this event seemed to be a Ronson family affair, our eyes were on Beauty.com 's makeup artist Tina Turnbow and the look she created backstage with Tarte .
Inspired by Madonna's Lucky Star meets grunge, Tina Turnbow was able to achieve the look with Tarte products such as the toolbox: brow know-how eyebrow kit , green machine eye shadow, provocateur pressed mineral powder with SPF 8 and 24/7 lip sheer with SPF 15 in tea time.
While we're on the subject of Tarte-if you haven't tried Tarte cheek stain in tipsy , you must do so immediately!
BriteSmile and Tarte Cosmetics have teamed up to give you something to grin about: a healthy smile.
Enbrightenmint BriteSmile Whitener & Tarte Lipsgloss is a double-ended whitening & brightening wand: one end is a BriteSmile To Go teeth whitener, and the other is Tarte's t5 super fruit infused, mint scented lip gloss.
The Tarte t5 Super Fruit Complex is a blend of the five most active super fruits: goji, acai, maracuja, acerola, and pomegranate. These super fruits are loaded with anti-oxidants and vitamins known to deliver anti-aging and skin-restorative benefits.  Comes in radiant red and pearly pink with blue undertones, which help your teeth look extra white. Tarte's lip gloss contains jojoba seed oil. It is paraben free, phthalate free, sulfate free, and mineral oil free.
BriteSmile To Go: Whitens teeth up to 8 shades in just 14 days. Clinically proven to be safe for teeth and gums. Long lasting mint flavor. Suggested use: once a day (pen should last 30 to 45 days if used regularly); wait 30 minutes to eat/drink after application.
Price: $26.
With the purchase of every Enbrightenmint BriteSmile whitener and Tarte lip gloss, you will be supporting Sambazon's Sustainable Acai Project (SAP), a member of the Organic Trade Association and the Fair Trade Federation, which helps to preserve the Amazon Rain forest through Forest conservation, improved living conditions and educational opportunities for communities in Brazil.
Enbrigtenmint is available beginning May 2008 at the following locations: www.tartecosmetics.com, sephora.com, beauty.com, Henry Bendel, Bergdorf Goodman, Sephora and select boutiques nationwide.