The night before the big Orphan premiere, Vera Farmiga visited the ARCONA facial studio in Santa Monica and received their signature Facial Contouring & Enzyme Peel – her skin glowed.
Vera Farmiga's makeup look was created by celebrity makeup artist Tina Turnbow Inspired by Vera's gorgeous ivory Versace gown and her beautiful glowing skin, Tina created a soft look using gold and peach tones, with a shot of orange on her lips.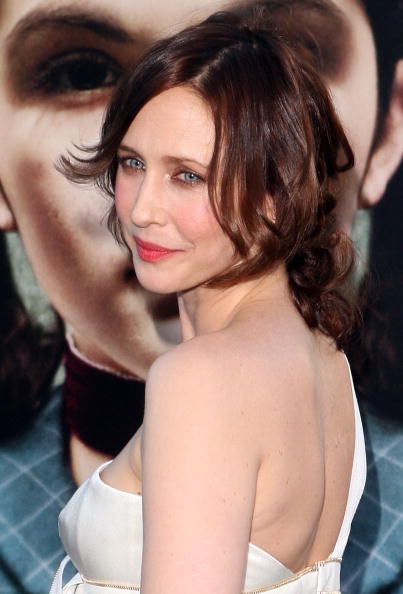 Skin: Tina prepped Vera's skin by first cleansing it with ARCONA's Triad Pads. She then spritzed ARCONA's Mineral Magic and applied ARCONA's Peptide Hydrating Complex to hydrate her skin thoroughly. "I loved using ARCONA's Mineral Magic on Vera's skin. It gave it a nice luminescent quality!" said Tina.
Foundation: Because Vera's skin had a natural glow, Tina kept the coverage to a minimum by using ARCONA's Sunsations Mineral Makeup in Ivory Seychelles.
Cheeks: Tina used Tarte Cheek Stain in Tipsy to add light peach tones to her skin.
Undereye: Tina dabbed a bit of ARCONA's Eye Dew to retain moisture. Eyeshadow & Liner: Tina created a dewy eye using gold and brown with Nars Duo Eye Shadow in Star Sailor. She then softly defined her eyes with Almay Blendable Eye Pencil in brown.
Mascara: For seductively lush and lengthy lashes, Tina applied Prescriptives Lash Envy mascara in brown.
Lips: Tina added a dash of color with a matte lip by Nars in Heat Wave.
All products are available at Beauty.com
About Tina Turnbow: No two faces are precisely alike, and each — whether belonging to an actor, socialite, model, editor, or bride — possesses a set of unique features that are meant to be illuminated, rather than wiped away. This is the belief that drives Tina Turnbow's work as a makeup artist, and which has made her one of the most sought-after talents in the industry today. Tina has created looks for publications including Vogue, Elle, Harper's Bazaar, and Nylon. She also works with an ever-expanding list of celebrities including Leslie Mann, Ellen Page and Mary Louise Parker, among many others.