All Posts Tagged With: "Celebrity Beauty & Style"
Kate Hudson graces the cover of US Elle magazine February 2009 issue.
Kate Hudson looks very pretty in a yellow Dior dress, which I want to wear, it's so Marta:)
Kate Hudson's makeup: eyes are lined heavily on the bottom which creates a nice contrast with Kate's bright yellow dress. Kate Hudson's black eye liner also brings out her blue eyes. Face is flawless with soft peachy cheeks and lips.
Kate Hudson's hair has lots of volume and soft waves. No bangs this time, hair is pulled away from Kate's face.
Kate Hudson makes Elle's February 2009 cover very fresh and ready for spring!
Take a cue from these Hollywood A-listers and add some panache to your next 'do
Don't know what to do with that impulse-buy jeweled hair clip you snagged while holiday shopping? Check out these looks for some inspiration and amp up your holiday hair with practically zero effort.
From long, layered hairstyles to her famous choppy bob, here are all the looks we've loved through the years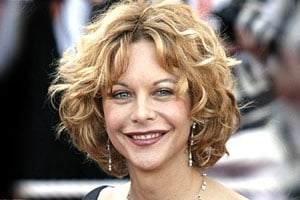 She keeps a low profile, but we never stop finding inspiration in Meg Ryan's many hairstyles. Here's a roundup of her best looks from today through the "When Harry Met Sally" days.
Here is a photo of a Victoria's Secret model and Project Runway's host, Heidi Klum, taken at the grand opening of the new Victoria's Secret Lexington Avenue store in New York City.
As you can see, Heidi Klum cut her hair into a longer version bob. Explanation: not as short as Katie Holmes' bob, when she cut her hair short for the first time.
I'm a big sucker for long layered hair, however, Heidi Klum manged to convince me that short hair can still look ultra glamorous and sexy. Secret: I'm a big fan of Heidi Klum, I just love her look, how she is such a business savvy, and of course her accent.
This is Heidi Klum in her long layered hair style:
Which of Heidi Klum's hair styles do you love most?
Hollywood actress and the star of a new movie The Spirit, Scarlett Johansson, seems to gone brunette. Shade description: Light reddish brown. I wonder if Scarlett will go even darker, or go back to her signature blond bombshell hair locks?
This was Scarlett Johansson hair color before walking the red carpet promoting here new movie: The Spirit:
Which do you like best, Scarlett Johannson in blond hair or brown hair?
Photos via: www.hollywoodtuna.com
Here is a photo of Reese Witherspoon without makeup, picking up a few items at the Temperley London boutique in Notting Hill, London on Saturday, November 29.
The star of the film Four Chirstmases, Reese Witherspoon, is captured in this photo as a total natural beauty. No makeup needed for Reese!
And, I also love Reese Witherspoon's boots. When I lived in England, I used to wear these kind of boots a lot, with jeans or skirts. I call it: " The English Look"! Or as Kate Moss says in a Rimmel commercial (do you know which one I'm talking about?): "Get The London Look"":)
Do you like Reese Witherspoon without makeup?
via: JustJared.com
Britney Spears is on the Cover of Rolling Stone Magazine December 2008 edition!
Britney Spears looks like herself, just a bit older and maybe wiser, hence, in my books, better than ever.
Britney Spears hair & makeup look on the cover of Rolling Stone December 2008 edition: I notice a very neutral makeup, flawless complexion, and blond hair with beautiful soft curls. Very California girl!
Here is Britney Spears on the cover of Rolling Stone October 2003:
And this is Britney Spears on the cover of Rolling Stone back in 1999: 
Wow! Britney Spears looks so young on this vintage Rolling Stone cover from 1999, her hair wasn't even blond yet!
What do you think, which Britney Spears Rolling Stone cover is your favorite?
Gwyneth Paltrow, one of the most classic actresses in Hollywood, has recently launched a new lifestyle website: GOOP. If you haven't yet visited the site, you must, at least I think so:)
Gwyneth Paltrow is sharing with us through GOOP her experience with spirituality, style, cooking, healthy eating and fitness tips, her favorite places to eat and dine and even her favorite hotels.
Gwyneth Paltrow's real balance in life is very inspiring!
And by the way, have you seen Gwyneth Paltrow's cooking show with Mario Batali, Mark Bittman, and Claudia Bassols on PBS: Spain: On The Road Again (on Thursday nights?). Well, Gwyneth impressed me with her fluent Spanish! 'Astonishing', as Gwyneth says. 
Recreate the hairstyles, updos and makeup looks seen on the "Four Christmases" star with these quick tips
It's tough to be jealous of Reese Witherspoon's classic beauty since she seems so darn nice. Since she's starring in the new flick "Four Christmases," we thought we'd glance back at some of her best looks and tell you how to do recreate the looks at home — bonus!
Heroes lovely star actress, miss Hayden Panettiere, is looking super elegant in a little black dress, and in her very versatile short bob hair sleeked back.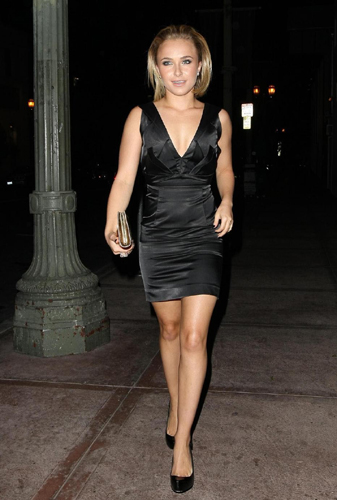 Hayden Panettiere is wearing a black nail polish, and a black eyeliner paired with nude lips, adding extra drama to her look.