All Posts Tagged With: "Scarlett Johansson"
The newest Dolce&Gabbana fragrance: Desire by Dolce&Gabbana. This intensely feminine and seductive fragrance evokes power, temptation and mystery. The Dolce&Gabbana woman lives by her powerful emotions and in this new chapter of fragrance, she lives confident, strong and sensual. The packaging is matte gold and black and is inscribed with Stefano Gabbana's elegant handwriting of Desire in gold lettering.-(via Dolce&Gabbana) . My take: I have tried it and it's pretty good and sexy yet not overpowering.
"Everything starts with desire. There wouldn't be seduction, sensuality or passion if it wasn't for desire. For us, it's always been fundamental to let this sensation go, to break the mold and live freely by emotions."-Domenico Dolce and Stefano Gabbana
FRAGRANCE NOTES
(New York City, Richard Rodgers Theatre – 17th January, 2013) Spectacular as ever, Scarlett Johansson shone at the New York premiere of her new Broadway show, 'Cat on a Hot Tin Roof.' Wearing a unique Dolce&Gabbana black linen bouclé tailleur with crochet details and black trouser pant, Scarlett complemented it with a look created using Dolce&Gabbana Make Up.
 HOW TO GET Scarlett Johansson's Makeup Look
(Milan,Italy September 2011) – Face of Dolce&Gabbana Make Up Scarlett Johansson looked effortlessly striking at the SS12 Dolce&Gabbana runway show in Milan. "This look completely reflects Scarlett's beauty and true sensuality. I was inspired by the classic sophistication of the Hollywood starlet but with a fun and modern edge. This is such a feminine and wearable look and I loved creating this on Scarlett"-Pat McGrath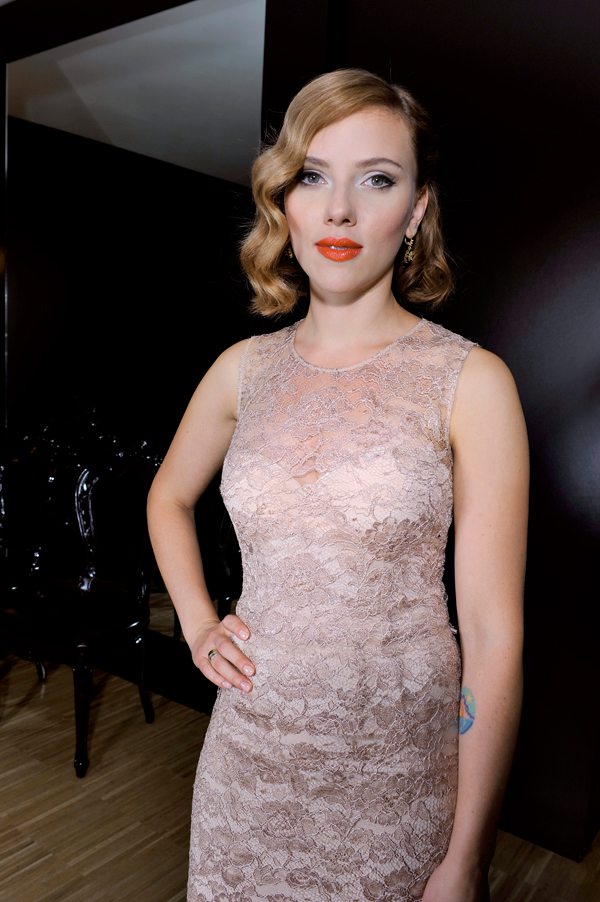 Scarlett Johansson At The Dolce&Gabbana SS12 Milan makeup look created by Pat McGrath
On attending the show, Scarlett Johansson said: "It's so exciting to be here at the Dolce&Gabbana Fashion Show. I get a flavor of the fantasy and glamour of the Dolce&Gabbana world working on their make up and fragrance campaigns; but to see it in all its glory, coming down the runway, is always just magical."
Last night, June 5th, 2011, A-list movie star, Scarlett Johansson, looked stunning as she walked the red carpet at Spike TV's Guy Choice Awards in LA.  TM has the scoop, thanks Celebrity Makeup Artist and Founder of LORAC cosmetics, on how to get Scarlett's smokey-eye/nude lip look.
Complexion:
Primed with aquaPRIME
Breakthrough Performance Foundation – SMS 4 & 5 mix
Double Feature Concealer – DF 1.5
2011 Golden Globe Award Presenter Scarlett Johansson looked extraordinary on the red carpet tonight. Wearing a sparkling blush-colored Elie Saab gown, her dazzling, sculpted updo was softly glamourous in a new, very modern way.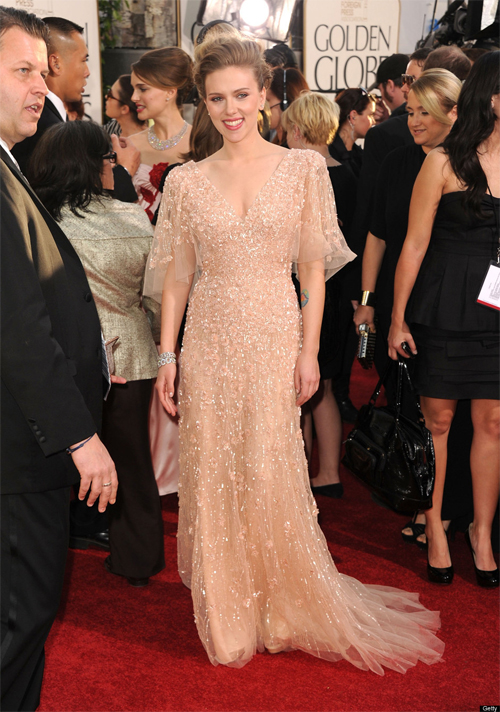 Scarlett Johansson Hairstyle at the 2011 Golden Globes hair products by Moroccanoil
Influenced by glamour of 40's Hollywood and the sophisticated photographs of 40's and 50's fashion photographer, Lillian Bassman, Vetica took red carpet hair to elegant new heights. Inspired by the flowing lightness of Scarlett Johansson's gown, Vetica created an updo that blended softness, movement, direction and a new sculptural shape.
Scarlett Johansson was named GQ magazine's Babe of the Year. I totally agree except I had to double take to make sure it was indeed miss Johansson. Doesn't really look like her, especially in the second image. Nonetheless we love!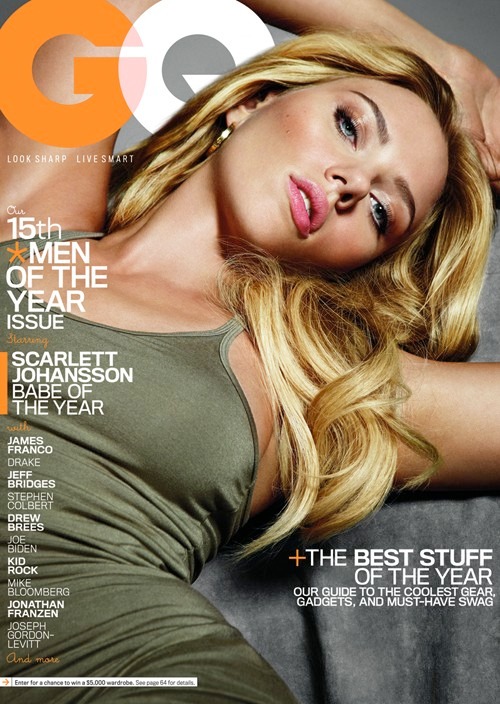 Breaking Celebrity Hair News: Iconic hairstylist Oribe cuts Scarlett Johansson's hair. Scarlett was sporting her new short hairdo at the Comic-Con convention in San Diego California, Saturday July 24th, 2010. Do you love?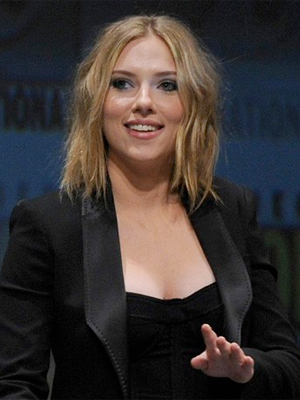 Iconic hairstylist Oribe created a sophisticated and fresh updo to compliment Scarlett Johansson's red carpet style at the 2010 Tony Awards. "Scarlett wanted something simple but stylized for the Tonys" says Oribe. Now, Oribe shares with us his hair styling tips and tricks for recreating Johansson's updo at home.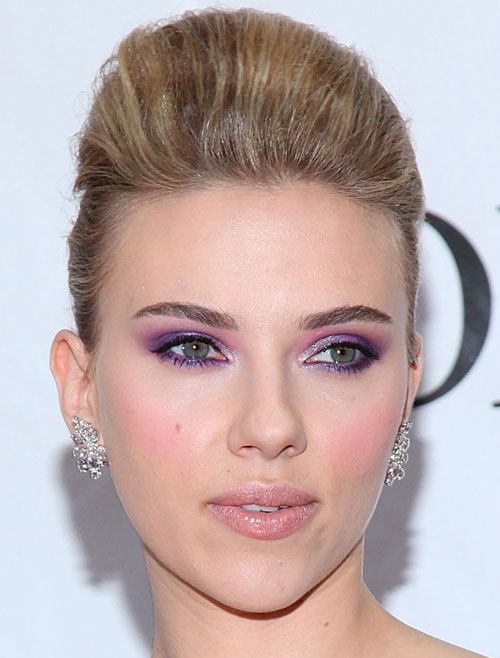 The hair tutorial: Here's how to get Scarlett Johansson's Hairstyle at the 2010 Tony Awards
1. Use Gel Serum throughout the hair and blow out for smoothness.
Last night at the 2010 Tony Awards, Scarlett Johansson won Best Actress in a Play for her Broadway debut role in "A View From The Bridge." Johannson's makeup artist Gianpaolo Ceciliato created a romantic and feminine make up look for the occasion using Dolce&Gabbana The Make Up.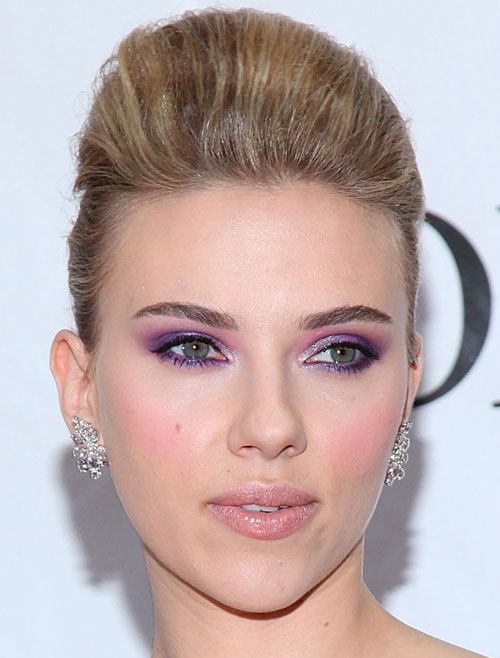 Marta Walsh says: "Scarlett Johansson's purple eye shadow eye makeup look was done so perfectly. The look was a good surprise, new, fresh, and trend setting. Well done Dolce&Gabbana The Make Up".
How to get Scarlett Johansson's purple eye makeup look:
Scarlett Johansson looked beautiful in her Elie Saab dress at the 2010 Tony Awards. The purple or the lavender eye shadow is a bit tough to pull off sometimes in real life but it's nicely done here. You can go really wrong with bold makeup so technique is crucial. All in all, we love:)