All Posts Tagged With: "Dolce&Gabbana"
"I haven't tried the Dolce&Gabbana Primer but did try the Dolce&Gabbana Perfect Reveal Lifting Foundation which I am quite impressed with. It has a pump and allows for a clean and none-messy application+plus hygienic. The texture and finish is not greasy and too shiny, I would say it's satin like. It is light. The coverage is medium-to-full and really covers imperfections. The result is quite flawless skin. My shade is Natural Glow which is medium with light golden undertones"-Marta Walsh
This September, Dolce&Gabbana introduces two new luxurious offerings: The Lift Foundation and The Primer. Formulated to deliver exceptional skin moisturizing benefits and flawless coverage, these new high-performance formulations create the perfect canvas while enhancing skin's natural radiance. The face of the campaign is Linda Evangelista, the newest Dolce&Gabbana Make Up testimonial chosen for her striking, timeless beauty.
The Perfect Reveal Lift Foundation's advanced formula is enriched with the exclusive Gold Flavo-Silk TricomplexTM, with extracts of Gold Silk Sericin, Italian Olive Oil and Vitamin B3, a unique trio of ingredients created to restore skin's natural moisture, smooth the skin's texture and reduce fine lines and wrinkles in four weeks.
TM & Marta Walsh have the details on the beauty look seen at the Dolce&Gabbana SS15 RTW Women's show. The Designers took inspiration for the collection from the Spanish influences in Sicily between 1516 and 1713, and the complementing look by Pat McGrath featured cherry stained lips and a classic Dolce&Gabbana eye.  NEW Dolce&Gabbana makeup PRODUCTS INCLUDE: Sheer Radiance Make Up Base (October 2014), Dolce Matte Lipstick (Spring 2015), Intense Nail Lacquers (Spring 2015) and Aurealux Mask (October 2014).
FOR THE FACE:
The details on the beauty look seen at the Dolce&Gabbana AW 14/15 Women's show. The Designers' inspiration of "enchanted Sicily" came to life with a magically feminine look by Pat McGrath, Creative Advisor Dolce&Gabbana Make Up.
PRODUCT LIST:
FOR THE FACE
the foundation: Perfect Luminous Liquid Foundation
the concealer: Perfect Luminous Concealer
the powder: Perfection Veil Pressed Powder
FOR THE EYES
the mascara: Passioneyes Mascara in Terra 2 & Intenseyes Mascara in Black Intense 1
the eyeshadow: Perfect Mono – NEW
Cream Eye Colour in Cocoa 60
Cream Eye Colour in Gold Dust 20
Cream Eye Colour in Innocence 10
the eyeshadow: Smooth Eye Colour Quad in Desert 123
the eyeliner: Crayon Intense in Black 5 & Crayon Intense in Nude 9
the glam liner: Intense Liquid Eyeliner in Black Intense 1
the brow liner: Shaping Eyebrow Pencil in Soft Brown 1
FOR THE LIPS
the lipstick: NEW Classic Cream Lipstick in Honey 130
the lipgloss: Sheer Shine Gloss in Acqua 10
FOR THE NAILS
the nail lacquer: Intense Nail Lacquer in Nude 210
The advertising campaign for Dolce&Gabbana's Light Blue fragrances returns with Italian model Bianca Balti cast as the classic Mediterranean beauty. Domenico Dolce and Stefano Gabbana: "Bianca has been featured in many Dolce&Gabbana campaigns, but to see her with David Gandy brings a renewed, relaxed energy to Light Blue. Together, their eyes match the colour of the water, that beautiful endless blue that is the Mediterranean surrounding Capri. Watching it is to dream of plunging into that refreshing sea and feel the sun on the skin, to feel totally free, relaxed and at peace."
Balti drives the commercial's breathtaking new storyline in the third episode of the Light Blue campaign, a story that has become iconic since its debut in 2007.
The newest Dolce&Gabbana fragrance: Desire by Dolce&Gabbana. This intensely feminine and seductive fragrance evokes power, temptation and mystery. The Dolce&Gabbana woman lives by her powerful emotions and in this new chapter of fragrance, she lives confident, strong and sensual. The packaging is matte gold and black and is inscribed with Stefano Gabbana's elegant handwriting of Desire in gold lettering.-(via Dolce&Gabbana) . My take: I have tried it and it's pretty good and sexy yet not overpowering.
"Everything starts with desire. There wouldn't be seduction, sensuality or passion if it wasn't for desire. For us, it's always been fundamental to let this sensation go, to break the mold and live freely by emotions."-Domenico Dolce and Stefano Gabbana
FRAGRANCE NOTES
(Milan, Italy – September 2012) – At the Spring/Summer 2013 Ready to Wear show in Milan, Dolce&Gabbana presents a collection that evokes the most profound Sicilian tradition and exquisite handcraftsmanship; seen on the prints depicting famous puppets of Sicilian street theatres, on the typical local barrows and peculiar wheels, on the Caltagirone head-shaped ceramic vases and dishes.
(Milan,Italy September 2011) – Face of Dolce&Gabbana Make Up Scarlett Johansson looked effortlessly striking at the SS12 Dolce&Gabbana runway show in Milan. "This look completely reflects Scarlett's beauty and true sensuality. I was inspired by the classic sophistication of the Hollywood starlet but with a fun and modern edge. This is such a feminine and wearable look and I loved creating this on Scarlett"-Pat McGrath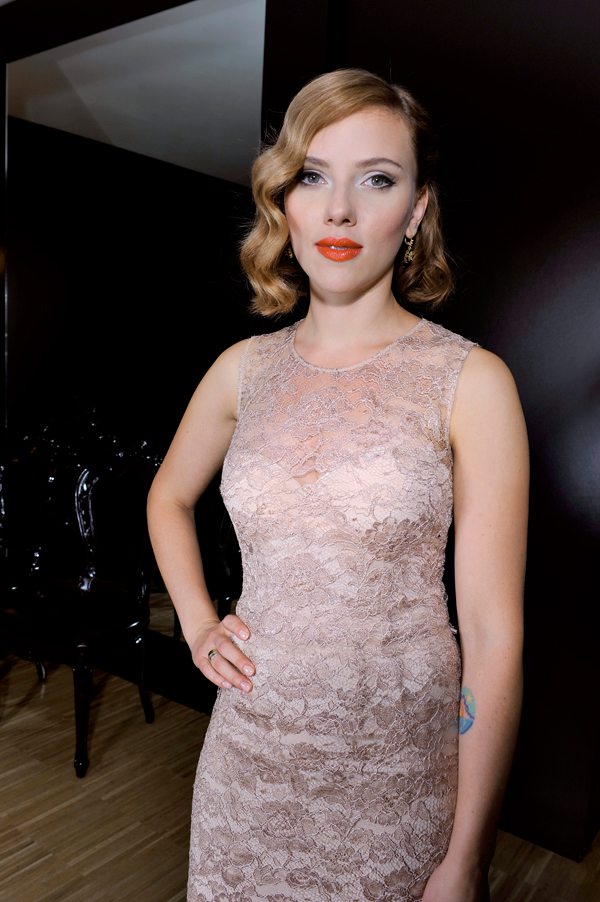 Scarlett Johansson At The Dolce&Gabbana SS12 Milan makeup look created by Pat McGrath
On attending the show, Scarlett Johansson said: "It's so exciting to be here at the Dolce&Gabbana Fashion Show. I get a flavor of the fantasy and glamour of the Dolce&Gabbana world working on their make up and fragrance campaigns; but to see it in all its glory, coming down the runway, is always just magical."
On September 8th, 2011, Dolce&Gabbana celebrated Fashion's Night Out at the Dolce&Gabbana, 825 Madison Avenue at 69th Street, with the pre-launch of the brand's Passion Duo lipstick.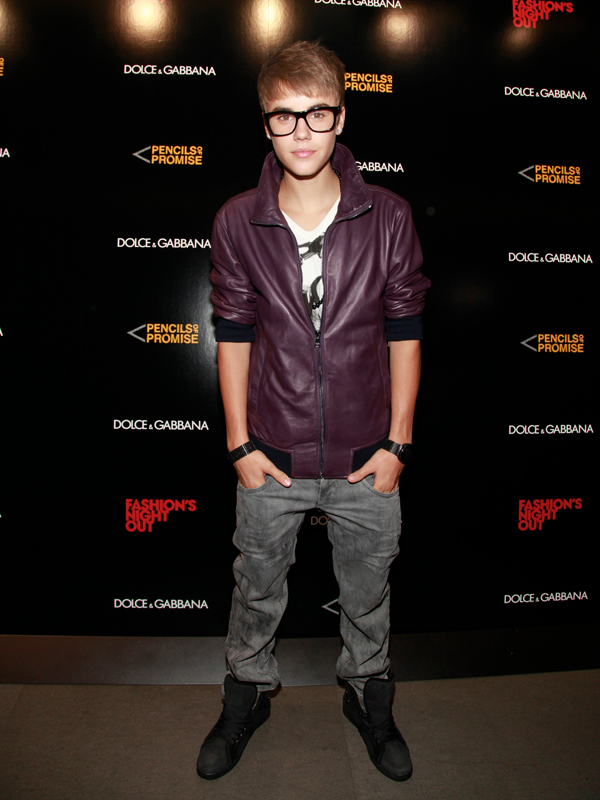 Justin Bieber
Passionate Duo Justin Bieber and Scooter Braun hosted the event along with an event committee of duos including: Ingrid Vandebosch and Jeff Gordon, Thierry Henry and Tyson Beckford, Kelly Rutherford and Matthew Settle, Erica and L.A. Reid, and Lauren Santo Domingo and Tatiana Santo Domingo.
Milan Fashion Week The Makeup by Dolce&Gabbana. Backstage at Fall Winter 2011Dolce&Gabbana where masculine meets feminine.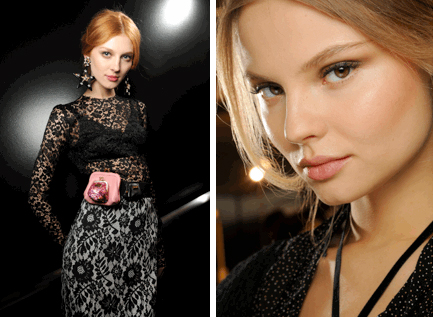 At the Dolce&Gabbana Autumn/Winter 2011 Ready to Wear show in Milan, Dolce&Gabbana make up artist Pat McGrath evoked contrasts between masculine definition and glowing, feminine beauty by creating two very different looks on the models. The sense of contradiction was evident in the contrast between light, minimal taupe tones and deep berry stain applied to models' lips.
Milan, November 2010. Sneak Peek to Dolce&Gabbana Animalier 2011 Eyewear Collection ad campaign featuring Naomi Campbell shot against a balmy Mediterranean backdrop by photographers Mert Alas and Marcus Piggott.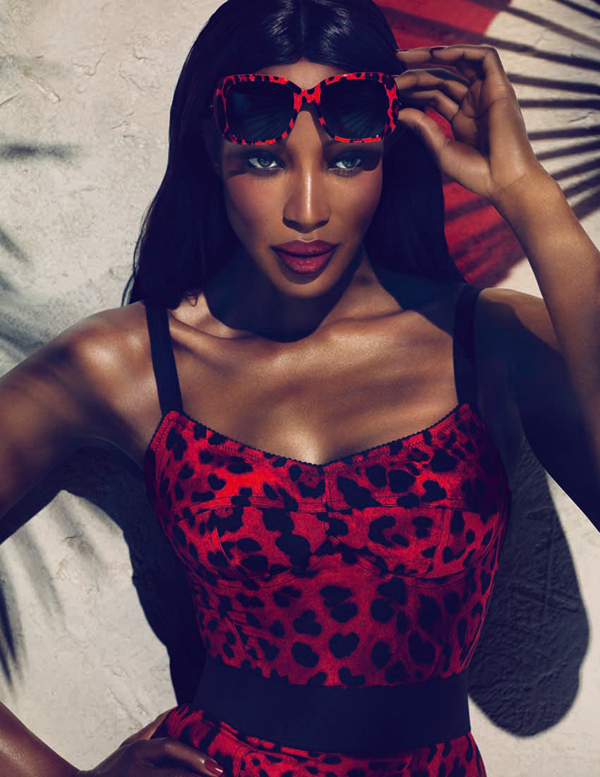 Glamour, colour and elegance characterize the new Animalier eyewear collection. Having become a signature of the Dolce&Gabbana brand over the years, the Animalier print sets the tone for the new Spring/Summer 2011 sunglass and optical collections.