All Posts Tagged With: "Dolce&Gabbana Make Up"
The new fall beauty collection for Dolce&Gabbana Make Up is inspired by the mesmerizing colors seen on the Fall 2014 runway. The beauty look embodies a warm, natural look inspired by the enchanting essence of nature, softly illuminated by iridescent tones.
Eyes and nails are the focus of this bold yet ethereal look for fall: Dolce&Gabbana Perfect Mono Intense Cream Eye Colors in the collection range from a pink metallic to a rich brown with a matte finish while the  limited edition nail lacquers are deep, sensuous shades of red, purple, and green.
HOW TO
The details on the beauty look seen at the Dolce&Gabbana AW 14/15 Women's show. The Designers' inspiration of "enchanted Sicily" came to life with a magically feminine look by Pat McGrath, Creative Advisor Dolce&Gabbana Make Up.
PRODUCT LIST:
FOR THE FACE
the foundation: Perfect Luminous Liquid Foundation
the concealer: Perfect Luminous Concealer
the powder: Perfection Veil Pressed Powder
FOR THE EYES
the mascara: Passioneyes Mascara in Terra 2 & Intenseyes Mascara in Black Intense 1
the eyeshadow: Perfect Mono – NEW
Cream Eye Colour in Cocoa 60
Cream Eye Colour in Gold Dust 20
Cream Eye Colour in Innocence 10
the eyeshadow: Smooth Eye Colour Quad in Desert 123
the eyeliner: Crayon Intense in Black 5 & Crayon Intense in Nude 9
the glam liner: Intense Liquid Eyeliner in Black Intense 1
the brow liner: Shaping Eyebrow Pencil in Soft Brown 1
FOR THE LIPS
the lipstick: NEW Classic Cream Lipstick in Honey 130
the lipgloss: Sheer Shine Gloss in Acqua 10
FOR THE NAILS
the nail lacquer: Intense Nail Lacquer in Nude 210
(New York City, Richard Rodgers Theatre – 17th January, 2013) Spectacular as ever, Scarlett Johansson shone at the New York premiere of her new Broadway show, 'Cat on a Hot Tin Roof.' Wearing a unique Dolce&Gabbana black linen bouclé tailleur with crochet details and black trouser pant, Scarlett complemented it with a look created using Dolce&Gabbana Make Up.
 HOW TO GET Scarlett Johansson's Makeup Look
(Milan,Italy September 2011) – Face of Dolce&Gabbana Make Up Scarlett Johansson looked effortlessly striking at the SS12 Dolce&Gabbana runway show in Milan. "This look completely reflects Scarlett's beauty and true sensuality. I was inspired by the classic sophistication of the Hollywood starlet but with a fun and modern edge. This is such a feminine and wearable look and I loved creating this on Scarlett"-Pat McGrath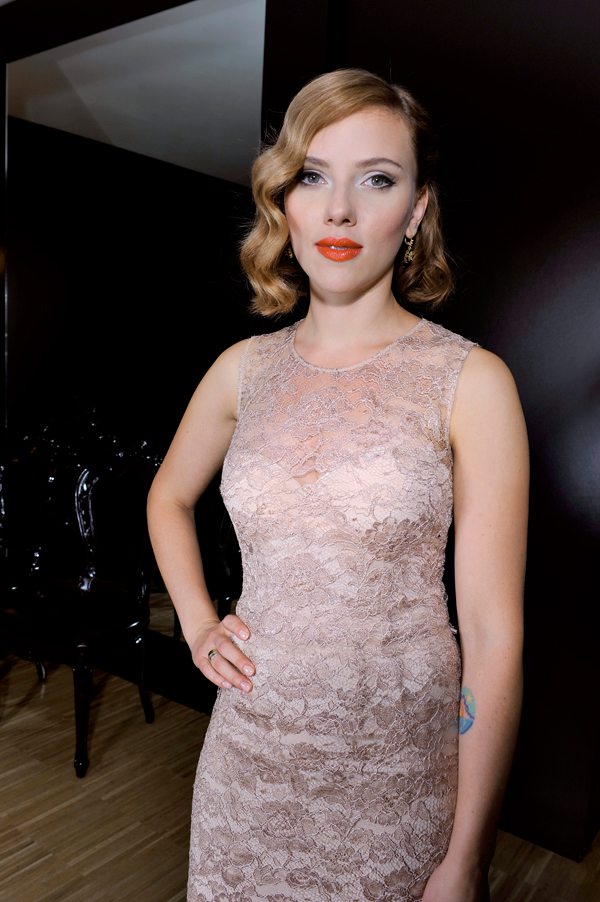 Scarlett Johansson At The Dolce&Gabbana SS12 Milan makeup look created by Pat McGrath
On attending the show, Scarlett Johansson said: "It's so exciting to be here at the Dolce&Gabbana Fashion Show. I get a flavor of the fantasy and glamour of the Dolce&Gabbana world working on their make up and fragrance campaigns; but to see it in all its glory, coming down the runway, is always just magical."