All Posts Tagged With: "Justin Bieber"
On September 8th, 2011, Dolce&Gabbana celebrated Fashion's Night Out at the Dolce&Gabbana, 825 Madison Avenue at 69th Street, with the pre-launch of the brand's Passion Duo lipstick.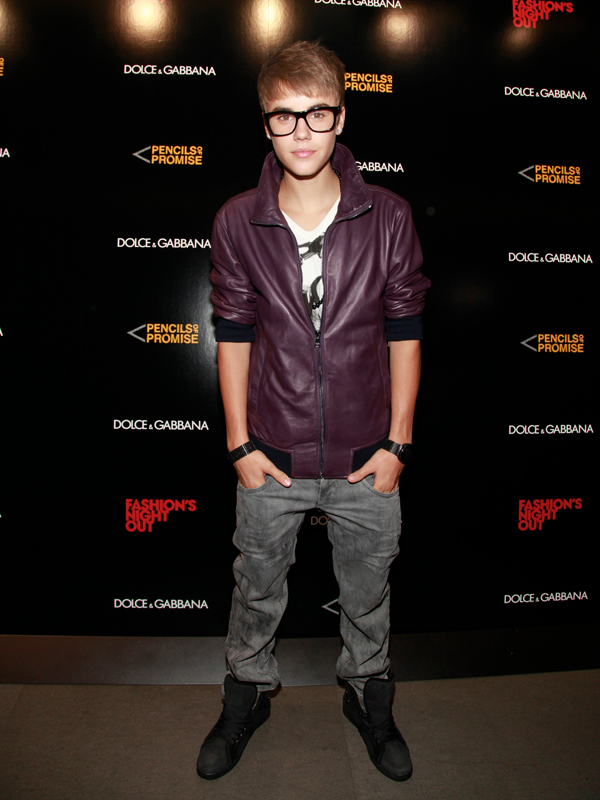 Justin Bieber
Passionate Duo Justin Bieber and Scooter Braun hosted the event along with an event committee of duos including: Ingrid Vandebosch and Jeff Gordon, Thierry Henry and Tyson Beckford, Kelly Rutherford and Matthew Settle, Erica and L.A. Reid, and Lauren Santo Domingo and Tatiana Santo Domingo.
Oribe Hair Care Stylists share with TM how to get MTV red carpet ready hairstyle looks for Justin Bieber and Lily Collins.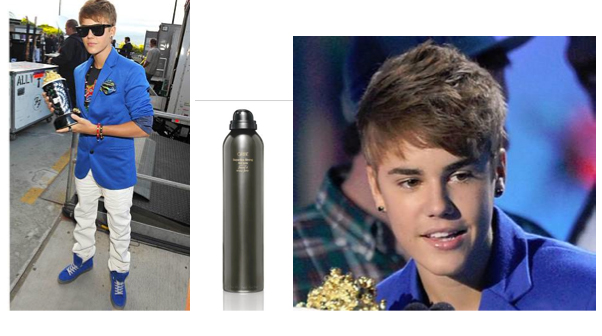 Oribe Hair Care stylists Vanessa Rose Price and Eric Gabriel created side swept styled hair for the one‐and‐only Justin Bieber and natural loose waves for Lily Collins for an evening with the stars.
Justin Bieber, styled by Vanessa Rose Price "Justin decided to rock a slightly edgier hairstyle for his surprise appearance. Leaving behind his signature 'do,' we went with a slightly messier look and pushed it out of his face," says Vanessa Rose Price.
The stars were out for last night's American Music Awards 2010 (AMAS) at the Nokia Theatre in Los Angeles, and Natasha Bedingfield was no exception. The British singer/songwriter was on hand to present the Breakthrough Artist Award to the night's big winner: Justin Bieber.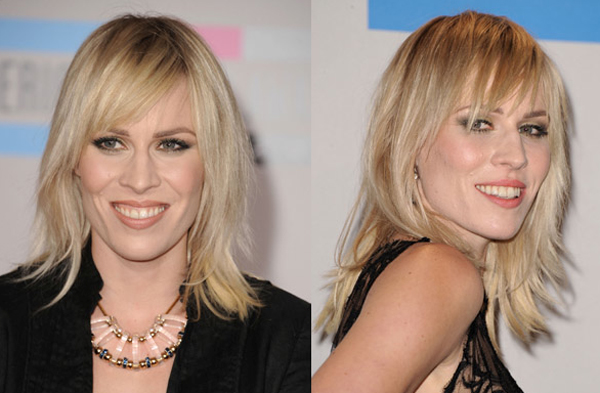 Not one for lots of fuss and fluff, Natasha's AMA hair was chic and simple, not over done. Natasha's red carpet and presenter dresses were both youthful and energetic so Caile Noble, stylist for the Serge Normant at John Frieda Salon in LA, kept her hair very effortless—with a dramatic side swept bang to accentuate her eyes.
Caile shares with Marta Walsh the step-by-step instructions on how to replicate Natasha Bedingfield's look:
Justin Beiber looked hip in G-Star as he sang his heart out to hundreds of ladies all hoping to win his this morning for the Today Show's concert series.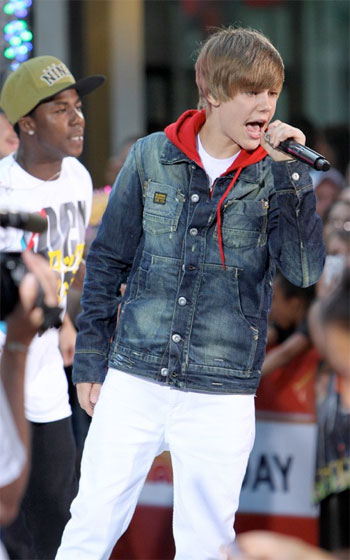 Justin Bieber is wearing a G-Star Wood Denim Jacket. Fabric: Urban Denim. Wash: Track Aged. Price: $260
Available at: www.g-star.com
Products to Help You Achieve Men's Celeb Hairstyles: As chronicled in yesterday's, May 5th, 2010, New York Time's Style Section – boy bangs, mop tops, and messy 'dos are all the rage. From a singing sensation and breathtaking vampire to a desirable doc and sexy socialite, these gentlemen have that effortless swagger of eternal youth. Whether they're caught on the red carpet, sipping a latte or on their way home late at night, how does their hair look so good so often?
Justin Bieber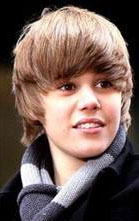 Justin Bieber has taken the world by storm with his chart-topping, catchy songs and boyish good looks. While "Bieber fever" is all over the place, this heart throb's locks have managed to stay in place and turn an old trend into the latest look.