Oribe Hair Care Stylists share with TM how to get MTV red carpet ready hairstyle looks for Justin Bieber and Lily Collins.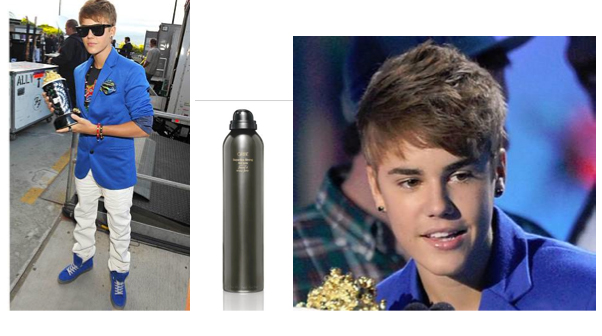 Oribe Hair Care stylists Vanessa Rose Price and Eric Gabriel created side swept styled hair for the one‐and‐only Justin Bieber and natural loose waves for Lily Collins for an evening with the stars.
Justin Bieber, styled by Vanessa Rose Price "Justin decided to rock a slightly edgier hairstyle for his surprise appearance. Leaving behind his signature 'do,' we went with a slightly messier look and pushed it out of his face," says Vanessa Rose Price.
How To Get the Look:
I used Oribe Superfine Hair Spray for the final touches of Justin's hair at all televised award shows including last night's MTV Movie Awards. It's perfect when you need to layer products without weighing down the hair. Its mist is so fine that you won't see any residue or buildup on the hair…not even in HD.
Lily Collins, styled by Eric Gabriel "Lily loves her hair a bit sexy and tousled ‐ not too 'done.' We wanted her look to complement her D&G leopard dress and Louboutin booties: sexy and young, with a bit of rock 'n' roll," adds Eric Gabriel.
How To Get the Look:
1. I sprayed Oribe 's NEW Maximista Thickening Spray on the roots before I blew out her hair
2. Once dry, I then set her hair with Oribe Volumista Mist spray using a 11⁄2‐inch curling iron to create loose spirals
3. I then ran my hands through it to break it up a little bit and voila, smooth, sexy waves that will last throughout the night