All Posts Tagged With: "Oribe"
Oribe Hair Care Stylists share with TM how to get MTV red carpet ready hairstyle looks for Justin Bieber and Lily Collins.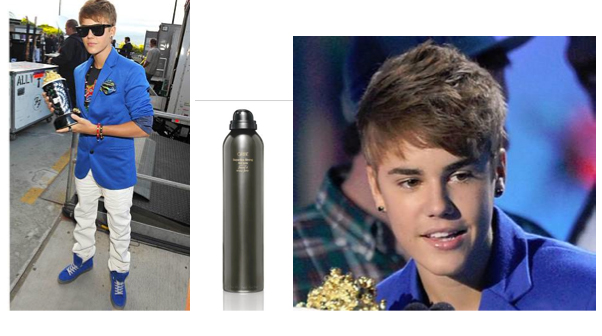 Oribe Hair Care stylists Vanessa Rose Price and Eric Gabriel created side swept styled hair for the one‐and‐only Justin Bieber and natural loose waves for Lily Collins for an evening with the stars.
Justin Bieber, styled by Vanessa Rose Price "Justin decided to rock a slightly edgier hairstyle for his surprise appearance. Leaving behind his signature 'do,' we went with a slightly messier look and pushed it out of his face," says Vanessa Rose Price.
Oribe styles Penelope Cruz for British GQ. "I loved working with Penelope Cruz for her British GQ cover. The look was inspired by a voluminous '60s look," says Oribe.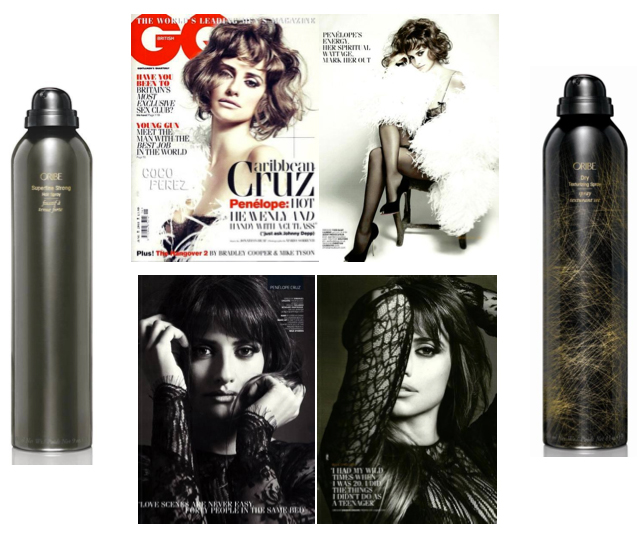 The style was partially inspired by Oribe Backstage Las Vegas, a big show I just hosted with my team at the Hard Rock Hotel. The theme there was "What's New Pussycat?" and I wanted Penelope to look like a modern-day pussycat…a sensual, seductive and confident woman who holds a sort of power over people around her.
Oribe shares with TM how to get Penelope Cruz's Stunning VOGUE Cover June 2011 hairstyle. Iconic hairstylist Oribe created care‐free beach hair to highlight Penelope Cruz's natural beauty and celebrate summer for the June 2011 cover of Vogue.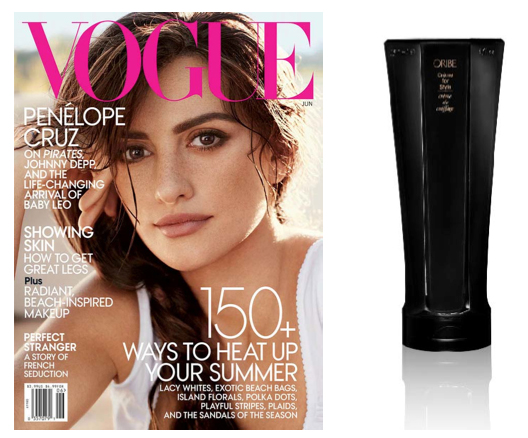 "I wanted her to have a cool, casual type of look," said Oribe. "The best part about this style is that there really are no rules – it's natural with a twist." Oribe found that his soon‐to‐be released beach spray was perfect to add separation, moisture and shine for relaxed yet elegant, simply styled locks. "It's just beautiful summer hair."
How to Get Penelope Cruz's hairdo:
SPRING 2011 COUTURE: Armani Privé. Hair by Oribe. The look for Armani Privé was about controlling the hair and mirroring the shape of the head. Because the models wore sleek Philip Treacy hats, Oribe wanted to keep the hair as tight as possible.

"Before I went to Paris, I knew the new collection was going to be super-modern and slick, so I had prepared several different ideas for Mr. Armani…just a few options to keep the hair small and compact. (One option we didn't end up choosing was extremely short hair…maybe next season!) ..
Kristen Stewart's hairdo on the cover of Vogue February 2011. Iconic hairstylist Oribe created a textured, natural look for Kristen Stewart's February Vogue cover shoot. "Kristen is a beautiful young girl, and this was all about softening her hair to go with the clothes she wore on the cover," Oribe noted of his inspiration. Now Oribe reveals how to add volume, body and movement for this relaxed yet chic style.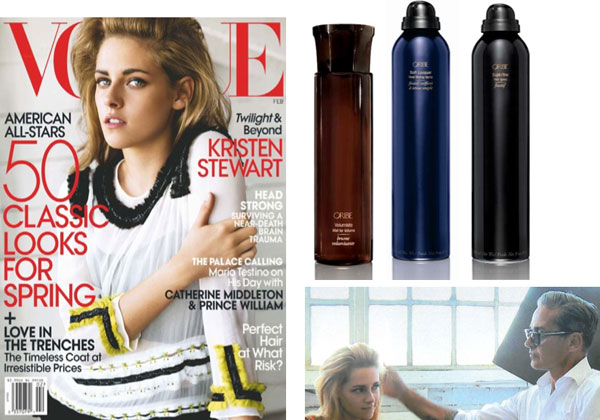 How To Get Kristen Stewart's hairstyle:
1. Spray the hair, section by section, with Oribe Volumista Mist for Volume. This plumping mist swells the hair shaft and leaves it feeling thicker with great texture and hold. Blow‐dry with a round brush for added body and movement.
Backstage at Giorgio Armani Spring/Summer 2011, iconic hairstylist Oribe smoothed models' hair into sleek updos and topped them with navy Tuareg style head wraps to complement the collection inspired by the night sky over the Sahara. "The models wore turbans for Giorgio Armani, and we wanted them to look beautiful, smooth and polished," says Oribe.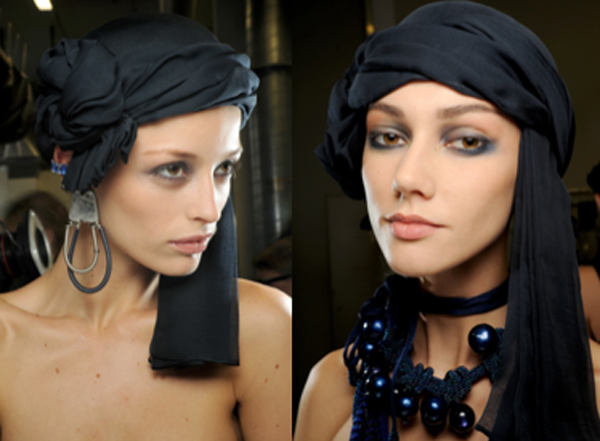 How To Get the Look:
Renowned celebrity hairstylist Oribe channeled old Hollywood glamour for the Jennifer Lopez campaign for her latest fragrance, Love & Glamour. Oribe created Rita Hayworth‐inspired pin curls and over‐the‐top volume for an iconic, movie star style. Oribe reveals that "This was about creating a look that embodies the type of woman that men find sexy and women admire," about Jennifer's classically beautiful look.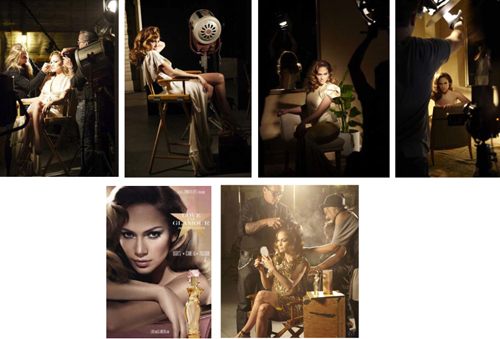 How To Get Jennifer Lopez's Hairstyle: To create the look, complete a full set with a 1 or 1.5‐inch curling iron. Use Soft Lacquer Heat Styling Spray to add extra shine. Pin the hair and let it set for about an hour, then brush out the curls and spray with Superfine Hairspray for hold and to maintain shine.
Marta Walsh's Hair: On my recent trip to LA I had to get my hair done before my photo-shoot for the NOH8 Campaign. BTW my photo for the NOH8 Campaign and my interview with founders Adam Bouska and Jeff Parhsley are coming up!! Now back to my blow out: I was super excited to schedule my very glamorous and photo-ready blow out with Gregory Russell at the Andy Lecompte Salon. It was around my birthday too so all was good:) I wanted to share with you the photo right after my blow out with Gregory. I mean, look at my hair! I LOVE it!!!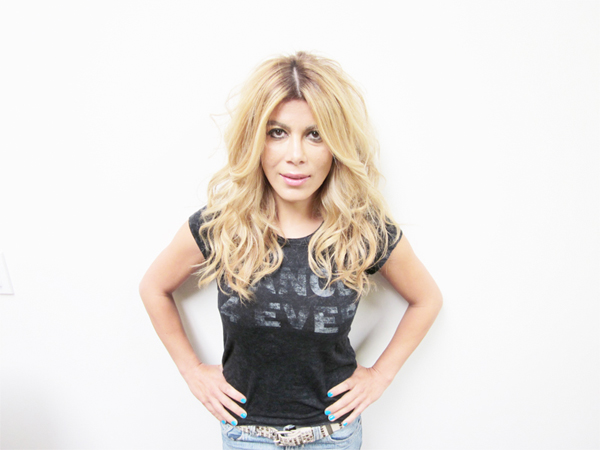 Marta Walsh. Hair by Gregory Russell at Andy Lecompte Salon. Products: Oribe Shampoo & Conditioner for Magnificent Volume and Oscar Blandi Volumizing Spray. The rest: Just Talent!
How To Get Halle Berry's Hairstyle in Vogue September Issue 2010? An always beautiful Halle Berry debuts a chic new bob for the September issue of Vogue. Iconic hairstylist Oribe discloses how he created the modern new look and a behind the scenes look at the cover shoot.
Oribe's inspiration for Halle Berry's cover style:
Halle had never worn her hair in this type of style, and I was very interested in doing something different. I was inspired by the clothes for the shoot, which had an Art Deco influence. I also referenced the film The Professional with Natalie Portman. She was only about 13 at the time, and she had this great little bob that looked so perfect. I wanted Halle's hair to be very sharp and direct in that same way and not at all bulky. The idea was to get flat, straight hair with soft, moveable bangs to create interest.
Breaking Celebrity Hair News: Iconic hairstylist Oribe cuts Scarlett Johansson's hair. Scarlett was sporting her new short hairdo at the Comic-Con convention in San Diego California, Saturday July 24th, 2010. Do you love?